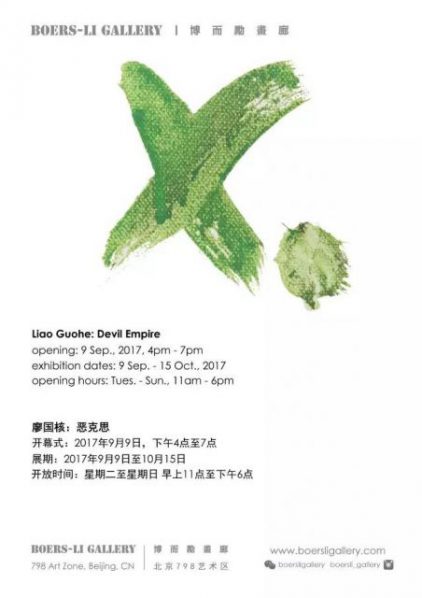 Boers-Li Gallery is pleased to announce Liao Guohe's solo exhibition "Devil Empire" (Its English title is an accented transliteration of the Chinese title,"X"), these new paintings in large dimension on view at the gallery follow asimilar vein from his solo exhibition, "Ten Thousand Houses" at the Beijing Minsheng Art Museum in 2016.
Liao Guohe, born in 1977, has recently relocated his studio to Beijing. His works were the subject of solo exhibitions at Beijing Minsheng Art Museumin 2016 and Sifang Art Museum in 2014. He has participated in group shows include, Drawing Pogo at Taikang Space (2017), Le Grand Balcon: La Biennale de Montreal at the Musée Contemporaine de Montreal, Canada (2016); A Hundred Years of Shame – Songs of Resistance and Scenarios for Chinese Nations, Para Site, Hong Kong (2015).
About the exhibition
Dates: Sep 9, 2017 – Oct 15, 2017
Opening: Sep 9, 2017, 16:00, Saturday
Venue: Boers-Li Gallery
Courtesy of the artist and Boers-Li Gallery, for further information please visit www.boersligallery.com.
Related posts: