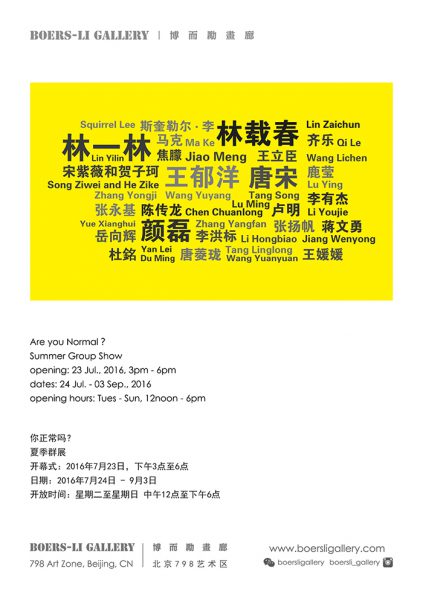 Boers-Li Gallery present this year's summer group show brings together artists – teacher and their students, coming from the renowned and art-defining School of Experimental Art of Beijing's China Central Academy of Fine Arts.
Setting the infringement of freedom as the limitation, people's freedom is boundless; this is a birthright given by god, even though men with servility have wasted such right. Toward individual's freedom of choice, the thought of "Normal" or "Abnormal" becomes somewhat antagonistic: it sets current culture norms as the standards, while at the same time these norms are in a constant process of change in which the "abnormal" can become the new normal. In other words: forget "Normal" or "Abnormal", individual freedom is the key.
Contemporary art is the secretion of individual freedom, in our society however where people dwell on abstract and avoid reality, many contemporary art devotees are drifting further and further away from "individual freedom" when they strain every nerve of theirs, trying to obscure "Contemporary Art". This is also "Abnormal"; nevertheless, taking in the situation that they live in, they can't be more "Normal".
The well-known "New Media" artists Yan Lei, Lin Yilin, Wang Yuyang, Lin Zaichun, currently all have an alternative identity: being professors at CAFA's School of Experimental Art. The also participating artist and close friend Tang Song is an outsider who drifts along the mainstream of the Chinese contemporary art world, as such "defining the rule of the norm" by being "the exception." The cycle between teaching and creating is as continuous as the connection between professors and students and the relation of life and art. The positions within in these relationships are those of the "established" and the "new," the "proven" and the "uncertain," the "Normal" and the "Abnormal", from concept and techniques to exhibition and communication. The also participating 18 students – chosen by their professors – are testing these relationships to the core.
In a culture where people are passionate about differentiating between "Normal" and "Abnormal", the identity of an "artist" and the so-called "art" have the right to be ambiguous and roundabout in some degree. This time, the seemingly normal Boers-li Gallery provided a formal platform, letting these abnormal behaviors or acts, in all apparent seriousness, to reveal themselves to the public. This is not normal, but why should it be? Are you normal?
About the exhibition
Exhibition Dates: 24 Jul. – 03 Sep., 2016
Opening Hours: Tues- Sun, 12 noon-6 pm
Venue: Boers-Li Gallery
Artists: Chen Chuanlong, Du Ming, He Zike, Jiang Wenyong, Jiao Meng, Li Hongbiao, Li Youjie,Lin Yilin, Lim Tzaycheun, Lu Ming, Lu Ying, Ma Ke, Qi Le, Song Ziwei, Squirrel Lee, Tang Linglong,Tang Song, Wang Licheng, Wang Yuanyuan, Wang Yuyang, Yan Lei, Zhang Yangfan, Zhang Yongji
Courtesy of the artists and Boers-Li Gallery, for further information please visit www.boersligallery.com.
Related posts: