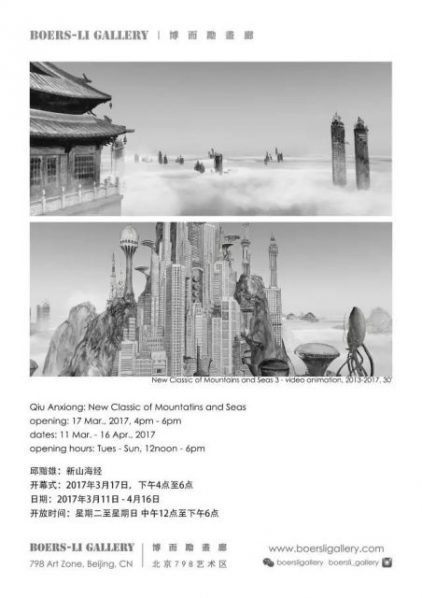 The ink-wash animated film series of New Classics of Mountains and Seas are Qiu Anxiong's most important representative work. With references from the Classics of Mountains and Seas, a Chinese classic of ancient myths, the film series demonstrate the modern civilization in a primitive setting. By viewing the global political landscape from an immemorial perspective, they turn the phenomena that we ignore into materials of myths with a sense of distance, and present the audience with fantastic scenes seemingly from another world. The film series also develop the expressiveness of ink-wash painting in the contemporary language system, integrate the expressionistichand-drawn animation into film-making processes, and voice the criticism on the real world with vivid and peculiar images. With the conflict over energy resources as the main clue, the New Classics of Mountains and Seas I showcases how modern industrial civilization has alienated mankind and the resulting conflicts over geopolitical interests. The New Classics of Mountains and Seas II, based on biotechnology and space technology, pictures the human crises brought by the development of scientific technologies from both macro and micro perspectives. As for the New Classics of Mountains and Seas III, it shows the confusion resulting from the internet in the future information society by projecting the reality onto the future: In a wasteland-like city surrounded by virtual hologram images, everyone is playing a dual role— a virtual one and a real one; with the virtual lives confused with the real ones, people get stuck obsessing over the virtual joys and fantasies created by themselves, and become tedious working machines in their real lives; eventually, the virtual world collapses under the pressure of conflicts in the real world. By describing the intertwined and contradictory relationship between the virtual and real worlds, the film proposes a paradox of human existence in the information society.
About the exhibition
Dates: Mar 11, 2017 – Apr 16, 2017
Opening: Mar 17, 2017, 16:00, Friday
Venue: Boers-Li Gallery
Courtesy of the artist and Boers-Li Gallery, for further information please visit www.boersligallery.com.
Related posts: