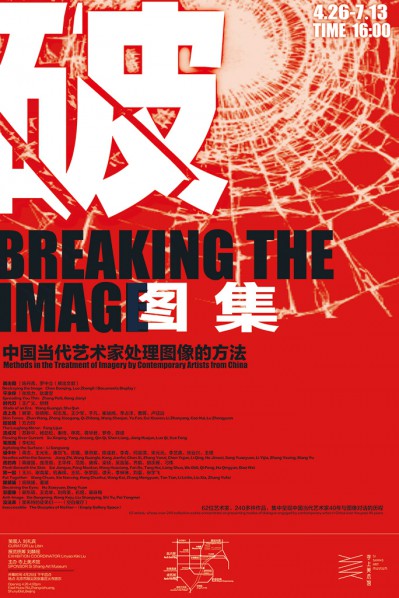 Preface
By Liu Libin
After the invention of photography, there has been a succession of artists, borrowing a variety of artistic means in order to "break away." To a certain extent, a portion of western modernist art history may be regarded as artistic breakaway history. Improvements in printing technologies have allowed each period's visual resources and archetypical works to be disseminated as reproductions in books. And now with the Internet, and the rise of mobile terminals, the world has become an image of the ocean. Apart from what we used to call "Nature" outside (In fact, the way we watch the "Nature" has also been greatly influenced by the image spread), how to deal with the "Ocean" has become an unavoidable issue for artists. After China's opening up, its art world encountered the pictorial bombardment of western artworks. At that time, one could find elegantly printed images (for example, in the 1980s, the Zhejiang Academy of Fine Arts' collection of western art books and reference materials). Concurrently, the more fortunate were able to leave the country to see this art firsthand. This transformed the fuzzy understanding of many works of art, clearing up misunderstandings surrounding these artistic forms. Of course, artists soon became aware of a certain kind of pressure, as faced with the splendid language of western painting, some chose to imitate, or unconsciously align themselves with these new forms. This led to criticism and subsequent denial by contemporary Chinese artists working during the 1980s. At the same time, another group of artists, inspired by ideas of self-consciousness, embarked on the endless journey, exploring artistic language.
Within the Chinese art world, "dialogue with images" has given rise to several important events: 1. The birth of Native soil realist paintings during the early 1980s; 2. The corresponding Hangzhou "Pool Society" artists' criticism of the Sichuan Academy with their selection of flat painting techniques; 3. (Although the original intentions with the "Pool Society" differed) the "Northern Art Group's" similar employment of cold, non-emotional brushwork; 4.The emanation of "emerging artists" as well as "political pop" artists during the early 1990s; 5. The popularity of "Richter's flat painting techniques" at the turn of the Century, and concurrent solo exhibition held at the National Museum of Art in 2008; 6. "Li Songsong's impasto technique" whose style is popular at the moment. Followed by the latter two, under a "deconstructionist" framework, a flood of various "approaches in simple misappropriation" included images of "Mao," and "Marilyn Monroe," both of which were most often symbolically represented. 7. Around 2006, with the fourth generation of critics, who when beginning to debate this issue, sided with the notion of "the prosperity of abstract art." But within less than ten years, we are grieved to discover that the majority of abstract art has become "decorative painting" or simply a "conceptual painting tool." Despite the stimulating visit of Achille Bonito Olivia to China, the "abstract" is being prematurely over-drafted by the market.
In addition to the events mentioned above, many more artists have quietly explored this issue, looking for new possible forms of self-contained artistic language. Due to limiting factors as well as objective reasons from artists, this exhibition exhibits only a fraction of works by artists working within this vein. Despite these limitations, our hope is to allow this small sampling to promote a much larger body of work. In fact, this "dialogue with images" is far from over at the moment, contemporary art in China has received a lot of attention as it plays a leading role within the art market, with criticism gradually on the decline. Acclaimed artists from abroad make repeated visits to China, giving rise to an ebb and flow (with the manners of Richter, Kiefer, Freud, Hockney, or the next imminent explosive…) today! How can this situation, understood as "a tree without roots, or water without a source" change? How can we discuss the logic within the language of contemporary Chinese art? Complacent traits? These have become questions that we must answer! This exhibition attempts to comb through the many methods in the treatment of imagery by contemporary artists from China. With these humble remarks, I am greatly anticipating every one's comments and critique.
This exhibition is divided into thirteen units, exhibiting 240 works by 62 artists
1. Destroying the Image: Chen Danqing, Luo Zhongli (Documents Display)
2. Spreading You Thin: Zhang Peili, Geng Jianyi
3. Blade of an Era: Wang Guangyi, Shu Qun
4. Skin Tones: Zhan Wang, Zhang Xiaogang, Qi Zhilong, Wang Shaojun, Yu Fan, Cui Xiuwen, Li Zhanyang, Cao Hui, Lu Zhengyuan
5. The Laughing Mirror: Fang Lijun
6. Flowing River Current: Su Xinping, Yang Jinsong, Qin Qi, Shen Liang, Jiang Huajun, Luo Qi, Xue Feng
7. Agitating the Surface: Li Songsong
8. Needles within the Seems: Jiang Zhi, Wang Guangle, Kang Jianfei, Chen Xi, Zhang Yanzi, Chen Yujun, Li Qing, He Jinwei, Song Yuanyuan, Li Yijia, Zhang Yexing, Wang Yu
9. Flesh Beneath the Skin: Sui Jianguo, Pang Maokun, Wang Huaxiang, Fan Bo, Tang Hui, Liang Shuo, Wu Didi, Qi Peng, Hu Qingyan, Diao Wei
10. Put Together: Wang Chuan, Xie Nanxing, Hang Chunhui, Wang Kai, Zhang Mengyuan, Tan Tian, Li Linlin, Liu Xia, Zhang Yufei.
11. Deceiving the Eyes: Hu Xiaoyuan, Dong Yuan
12. Anti-Image: Xie Dongming, Wang Keju, Liu Shangying, Shi Yu, Pei Yongmei
13. Inaccessible: The Disciples of Richter…(Empty Gallery Space)
About the Exhibition
Title: Breaking the Image–Methods in the Treatment of Imagery by Contemporary Artists from China
Curator: Liu Libin
Opening Reception: at 4:00 pm on April 26, 2015
Duration: April 26 – July 13, 2015
Address: Sishang Art Museum, East Housi Rd., Zhangxizhuang, Shunyi Dist., Beijing
Coordinator: Linyao Kiki Liu
Discussion on "Breaking the Image" in the First Round
Time: at 1:30 pm on April 26
Guests:
Dong Bingfeng, Academic Director of OCAT Research Center
Dr. Tang Keyang, Harvard University
Dr. He Qian, Paris Institute of Political Studies
Liu Libin, Associate Research Fellow at CAFA
Location: Beijing Sishang Art Museum
Courtesy of the artists and Beijing Sishang Art Museum, for further information please visit www.sisam.cc.
Related posts: