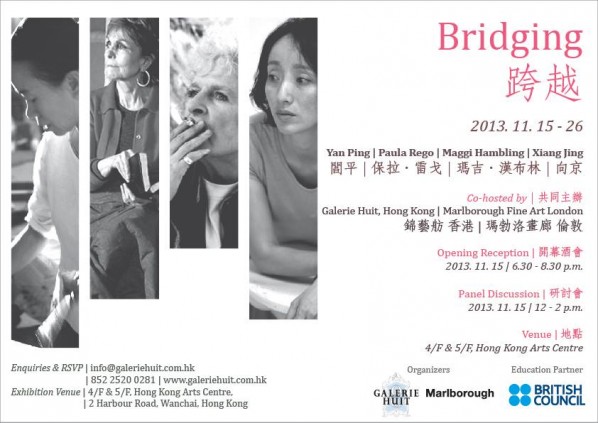 From the 15th to the 26th November, Galerie Huit in collaboration with Marlborough Fine Art, will present an exhibition at the Pao Galleries, Hong Kong Arts Centre – Bridging: Important Female Artists of Our Time – featuring four internationally recognized female artists. This group exhibition will showcase the works of British artist Maggi Hambling, Portugese artist Paula Rego and Chinese artists Yan Ping and Xiang Jing. Focusing primarily on feminist-inflected artworks, the exhibition looks to explore the breaking of gender boundaries and shows off female artists who have ignored the social norms and overcome the challenges set upon them.
Art has historically been a male dominated arena. In recent decades, however, female artists have slowly but steadily begun to garner similar influence and attention as their male counterparts. Interest is rising for female artists in all areas of the art world, on an international scale. While many women continue to struggle with continuing obstacles in gender bias and social expectation, more and more female artists have successfully broken through these societal constraints, rising to prominence both for their artistic merit and market value. Showcasing four female artists from across the globe, the exhibition focuses on presenting the ground-breaking, innovative, and powerful art which each of these women have dedicated their lives to creating. Each artist brings a distinct mixture of femininity and power to their artwork, and Bridging brings these separate perspectives together to form a visual spectrum of female strength in art.
From the West, Bridging presents British artist Maggi Hambling and Portuguese/British painter Paula Rego. Hambling's crashing waves fill each canvas with unbridled natural force and swirling intensity, while Rego's figural scenes capture the depth of raw emotion. While completely separate in aesthetic, each artist stands firm in presenting a distinct artistic style. Making Bridging a truly international exhibition, Chinese artists Xiang Jing and Yan Ping serve to represent the female artistic perspective from the East. Xiang Jing's wan sculptures, at once startling and haunting, contrast noticeably with Yan Ping's vibrant scenes, striking in their brilliance of colour. With each of the four artists bringing an entirely separate perspective, Bridging offers an entirely unique opportunity for both cultural exchange and artistic dialogue. This cross-cultural experience presents the views of four powerful female artists, demonstrating the burgeoning strength of women in art. From Hambling's rolling waves to Jing's breathtakingly realistic and chilling sculptures, many of the works in this exhibition are truly stunning and are definitely worth a visit.
About the exhibition
Date: 15th – 26th November
Time: 10am – 8pm daily
Venue: Hong Kong Arts Centre, 4/F & 5/F Pao Galleries, 2 Harbour Road, Wanchai, Hong Kong
Courtesy of the artists and Hong Kong Arts Centre, for further information please visit www.hkac.org.hk.
Related posts: