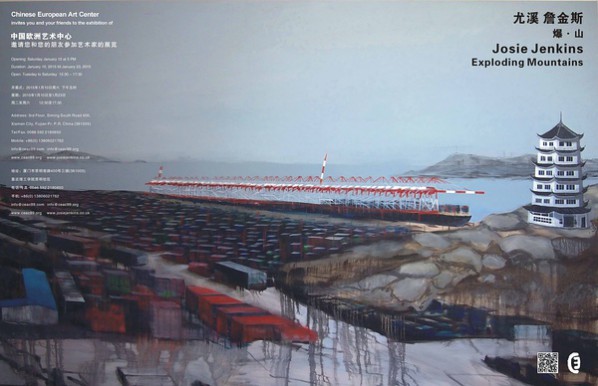 Josie Jenkins is a painter who explores the way human interference impacts on the landscape. In the past she has taken inspiration from the British landscape, her imagery evoking a sense of the edge lands between city and countryside and the subtle incongruity between the natural and the unnatural.
She is interested in overgrown wastelands and forgotten places containing disused and discarded buildings and objects. Her paintings include ambiguous elements, which emphasise confusion, or unnatural colours, objects and patterns, which exaggerate the contradictions and conflict presented by our modern landscape.
In China, Jenkins has turned her focus towards the visible consequence of heavy industry, as well as exploring her overall perspective on the Chinese landscape and the way it is shaped by people. During her residency with CEAC, Jenkins visited the Yangshan Deep Water Port in Shanghai, the largest container port in the world, and imagery from this research trip features prominently in her new body of work. The landscape speaks of the people who occupy it and, in Jenkins' paintings; people are notable by their absence.
"When I came to China my intention was to search for landscapes that relate to my artistic practice, but actually, no searching was required; everywhere I look I see images that inspire me. In China, I continually see and hear things that surprise me and some things that at first I found unbelievable. The landscape of China offers a complete contradiction to the landscape of Britain."
Jenkins' work has also changed in response to her situation as an "artist in residence". She says, "Having limited time and materials to create work for a residency exhibition, rather than constraining me, has in fact pushed me to work more spontaneously and think more freely. I have had little time to contemplate the technical and theoretical decisions that I am making and so this work feels fresher to me than anything I have done before."
Josie Jenkins was born in Yorkshire, United Kingdom, in 1980. She studied for her BA Hons in Fine Art (Painting) at Norwich School of Art and Design, graduating in 2002. In the UK, she has worked as an artist in Hull and Nottinghamshire, before settling in Liverpool. Jenkins is a director of Arena Studios, an active artist studio group that has been an integral part of the grassroots Liverpool Art Scene for over thirty years. In September 2013 Jenkins was shortlisted for the New Lights Art Prize, a competition and accompanying exhibition recognising the talent of young Northern artists in the UK. She was presented with the main prize, the Valeria Sykes Award, which has supported her trip to China and residency with CEAC.
About the exhibition
Duration: 10 – 23 Jan 2015
Venue: Chinese European Art Center
Opening: Saturday Jan 10 2015 17:00
Opening Hours: 12:30-17:30 (Tues-Sat)
Tel: 13806021762
Add: 3rd Floor, Siming South Road 400, Xiamen
Courtesy of the artist and Chinese European Art Center.
Related posts: