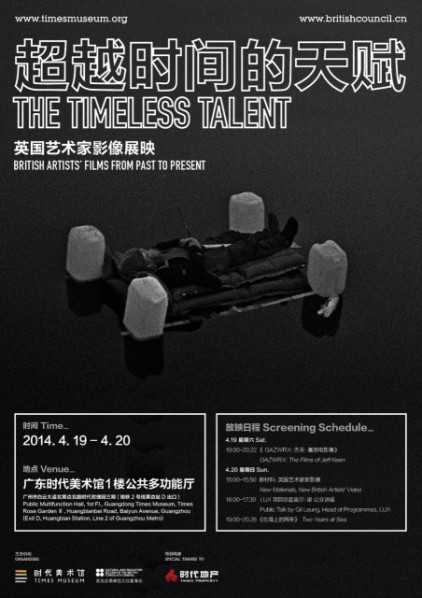 Artist Film has always been an art form that condenses unique thoughts and creativity. In collaboration with the British Council, Guangdong Times Museum presents a series of video art pieces by British artists, ranging from classical experimental films to new works by young artists. The screenings will be introduced by Gil Leung, head of programme at LUX, an international arts agency that supports and promotes video artists.
About the event:
Date: 2014.4.19-4.20
Venue: 1F, Guangdong Times Museum
Organised by: Times Museum
Screening Schedule
4.19 Sat.
19:00-20:22 GAZWRX: The Films of Jeff Keen
Omozap 2
Marvo Movie
Like the Time Is Now
Rayday Film
Day of the Arcane Light
Cineblatz
The Dreams and Past Crimes of the Archduke
White Lite
Plazmatic Blatz
Wail
Blatzom
Artwar
4.20 Sun.
15:00-15:50 New Materials, New British Artists' Video
Woolworths Choir of 1979
Warm Warm Warm Spring Mouths
The March of the Big White Barbarians
16:00-17:30 Public Talk by Gil Leung, Head of Programmes,LUX
19:00-20:26 Two Years at Sea
Speaker Profile : Gil Leung
Gil Leung (b. 1980, Stockholm, lives and works London) is a writer, artist and curator based in London. She previously worked as Assistant Curator for Tate Film and Live Programmes. She is Head of Programme at LUX, London. Recent exhibitions and projects include For as Against at Rowing, London, Exchange at Flat Time House, London, solo show Bedroom Tour in collaboration with Am Nuden Da, London, and works at Oberhausen Film Festival. She writes for Afterall, Art Agenda, Spike and other independent publications.
Film Synopsis
GAZWRX: The Films of Jeff Keen
UK/ 1960-1993/82'
Jeff Keen's unique and imaginative filmmaking has outlived the various scenes in which it thrived, such as 1960s counter-culture and punk. This series of short films from the 1960s to the 1990s reveals the astonishingly tireless talent of a filmmaker not afraid to grapple with sex and war, or to experiment with visceral soundtracks and brutal animation techniques.
Omozap 2 1991/ 1'/ color/ sound
Jeff Keen stands in overalls, poised with his tools before him. Then he lights a gas-fuelled torch, smashes a plate with a hammer, paints a giant esoteric symbol on the wall and starts up his film projector. This snappy one-minute video offers a neat evocation of the Jeff Keen live experience and throws us right into the inspired montages to come.
Marvo Movie 1967/ 5'/ color / sound
Ken Russell said: "It went right over my head and seemed a little threatening, but I'm all for it." The Cat Woman, Mickey Mouse, melting toys, the local graveyard and Brighton beach all collide in this subtly provocative and anarchic bit of British fun.
Like the Time Is Now 1960/ 5'/ b/w / silent
America comes to Brighton as three beatniks hang out, listen to records and smoke before strange hats appear out of nowhere and a cartoon bubble suggests they all go to the cinema. It is the beginning of a new era in filmmaking and a sign of the bigger cultural changes to come.
Rayday Film 1968-1970、1976/13'/ color / sound
Originally presented as a combination of multiple projections and live performance, this energetic, action-led film still barely manages to contain itself. Inside Keen's flat, he and his friends make a racket with guns, then go out to spray Dada-esque slogans on the beach and streets of Brighton, taking in the local tip along the way.
Day of the Arcane Light 1969/13'/ color/ sound
Carrying straight on from Rayday Film, though at a slower pace, the Jeff Keen gang transforms the local tip – the final destination for anything unwanted – into a site where anything is possible. Cardboard guns are fired to jaunty music, and Motler the Word Killer, clutching a fake penis, runs after a woman in a wedding dress.
Cineblatz 1967/3'/ color / sound
Sculpted radio static washes over a rush of animated superheroes, advertisements and even the House of Lords. More than twenty discrete bright animations appear in less than three minutes.
The Dreams and Past Crimes of the Archduke 1979-1984/7'/ color/ sound
The Keen players turn quiet and ghostly in this beautiful and magically symbolic film. Incorporating a noir-style thriller at Brighton train station and an artist who creates a broken heart using her paper quill, this masterpiece in red and blue conjures up an atmosphere of contemplation not found elsewhere in Keens work.
White Lite 1968/3'/ color / sound
Meet Anti-Matter Man and the Bride of the Atom in this surreal and psychedelic B-movie homage. A half-naked woman undergoes a strange inner journey that leads us through a barrage of film noise to exotic images of stuffed bats.
Plazmatic Blatz 90 1990s/9'/ color / sound
Stealth bombers swoop like vultures over crashing waves and a ruined land. Using found footage and several thick layers of video, Keen presents a very visceral version of Armageddon.
Wail 1961/ 5'/ b/w / silent
The realities of brutal gang violence collide with war paintings and a horror movie Werewolf in this extraordinary action and animation mix. Keen recognizes the dynamic links between different cultural forms plus popular culture's potential for violence and subversion.
Blatzom 1983-1986/12'/ color / sound
Jeff Keen put on a paper mask and his knitted Artwar jacket, having already avoided falling bombs and paced a dusty, grey, moon-like landscape. Blatzom offers an exquisitely crafted noise-soundtrack to match its explosive opening.
Artwar 1993/6'/ color/ sound
This refined and punchy series of films combines explosions and gunfire with strident performances at home and painting at the local tip. Possibly the culmination of all Keen's themes and a potent reminds his seemingly inexhaustible imaginative powers.
New Materials, New British Artists' Video
This series of four works by Elizabeth Price, Ed Atkins, Mark Leckey, and Laure Prouvost represents a new sensual engagement with HD, as well as convergent technological histories in British artists' video works.
Woolworths Choir of 1979
Comprising three parts, the video brings together distinct bodies of material into a dissonant assembly; photographs of church architecture, internet clips of pop performances and news footage of a notorious fire in a Woolworths furniture department in 1979. The video weaves together existing archives of text, image and sound to create a work that drifts between social history and fantasy. Elizabeth Price has won the 2012 Turner Prize for this work.
Warm Warm Warm Spring Mouths
Atkins'shifty, protean protagonist is not so much undercover as in too deep – his identity hidden; his body immersed and submerged. Sleeping with the fishes in his luminescent vacuum at the bottom of the ocean, he is the unquiet voice of the repressed, the face of the unfathomable (albeit a face that is framed and sometimes lost behind its mass of tangled, swirling hair). Netted by digital motion capture techniques, and embellished through computer animation, the slipperiness of truth and the difficulty of its representation are vividly entwined in this image, lending Atkins' investigations a material, almost forensic resonance. Animators speak of the rendering of hair as the final frontier (and the elusive grail) of computer graphic verisimilitude. Get it right and your character is immediately believable. Get it wrong and it is an instant, incriminating giveaway. Atkins' figure drifts deliberately between the two: fitfully surfacing like a nagging subconscious memory, a foreign body floating up from the depths. As with all of Atkins' work, however, that frisson of indeterminacy lingers indelibly, haunting and troubling the mind.Commissioned by the Jerwood/Film and Video Umbrella Award
Wantee
Laure Prouvost created a dark muddy room at Grizedale Arts, which formed the setting for this video work which was originally presented as part of the exhibition at Tate Britain on the legacy of Kurt Schwitters. The room is conceived as the living room of Prouvost's fictional grandfather. This invented relative is described as a conceptual artist and one of Schwitters's close friends. Prouvost's work draws upon the dual aspect of Schwitter's work – his celebrated Merz works, as well as his conventional portraits and landscapes. The room also shares the features of a tea room, inspired by Schwitter's companion's nickname, Wantee, due to her habit of asking, 'Want tea?'.
The March of the Big White Barbarians
London's Public Sculptures are articulated by concrete poetry of Maurice Lemaitre in a free translation by Leckey's Jack Too Jack.
Two Years at Sea
A man called Jake lives in the middle of the forest. He goes for walks in whatever the weather, and takes naps in the misty fields and woods. He builds a raft to spend time sitting in a loch, drives a beat-up jeep to pick up wood supplies. He is seen in all seasons, surviving frugally, passing the time with strange projects, living the radical dream he had as a younger man, a dream he spent two years working at sea to realise. This film Two Years at Sea won the FIPRESCI Award at the Venice Film Festival 2011 and the top prize at CPH:DOX 2011.
Courtesy of the artists and Times Museum, for further information please visit www.timesmuseum.org.
Related posts: