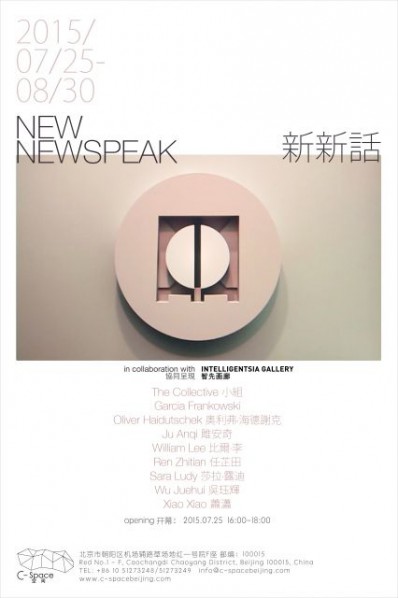 C-Space in collaboration with Intelligentsia Gallery presents NewNewspeak, a group exhibition showcasing works by Sara Ludy (b. 1980, Californa, USA), Ren Zhitian (b. 1968 Xishui, China), Oliver Haidutschek (b. 1976, Vienna, Austria), Xiao Xiao (b. 1984 Hunan, China), Ju Anqi (b. 1975 Urumqi, China), The Collective (Beijing, China), Wu Juehui (b.1980 Hangzhou, China), William Lee (b.1985 Beijing, China), Garcia Frankowski (b. 1983 San Juan, Puerto Rico & b.1985 Dundee, Scotland).
NewNewspeak is the ultimate form of language reduction. A constriction of the worldview, NewNewspeak delimits the capacity of generating concepts to the repertoire of thought-figures inscribed in its lexicon. Reflecting Ludwig Wittgenstein's aphorism 'the limits of my language mean the limits of my world', ruthless aesthetico-political regimes have recurred to diverse forms of Newspeak to create, consolidate and defend absolutist values. Art, architecture, design, music, performance, literature, fashion are just some of the means used to infiltrate Newspeak in every sphere of life.
Eponymous to the language spoken and written in George Orwell's novel 1984, Newspeak remains as relevant today as it was when the novel was first published in 1949 (the year of the foundation of the PRC). NewNewspeak is the way in which materialist, spiritual, phenomenological, empirical and hermeneutical approaches disguise social, economic and political interests behind aesthetic screens.
About the exhibition
Dates: Jul 25, 2015 – Aug 30, 2015
Opening: 25, 2015, 16:00, Saturday
Venue: C-Space
Artists: Garicia Frankowski, Oliver Haidutschek, Ju Anqi, William Lee, Sara Ludy, Ren Zhitian, The Collective, Wu Juehui, Xiao Xiao
Courtesy of the artists and C-Space, for further information please visit www.c-spacebeijing.com.
Related posts: