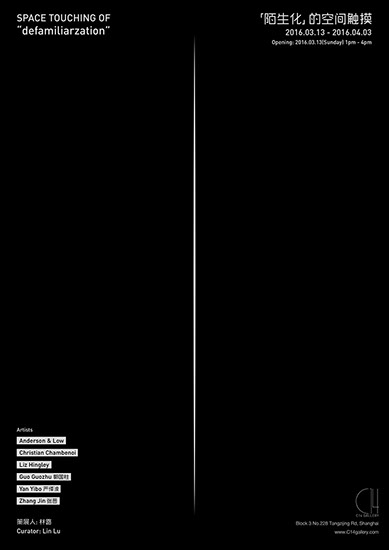 C14 Gallery is pleased to present the exhibition Space Touching of 'Defamiliarzation', as the opening exhibition for its new space. The curator of this exhibition is Lin Lu and will present artwors of Anderson & Low, Christian Chambenoit,, Liz Hingley, Guo Guozhu, Yan Yibo, Zhang Jin. Guo Guozhu and Yan Yibo are new artists cooperated with C14 Gallery. The opening party will be held from 1pm to 4pm on March 13th (Sunday) in C14 Gallery.
Russian artist Viktor Shklovsky once said something inspired in Art as Technique "Why art exists is to revive people's sense for life and to make people feel what objects are. For example, as a rock, when it is touched, a texture that a rock should have may be stood out. The aim of art is to make people feel object with their sensory organs rather than only to make people know what kind of object it is. Skills of art are to defamiliarize object and make their expression complex in order to strengthen the difficulty in feeling an object and to prolong the feeling duration. This is because feeling process itself is for aesthetic purpose, which determines that the feeling duration has to be prolonged.
The space touching of "defamiliarzation" may be the key to prolong aesthetic pleasure. As a kind of visual art, photography and installation art usually enjoys unique substitutability—-once plane photography arouses people's desire to have a substantial touch or stereo installation attracts people's visual sense to try a spatial touch, synaesthesia comes into being. In this way, aesthetic pleasure rises up in the illusion of our soul naturally and mysteriously.
In New Process, British photographers Anderson & Low use a special composition to produce a chemical effect which succeeds in arousing people's desire to touch on the condition that it is pretty difficult to create a visual "touch". Their another artwork in the name of Architecture shares features with that of Chaos by Yan Yibo. In other words, the two works use different means to fulfill a similar end. The features are: the former expresses metaphysics by creating a texture of "chaos" due to the thickness of night atmosphere; the latter composes a very interesting visual "touch" with a seemingly "chaotic" yet extremely sober philosophy idea when the motion of photo is blurred, even when the definition of visual image is destroyed.
Actually, space touching of "defamiliarzation" may be an abnormal expression of artistic attribute. Abstraction, another series of photos by Anderson & Low, pushes the abnormal sense of "touch" to its extreme–the pretty sensitive visual sense of photographer transforms the stereo architecture in life into an almost pure plane abstract piece of work. However, when you fixate at the abstracted plane space, you may have an illusion that this plane space transforms into a multi-layer of stereo space. The transformation may become extremely complicated in a second. The Northeast landscape by Zhang Jin has something in common with Abstraction. Its visual composition is abnormal, intending to break out the limit of human's ability to recognize nature, though such ability may last for thousands of years. This composition is both sensible and sensitive.
The Entrance Hall by Guo Guozhu, similar to the religious space of Liz Hingley, is a more abnormal anthropology representation of spatial landscape which deserves meticulous "touch". In the indifferent space of the former, there are a great number of details, which may make people feel heartbroken; the latter gives a deep sigh over the displacement of our homeless soul world against a background of daily life.
In the relationship of form and reality, the mission of artist is to accept society as it is by a new form. That is to say, artist has to accept society by regarding it as a more complicated, more richer "realistic world" which is superior than rigid, old form. Only in this way, human can be forced to reform his subjective world. This kind of space touching of "defamiliarzation" is exactly a pretty passive task to be carried out in an utmost active manner. This tries to keep pace with the development of modern world in an "aesthetic" manner. Besides, this finds a location in form for new spatial-temporal experience and social experience which is dominated and produced from technique and commodity.
All the artists gathering here firmly express their world view which is similar to the novelist Kundera through their seemingly careless photos, that is, the world is simply a pure space without any significance? Or more than Kundera, human ourselves are a mysterious space morphology whose meaning is hard to define for anyone, judged from visual installation of Christian Chambenoit because of uniqueness of visual work and spatial touch. Therefore, why don't we calm down, abandon the exploration for meaning and purely enjoy the aesthetics of spatial touch.
About the exhibition
Date: Mar 13, 2016 – Apr 3, 2016
Opening: Mar 13, 2016, 13:00, Sunday
Venue: C14 Gallery
Curator: Lin Lu
Artists: Anderson & Low, Christian Chambenoit, Guo Guozhu, Hingley Liz, Yan Yibo, Zhang Jin
Courtesy of the artists and C14 Gallery, for further information please visit http://c14gallery.com/.
Related posts: