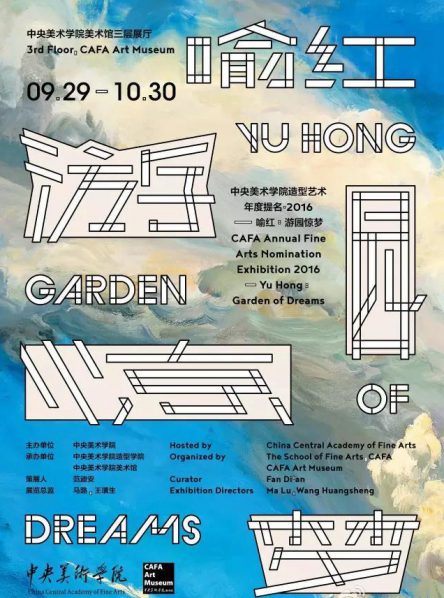 Hosted by the China Central Academy of Fine Arts (CAFA), and organized by the School of Fine Arts CAFA and CAFA Art Museum under the Director of CAFA Fan Di'an's curation, "CAFA Annual Fine Arts Nomination Exhibition 2016 – Yu Hong: Garden of Dreams" will open at the CAFA Art Museum on Thursday September 29th 2016 at 5 PM.
"Yu Hong: Garden of Dreams" will present 19 new paintings from the artists previous two years of work, in addition to three glass sculptural pieces which were created in the Czech Republic. This exhibition continues to follow the multi-perspective vision and way of understanding the world which was examined in "Yu Hong: Concurrent Realms" (Suzhou Museum, 2015), which juxtaposed Yu Hong's exquisite painterly realism with collated images of scenes and figures from disparate times and space, spanning from ancient to contemporary, twixt East and West, dreamscape and reality. "Garden of Dreams" can be considered as the exposition of a real space, but also points to a mental construct, the former stemming from the artist being inspired by an actual garden which had fallen into disrepair which appears as the focal element in the similarly titled painting Garden of Dreams.The spiritual aspect contains two layers of implication: on the one hand is the relationship between Yu Hong's works and the exhibition space, something which she has focused on for a long time, and the thoughts on the implicit meaning of the term "garden" translated onto the space and works of "Yu Hong: Concurrent Realms", a technique which she has adopted to fit the spatial peculiarities of the much more contemporary space of the CAFA Art Museum exhibition space. On the other hand, the spiritual construction points to the creation of an unrestricted mental space, which encompasses all experiences of peace and beauty, absurdity and jocosity, and ignorance and simplicity experienced by the figures in the paintings. The world revealed in "Garden of Dreams" reflects Yu Hong's deeper and wider exploration into human experience. The individuals depicted in each painting are unusually, directly and even nakedly revealed to the viewer, the artist abandoning any symbols or markers linking the figures to any particular historical time, instead stripping away any differences of individualism leading her to touch upon a much deeper understanding of human nature. Simultaneously her thoughts repeatedly go back and hover around her own personal history and background ever-present in her mind, such as in the narrative elements found in works of this exhibition, inspired by Ancient Chinese fables such as: "Blind men touching an elephant", "Marking the raft to find the drowned sword", "The monkey fishing for the moon in the water" and other traditional remembered anecdotes. In the work Wasted Spring, she borrowed inspiration from the paintings of Henri Rousseau in depicting a fantastical dreamlike landscape in which appear two main female figures, who in fact turn out to be two actual internet personalities who had gone viral. Ever Higher, Ever Furtherconstructs a parallel world in which reality and surreality fuse together without contradiction. Three different people stand on three different heights on the same telephone pole, when they are juxtaposed against each other in the form of a single triptych, the individual realistic depictions transform into a state and construction of surrealism. In Snapshot, Yu Hong for the first time paints animals as the focal subject, but they are animals adopting the mannerisms and feeling of humans. In painting them being photographed and taking photos themselves, Yu Hong further peels away the nature of human form and presses closer and closer towards the "Garden of Dreams" of her creation.
26 years have passed between the time when Yu Hong attended her first group show at the CAFA Art Museum and "Yu Hong: Garden of Dreams". This time returning to the museum in a solo exhibition, after numerous transformations in her way of thinking, Yu Hong and her artistic creation have entered into a more familiar period. In the early 1990s, Political Pop and Cynical Realism were the two major trends in Chinese Contemporary Art, but Yu Hong was more focused on the lives and personal internal experiences of her young contemporaries, many of which she painted down against simple monochrome backgrounds, these varying painted forms of her contemporaries lead her to be christened as a "New Generation Artist". For the "Witness to Growth" Series which she started in 1999, Yu Hong used a format of self-portraiture placed together with real historical images as one. After a period of time as just a preliminary explorer her work transformed to exhibit an immensely profound resonance with her contemporary environment. Her creation would reach a more strongly poetic level in the "Gold" series (2008-2011) of paintings, which further revealed the artist's continuous research and appreciation of traditional Chinese painting, the paintings of Dunhuang, the Kizl Thousand Buddha Caves and traditional paintings from the Western canon, linking these all together to create a more wide-reaching and profound result. For "Yu Hong: Wandering Clouds" (Long March Space, 2013) she shifted focus from the external form of an individual inwards into their interior emotional states and situations. In "Yu Hong: Concurrent Realms" (Suzhou Museum, 2015), Yu Hong placed scenes and figures from reality into surrealist realms, thereby gradually expanding the scope of her artistic creations whilst simultaneously painstakingly using her method of artistic creation to observe the inherent nature of groups and the individual.
Alongside the exhibition, a catalogue of the same name CAFA Annual Fine Arts Nomination Exhibition 2016 – Yu Hong: Garden of Dreams will be published, edited by the Director of CAFA Fan Di'an. The catalogue will include a foreword by Fan Di'an in his position as curator, as well as writings by the Director of the CAFA Museum Wang Huangsheng, the young art historian Lu Mingjun, the curator-critic and Sichuan Academy of Art Professor He Guiyan and by Artmagazine co-editor Sheng Wei which all address Yu Hong's new works. Additionally an interview with the artist undertaken by the curator Karen Smith as well as image reproductions of all 22 works from the exhibition will appear in the catalogue.
About the exhibition
Curator: Fan Di'an
Exhibition Directors: Ma Lu, Wang Huangsheng
Assistant Curator: Chen Ye
Exhibition Coordinator: Qi Peng
Hosted by: China Central Academy of Fine Arts
Organized by: The School of Fine Arts, CAFA and CAFA Art Museum
Exhibition Dates: 2016.9.29 – 10.30
Exhibition Location: 3rd Floor, CAFA Art Museum
Exhibition Opening: Thursday September 29th, 2016 5:00 PM
Courtesy of the artist and CAFA Art Museum, for further information pelase visit http://museum.cafa.com.cn/.
Related posts: