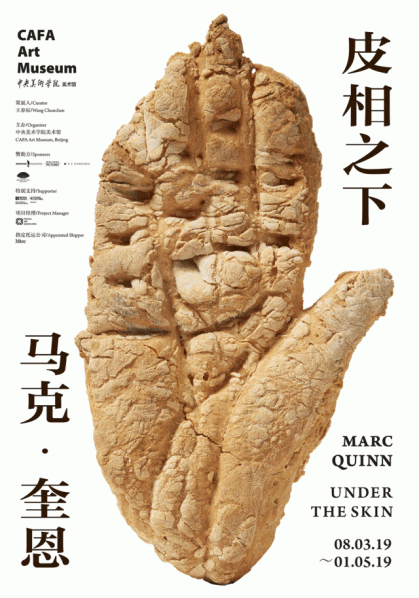 CAFA Art Museum, will present a selection of the work of the acclaimed British artist Marc Quinn this March. One of the leading artists of his generation, Quinn's work explores recurring themes of art and science, the human body, emotion, and the perception of beauty. For the artist's first solo museum exhibition in China, works have been drawn from across his 30-year career and from multiple series, exploring his enduring interest in identity.
Works from the series We Share Our Chemistry with the Stars (2009) depict, at enormous scale, the iris of a human eye enlarged to the point of abstraction. The individuality of an iris and the symbolism of the human eye render each work a microscopic map of the individual's identity. The fingerprints enlarged in Quinn's Labyrinth series (2011-present) similarly blur the line between abstraction and figurative form, where individual identity is reduced to a pattern. These bodies of work reflect Quinn's ongoing interest in creating portraits that are more than just an image of a person but are an actual visual index of their identity.
It is often said that our destiny is written in our palms and it was with this train of thought that Quinn first created his Bread Hands installation in 1991 where he repeatedly traced around his hand on bread, forming a pattern of his own physical identity. Despite Quinn using the same hand to create each piece, every bread hand is unique — suggesting that our destinies are changeable. For Under the Skin the artist has returned to this work to create a collaborative, participatory installation where visitors will be invited to make their own bread hands at a kiln situated inside the gallery, exploring the notion that our flesh and blood are all the same.
Quinn's Bread Sculptures, a selection of which will be presented in Under the Skin, draw on the religious symbolism of bread as human flesh and use its transformation from a mouldable dough to a solid form to create highly expressive process-led sculptures. The identity of the characters depicted in the artist's early works — Louis XVI (1989) and Marie-Antoinette (1989) — is warped by the process of their creation (the dough rising and falling into an organic form), reflecting the mutability of life and demonstrating how time and external forces can distort our flesh and our memories.
Inspired by the often fragmented but universally celebrated classical sculpture displayed throughout the world's museums, Another Kiss (2006) comes from Quinn's series of work, The Complete Marbles. Exploring society's perceptions of beauty, these works adopt the language of idealism to represent the 'incomplete' bodies of people who have either lost limbs due to accident or who were born with a disability. They highlight the fact that while the notion of an incomplete body is something that is celebrated and acceptable within the context of art history, it is not always so in real life.
Evolving from Quinn's desire to reflect the language of classical art and show how it is relevant to contemporary culture, his series All About Love (2016-2017) again uses fragmented sculptures of the human body, this time to explore emotions surrounding love. Each sculpture is a life-cast of two lovers holding one another in different poses. Without heads or faces, we are drawn to the expression communicated by their embrace and the emotion captured in their still forms.
Notions of classicism and beauty also feed into Quinn's Body Alteration works, several which will be presented in Under the Skin including Chelsea Charms (2010), Zombie Boy (2011) and The Beauty of Healing (2014). Reflecting on life in the internet age, these sculptures depict people who have undergone major physical modifications to change their biological identity and physical form. The works explore how in using one's body as an artistic medium, the process of alteration can transform a person's identity, and, in turn, what is under the skin becomes outwardly manifested.
Preface
Marc Quinn: A Metaphor for Being
Zhang Zikang
The Director of the Central Academy of Fine Arts Art Museum
British art has shaken up the art world since the 1990s withits pioneering, manifold, atypical and assertive styles; the influence has been long-lasting and extensive. CAFA Art Museum nowpresents one of the most iconic artists in this salient phase of British art history, Marc Quinn's inaugural solo museum exhibition in China. Quinn came to prominence thirty years ago. He is known for his passion about materiality and his audacious use of materials: he made bread sculptures in his early days (he baked the breads in the shape of his own hands); he is no conservative when it comes to materials – ice blocks, glass, marbles, biological DNA, blood and other organic elements; the materiality underscores the fundamental subject of human existence, i.e. the perception of beauty and abnormality as well as its underlying cultural and social connotations. Through his use ofincomplete bodies, blossoming flowers, anamorphoseand flamboyant colouration, he explores themes such as identity, perception of beauty, human desire and how nature is mediated by such desire……the recurring juxtapositionsand contrasts in Quinn's work are very interesting: traditional materials combined with state-of-the-art technology, abstract concepts projected by figurative forms and so on. In some of his works, the artist repeatedly investigates the forms of a medium inextreme physical conditions, which manifesting aconfluenceof contemporary art and science. With the prudentspirit ofa scientist and the incisive thinking of a philosopher, he redefines the language of art.
CAFA Art Museum has established multilateral relationships with many British artists, museum directors, curators and critics in the recent decade, and has created constant and systematic intercommunication with them. We collaborated with the Victoria and Albert Museum in 2010 to present an exhibition 'Decode: Digital Design Sensation'; we have presented solo exhibitions of celebratedBritish artists and designers; we also hosted 'The Sino-British Museum Forum' in collaboration with TATEin 2016; in 2018, we continued to work with TATEto launch a series of exhibitions across England; and we have a number of exhibitions of acclaimed artists coming soon. The Central Academy of Fine Arts and CAFA Art Museumhave become a role model of cross-border cultural exchange through its multi-faceted, multi-dimensional and multi-layeredcooperation with British art experts and professionals. We anticipate working further with the global art community, enhancing mutual understanding and bringing great diversity into our museum.
About the exhibition
Dates: 2019-03-08 – 2019-05-01
Location: Gallery 3B, CAFA Art Museum
Opening: 2019-03-08 16:00
Organizer: CAFA Art Museum
Chief Curator: WANG Chunchen
Artworks © Marc Quinn studio, courtesy of the artist and CAFA Art Museum, for further information please visit www.cafamuseum.org.
Related posts: