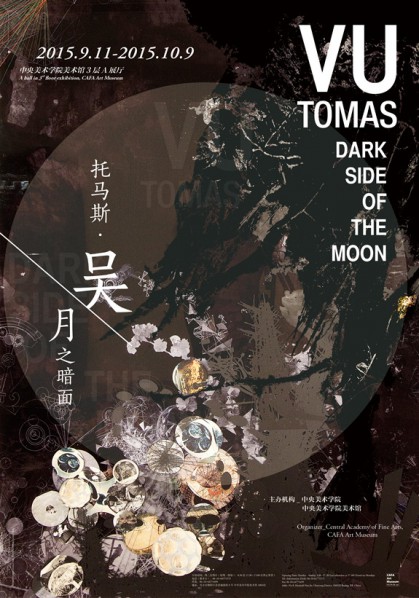 In Tomas Vu's upcoming show Dark Side of the Moon, the artist invites us to explore the unknown and all of its mysteries.
The dark side of the moon escapes easy definition; it is at once the beginning and the end, the question and the answer. It is always outside of our reach, a black hole. The work lives in this space of mystery and possibility. As Vu says, "The best part of not knowing is that you can use your imagination."
Dark Side of the Moon also references the Pink Floyd album of the same title, which Vu first encountered at age 13. He was captivated by its distinct and otherworldly sound, unlike anything he had ever heard before. For him, the album came to represent something mysterious and perpetually foreign. He related to this idea, having moved from the jungle of Vietnam to the desert of El Paso, Texas at age 10. These two landscapes often show up in some form or another in the work. They show a world that is both alight and on fire, and exists outside of time. There is a sense of constant motion, a marching of life and death and technology, which suggests a dark future blinking on the horizon.
These futuristic landscapes discuss the technological advances of man. Vu is very interested in the effects of technology, both for good and bad. He plays with the roles of man and machine, discussing the dissolving line that separates the two.
Ultimately, Vu's work is a protest against the destruction of our planet and our humanity. He takes inspiration from unconventional and controversial revolutionaries – from Ted Kaczynski to Motoko Kusanagi, Alan Turing to Leeloo. By examining these diverse and controversial figures, Vu questions the distinction between advancement and setback.
In the seemingly endlessly layered paintings, Vu explores the unknown, unearthing worlds and giving them form. Though black clouds hang heavy both literally and not, romance and fantasy find their way through the cracks. Within the works, one finds delicate details of flora, models of early airplanes, nuclear mushroom clouds, architectural forms, and astronauts floating in space. These details do not have a single easy explanation; an astronaut could be read as a celebration of man's technological success, or a reminder of our futility in the face of the universe. As our eye moves away from him, he drifts into nothingness. The webs of fine lines that connect and cover the imagery further confuse our expectation for linear narrative, and as our eyes bounce around, the paintings take on their own geometry and sweep us into their world. With Dark Side of the Moon, Vu invites us to travel to a unique moment in time, one that is at once eerily familiar but remains mysterious.
About the exhibition
Organizer: Central Academy of Fine Arts, CAFA Art Museum
Opening: 4:00 pm, September 11, 2015
Duration: September 12- October 9, 2015
Venue: A hall in 3rd floor exhibition, CAFA Art Museum
Courtesy of the artist and CAFA Art Museum, for further information please visit http://museum.cafa.com.cn/en.
Related posts: