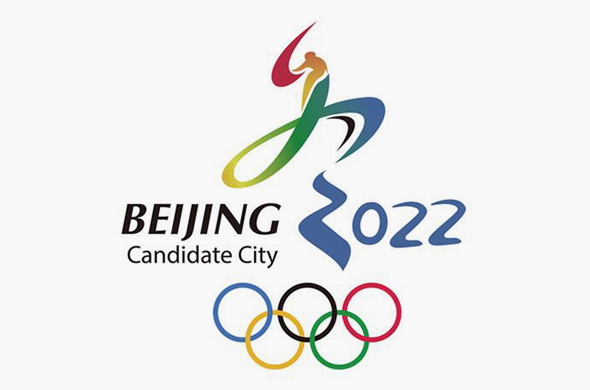 Beijing is going to become the first city to have hosted both the Summer and Winter Olympics after it was chosen to stage the 2022 Winter Games. International Olympic President Thomas Bach confirmed Beijing, which hosted the Summer Games in 2008, had been chosen ahead of Almaty in Kazakshtan at the 128th IOC session in Kuala Lumpur, Malaysia last Friday.
Designed by the team from the Design School of CAFA, which was lead by Ms. Lin Cunzhen, the logo for Beijing 2022 Olympic Winter Games Bid Committee named "Ink Dance of Olympic Winter Games" has been endowed with the dreams of Chinese athletes of winter games and it sends out invitations to all of the world.
The logo integrates the elements of Chinese calligraphy and winter games, featuring the character of "Winter"( in Chinese, 冬), thus it naturally combines the forms of abstract ski run, winter games with calligraphy, exhibiting the vigor and enthusiasm of winter games while conveying the unique charm of Chinese culture.
Vision of 2022 Olympic Winter Games: Joyful Rendezvous upon Pure Ice and Snow
The success of the Beijing 2008 Olympic Games and Paralympic Games has contributed significantly to the development of the Olympic Movement and the spread of the Olympic values, and left behind an abundance of Olympic legacies. Harbin of China once put forward a bid for the 2010 Olympic Winter Games; however, the Olympic Winter Games are yet to be staged in China, the most populous country in the world.
Ice and snow represent purity, and ice and snow sports are full of passion and vigour. Through hosting the 2022 Olympic Winter Games and Paralympic Winter Games, we intend to put sport before everything else, we want our ecological environment as clean as possible and we shall create a social and cultural environment for pure friendship.
Related posts: