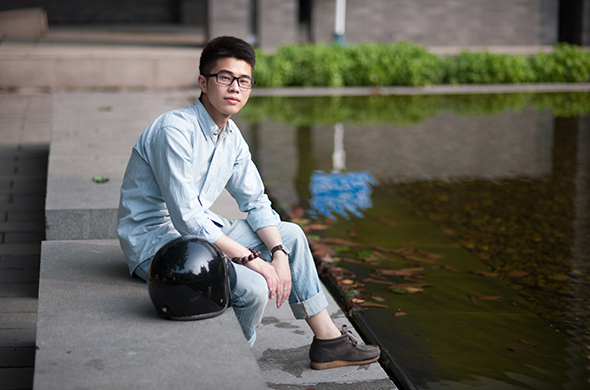 The architectural design is different from artistic creation because it has to deal with many practical problems, the creative design is more difficult and designers face the problem of structural and spatial contradictions in the design, while Lu Zhuojian has been highlighting his ability of control in these elements.
He chooses the commercial and cultural complex design of the Yuan Dynasty Capital City Wall Relics Park as his graduation design. First of all, it starts from his experience of the site, and then adjusts to a step by step approach, arranging the function based on considerations for the needs of daily life of the residents of the surrounding community and college students, organizing a funny and dynamic space, the construction shows a flowing organic form, which echoes the outside park in a natural form, creating an unique spatial atmosphere and a living area for people to experience. In this graduation exhibition, he uses different models to intuitively present the design, with a unique effect to enhance the design itself, and also gain a satisfactory result.
Wang Xiaohong, Instructor of the 11th studio at the School of Architecture, CAFA
---
CAFA Has Its Own Features, and I Want to Speak about My Work
On the occasion of graduation, Lu Zhuojian recalled he received the admission qualification 5 years ago and said it was absolutely "cool". He stated sincerely that, "it is the dream for all art students to be admitted to CAFA, and I feel I am lucky". He is thankful that his ability is approved by CAFA, and it is fortunate that he has the opportunity to study the things that he hopes to learn, and the introductory tour of architecture was started with a 5-year study in CAFA.
Lu joked that his culture lessons were very poor, "I am afraid the scores of culture lessons are the last choice at the Department of Architecture, which can be considered as one of my disadvantages." In fact, he belongs to a group of students that are of great professional competence, he knows his advantages and disadvantages and has been trying to strengthen his advantage in order to make up for deficiencies in other areas, and he has his own insistence as he said that "CAFA has its own features, and I want to speak about my work".
Understanding Space, Exploring Space, Researching Space
Lu Zhuojian was admitted to the Department of Architecture, CAFA, after a wide range of basic learning as a freshman, he chose the architecture as his major when he was a sophomore. He admitted that the high school and college were the two ends of the scale of learning. When high school teachers force you to learn, you actively chase a teacher in the learning towards college. Therefore, understanding what you want has been the most important starting point, Lu Zhuojian often simply lists some learning projects and communicates with teachers and classmates and he is also willing to share his ideas with others, he said that, "Some brief words by classmates or teachers often inadvertently make you find your own ideas or inspiration." Indeed, "the onlookers see most clearly" that this is a truth, when he faces problems, can't understand some things, he would like to exchange with teachers and classmates, in the process it will emerge as new things that inspire him. CAFA has always maintained a small-scale exchange between students of a studio to encourage students to discuss, so that students can express their ideas and learn how to express and teachers guide students to move forward, so that students are able to slowly shift the fixed thinking in the examination-oriented education, to find their own interests, based on this they diverge outwards and gradually find their own skilled method.
Lu Zhuojian was impressed by the design course at elementary school when he was a junior and it was the first time for him to understand the importance of knowing and understanding space. As he said, the architectural design was indeed a comprehensive creation of complex structure, the purpose is for people to use and "design" which is like a verb in interpreting this process, regardless of the smallest, most incidental products or the largest, most complex structural system, design workers are based on the users' perspective in the process and constantly through tooling concepts to harvest the amplification of thinking.
In addition to professional learning, Lu also actively participated in various community activities at school during weekdays, he was a representative of the CAFA school badminton team and attended the 2015 Badminton League by Beijing Universities and Colleges of Art, together with other partners to win the gold prize, he attended the 2nd CAFA "Style of Literature and Art" by performing a hip-hop performance and won the gold prize of the talent group. In his stories, we can see the young mentality that is full of enthusiasm for CAFA life, Lu also said that, "My character is relatively active, restless," Just study without play is not the style of CAFA students, Lu is happy to find pleasure in the dynamic sports and also through a variety of activities to get to know friends with different specialties.
After five years of undergraduate study, he finally entered the graduation design stage which is a great opportunity for him to fully display himself, Lu said that, "I have always believed that it is the first place that happily finishes the graduation design, playing it to the fullest and freely expressing what I wish to express." Lu also tries to do something that he has never done before, for the graduation design, he chose the Yuan Dynasty Capital City Wall Relics Park in Beijing to be the base, trying to combine the gradually changing modern commercial model with the historic, natural and geographic location – to explore an experiential commercial complex. "I want to understand the special buildings of a place, what does a building mixed with a history, park, commerce and people look like?" Holding this question, he steadily enters the state of graduation design.
On the eastern end of the Yuan Dynasty Capital City Wall Relics, is a narrow space of more than 420 meters long, a south facing park, a north facing city road, the surrounding people are residents and students, therefore, in such an environment, it is necessary for the building to realize the basic objectives of the fusion of park's atmosphere and enhancing of the quality of a city. "In this place, I believe that the flow line is the most important part. And it leads to my main concept – tour," Lu told me his own design concept that, "I hope people can walk in between the buildings and park, in order to create a state of experience that shuttles to and fro, achieving the effect of "tour", Lu chose a curve-based design for the flow line, which actually didn't simply create curves of light of sight, path and space, but "mutually concerned" the surrounding environment. The curved line of sight makes nature better integrated in the buildings, while the curve of paths guides the action of people, the spatial curve naturally dividing it into functional areas and it sets a variety of spaces according to the needs of the group.
Behind the design that he stated, it reflects the close relationships between architectural design and people's lifestyle, as well as the changing trends that advance with the times. Along with the progress of the times, people's lifestyle, consumption attitudes have changed, modern architecture is no longer a mere shell in people's mind, it is extended to a more generalized, abundant space, the traditional commercial architecture (such as department stores) can't fully meet this demand, "in the current post-information age, people are in pursuit of a convenient, leisure, recreational and experiential life." Lu explained his thinking in this way, "So the current commercial structure has also changed. Commerce exists in the form of experiences in the future." The traditional single shopping model is changing to a commercial model of "experimental consumption" that integrates consumption, leisure and entertainment, its predominance in the retail field is gradually replaced by the new commercial architectural form that is able to meet the demands of a variety of activities – a commercial complex. Lu's work presents the realistic thinking of an architect, which is praised and approved by another instructor Qiu Zhi.
When it came to the plan after graduation, Lu Zhuojian sincerely expressed his idea that, "When I move towards living in society, it is a change between the ideal and the reality. I want to experience the cruel reality," he smiled and said that, "The specialty of architectural design is actually very comprehensive and it is not certain that I will be engaged in architectural design, so I will have more things to try." Lu Zhuojian recalled his own state of studying in CAFA in the past five years, experiencing the valuable quality to maintain a broad perspective, and extensive explorative spirit, "I make demands on myself, earnestly thinking and permanently working." The enthusiasm both for life and architecture makes him move on, "I will continue to engage in architecture with teachers or friends, or participate in competitions," at the same time, he is also exploring a number of different expressions of design, for example, making some small products, in order to form his own brand, he said that, "the outside world is so big that he wants to go out to see and experience the colorful life." For the people who refuse to restrict themselves, but insist on their own pursuit, the road has always been under their feet and the direction will become clearer; graduation is the starting point, everything has just begun.
Photo courtesy of Lu Zhuojian
Text by Zhang Yizhi, translated by Chen Peihua and edited by Sue/CAFA ART INFO
Related posts: