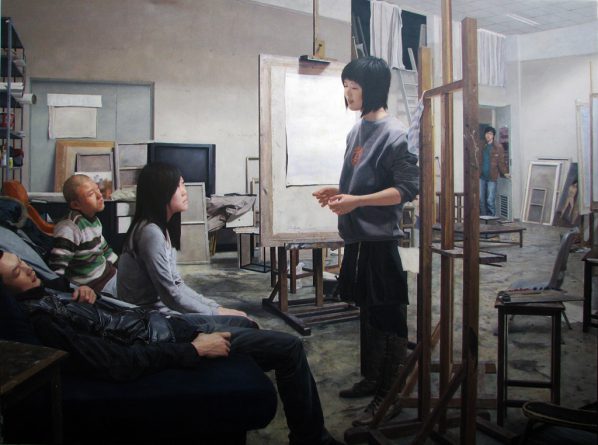 The profession of Oil Painting is regarded as a brilliant profession within CAFA and publicly gains recognition among other professions. In the School of Fine Arts at CAFA, the majority of students will declare oil painting as their major. Graduated students with a degree in Oil Painting are always the most remarkable in both the art community and society in general. The Central Academy of Fine Arts (CAFA) has long been known as the leading art institute for the teaching of oil painting. Each year on its graduate symposium, there are always some fabulous oil paintings that outshine the fierce competition. The concept of "easel painting" is gradually fading in the West, however on the yonder side of the world in China, this concept glimmers anew. Inspired by the composition of traditional Chinese paintings on horizontal scrolls, Zhang Chao's oil on canvas work, Road to Home, is a blend of Chinese artistic traditions and Western Classicism and Realism expressions. What's more, Zhang Chao's 7-year study at CAFA can be seen as an excellent case study on the growth of Oil Painting within the students at CAFA.
The Pursuit of Dream • The No.1 Studio at CAFA's Department of Oil Painting
It was the passion of a dream that guided Zhang Chao all the way to his graduation with a master degree in Oil Painting at CAFA. Fortunately, Zhang was able to fulfill his dream with a step-by-step preparation.
Zhang Chao was born in a family of intellectuals, where his strong interest in painting was nourished since he was little. Zhang first began with some random sketches at home on his own. At middle school, he took some art classes at a local studio to study drawing. As Zhang increasingly immersed himself into the artistic world, he found his desire to enter an art academy grew. And this was when Zhang started his systematic training in sketching and color theories.
At that time, as a display for the teaching achievement, all departments at CAFA would annually publish portfolios which includes the artwork from the teaching staff and students. These portfolios were regarded as the "art bible" in the eyes of CAFA candidates. Among the portfolios from all CAFA departments and studios, Zhang Chao fell in love with the portfolio from No.1 Studio at the department of Oil Painting since his first glimpse. The painting traditions and styles at this studio were what truly inspired Zhang to come and study at CAFA.
While looking back at his road to CAFA, Zhang admitted that it was never a smooth path. When Zhang took the CAFA entrance exam for the first time, he had an excellent performance in his professional examination. However, just like many other students who attempted to apply to CAFA at that time, Zhang was held back by his poor English. Although he was so close to getting admitted, Zhang had to wait another year and retake the entrance exam. It seemed to Zhang as if he had already got one foot inside CAFA, one foot hanging in the air. He had no choice but to do it all over again.
When Zhang took his second attempt a year later, he achieved great results in the college entrance exam. Finally, he was admitted into CAFA's School of Fine Arts. Actually, Zhang feels quite grateful for having spent an extra year focusing on his English improvement, as this later prepared him well for the graduate school entrance exam.
Later on, as Zhang was able to further comprehend the quintessential elements of oil painting through his in-depth studies, he realized how cultural and social-historical concepts were continuously shaping the process of art-making. A masterpiece of art requires cultivation from a rich culture and history. Without such edification of minds, an artist would be reduced to being an artisan.
Even after Zhang got accepted into CAFA, it was never easy for him to enter his beloved No.1 Studio in the department of Oil Painting. All the freshmen at the School of Fine Arts at CAFA have to take the foundation courses in their first year. By the end of the first year, students would be able to declare their specialties according to their ranking in professional courses and general knowledge courses. That is to say, only those students with top ranking in both their profession and general knowledge would be able to declare the specialties they want. On the other hand, students without high rankings would have to face the risk of being placed in other specialties, which may not be their first choice.
Oil Painting has always been a popular selection as the first choice. Once admitted, after spending six months studying in the department of Oil Painting, students in Oil Painting will first hold a public exhibition of their work. Then, they will have to declare the studio of their choice. In the end, the professors in each studio will carefully examine each student's work to make the final placement. Then everything is settled.
The Creation of Art • Inheriting Classical Spirit & Portraying a Contemporary Life
The No.1 Studio that Zhang Chao was working in was established around 1960. It was CAFA's first studio to introduce practical teaching. The main purpose of this studio space is to research European art traditions between Western Renaissance and Post-impressionism, and to innovate the firm belief in Realistic art traditions, by synthesizing the art tradition from both the West and China.
Oil painting was born in the later period of the Western Renaissance. It reached its peak during the Academism Classicism Period. Later with the development of the Modern Art movement, the cultural influence of oil painting tended to weaken slightly. However, since the technique of oil painting was introduced into China, oil painting has been reborn with unique features. Nowadays, Chinese influence in easel painting and academic Realism oil painting should not be underestimated. Zhang Chao views such phenomenon as an inevitable consequence that resulted from the constant worldwide cultural development and evolution.
During Western Classicism period, generations of great masters in oil painting have attempted to experiment with the visual language of oil painting so as to reach its full potential, taking oil painting to the next level, creating an artistic altitude that may be hard for later generations to surpass. Similarly, it has been extremely difficult for contemporary Chinese artists to reach the same aesthetic level that ancient Chinese traditional painting once was able to achieve. However, when oil painting was introduced into China, it collided with Chinese traditional aesthetic concepts and artistic expression within a brand-new cultural setting. As a matter of course, many possibilities for further artistic development could be derived from this collision.
Therefore, Zhang Chao argues that the modern generations of oil painting artists may have promising prospects. He believes that artists should not only inherit the classical tradition of oil painting which has come down since antiquity, but also focus on capturing contemporary everyday life. By doing so, the young Chinese oil painting artists would be able to produce something that reflects the modern attitude towards life, which is nothing we can find in the works from neither the older generations of Chinese oil painting artists, nor the European Classical pioneers.
During Zhang's studies and practice with oil painting, he abides by the traditional academic spirit of oil painting, which claims that the essence of art should be derived from everyday life rather than any made-up narrative. Zhang believes that any artistic production should keep an intimate relationship with life, so that the artist could naturally bring his/her emotions and experience into the process of art-making and meanwhile eliminate being estranged from the spectators.
"I tend to record the everyday life that I am familiar with, rather than the distant places where I have little or no memory of. By blending my personal attachment to the objects I depict into my work, it not only allows me to enter the narrative of my work as the first person, but also allows the viewers to have a first-hand experience. The closer my painting approximates to reality, the easier the viewers can distinctly hear my voice." Said Zhang Chao with a smile.
Zhang's graduation project "Road to Home" is about his memory of taking the train back home. It portrays a scene in which crowds of people line up to enter the Beijing Railway Station. By adopting the scattering perspective and composition used in Chinese traditional horizontal scrolls and constructing an echoing relationship among the characters' gestures and background, Zhang was able to cooperate with three mutually independent yet closely interrelated paintings into one harmonious entirety. Such composition and scattering perspective not only allows the spectators to experience shifting scenery with every step they take, but also gives the spectators a sense of it being totally simultaneous.
During Zhang's making of "Road to Home", he was fortunate to receive the direction and guidance from his graduate supervisor Professor Hu Jiancheng. Hence, instead of following the traditional way of dealing with the picture plane with a finely depicted foreground and vaguely portrayed background, Zhang chose to paint the foreground as a generalized whole while giving the background many more details. In regard to the selection of the character, Zhang was able to stick with the contemporary and the idea of everyday life. Zhang portrayed old men, kids, students, young couples, policemen and temporary workers in his work. By including figures from all walks of life with a variety of social roles, Zhang was able to create a sense of a social life that everyone could have a connection with.
Speaking of the specific techniques utilized, Zhang Chao's oil paintings are of extreme delicacy and are very particular. His work follows the Classical Realism style of the No.1 Studio at CAFA's department of Oil Painting, since such painting style is what he personally highly praises. Realism oil paintings have always been popular according to public aesthetic standard. Zhang argues that Realism art has long been favored by the public. Its popularity can be seen everywhere, from the individual feedback that the audience has given to exhibitions, to the vast attractiveness from the market of Realism oil painting when shown to the public. The degree of trueness to life is the simplest standard for the public to judge art, music and literature.
Zhang also mentioned the fact that, despite some Chinese great masters, the paintings are discussed in lengthy detail in textbooks of Chinese Art History, they may still seem to be little known to the common people as they have more knowledge about folk art. There has been a history of Art written by Chinese intellectuals, which has only been influential among refined scholars. Actually, there has been another history of Art behind the texts, a history of folk art that is largely embraced and easily understood by the common people. Art should serve the life of both educated intellectuals and peasants.
Portrait • Profound, Vivid, and Unconventional
Portrait is one of the types of painting that Zhang Chao has a strong obsession with. He has painted many portraits on most of his close friends. Zhang believes that the ultimate purpose of a portrait is not only to portray one's physical figure, but also to express one's personality and spiritual temperament. Only when the artist is familiar with the object he is trying to depict, can the artist accurately capture the inner qualities contained in the outer form. Only with such familiarity between the artist and the object can a living figure be produced, otherwise, it would just be nothing more than an empty outer form.
Among many great masters of painting, Zhang Chao admires the French Classicism artist Jean-Auguste-Dominique Ingres the most. Portrait de monsieur Bertin is one of Zhang's favorite portrait painting. In this painting, Ingres successfully captured the outer figure and inner disposition of this famous publisher and represented these features in a profound and vivid way. By portraying the object sitting solidly on a chair, with his eyes glancing sharply and hands firmly placed on his knees, Ingres was able to illustrate a mental state that is strong and acute.
While being asked about his definition of an excellent portrait, Zhang Chao argues that an excellent portrait should be able to highlight the outer form and postures of the object in a way that's flexible and vivid, that is, to convey a sense of depth and monumentality within intimate causal conditions.
Image Courtesy of Zhang Chao, text by Zhang Wenzhi, translated by Miao Yinan and edited by Sue/CAFA ART INFO
Related posts: