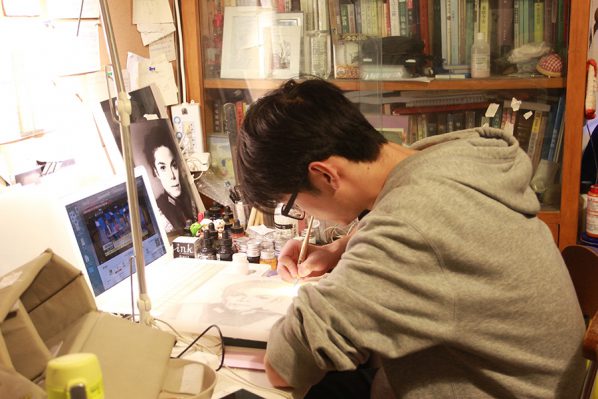 In the opinion of ordinary people, art perhaps is nothing more than drawing a picture, creating a sculpture, shooting a video… the use of one's own path and language to describe a world, to express his or her idea. However, Ji Bei absorbs a lot of energy in the process of creation, not just finishing a piece of work, more importantly he learns about himself in the process of creation, allowing himself to have a more intimate contact with the world, to find his own "presence" and also really knows who he is.
Clinging to the linear accumulation of creation, rather than amazing the people with a single brilliant work    
When I chatted with Ji Bei, I could always feel his obsession with artistic creation, preferring to spend a lot of energy in this and he is a good standard student in the eyes of the teachers, for example, when he was recommended by his tutor Li Fan to be an object of the case observation, he earlier submitted his classified personal material and researched his own detailed creative ideas.
The field of contemporary art is restless, a variety of art institutions are launching many youth art projects at the moment, which is an outlet for young artists to showcase their emotions. When he was a first year graduate student, he wanted to contribute to an exhibition, so he consulted with his tutor Li Fan who threw cold water on it, and Li proposed that he should focus on creation as far as possible at that stage of study, to find his own suitable creative ideas and methods. The outside exhibition and awards are inevitably involved in  individual identity, trade-offs, so it was difficult to be absolutely fair, if the expectation failed, you would be inevitably uneven in mind, in addition, the exhibited work was only a process and node of the whole creative chain, which would be broken if it was collected for an exhibition and award, perhaps it would affect the coherence of creative thinking in the future. Prof. Li Fan often reminded him to preserve the research materials and although there are many impetuous things in current society, we can believe that this state will eventually change, the period of study and growth is in need of calm concentration in creation. Ji Bei has never thought he would be able to amaze the people through a single work and painting and creation has become the norm and a part of his life, he wants to form the "creation with a clue", like a linear creative accumulation is the nutrient soil, it is planned to have a periodical display at a certain stage with a topic, such as the graduation creation. It is obvious that Ji Bei constantly adds things in the process of creation, such as a persistent insistence which will inevitably shine someday, and this is a valuable character in the present impetuous environment.
The "occlusion" and "spread" of short lines and dots
Ji has been stressing that he is currently building his own "creation of a clue", and he replied that it composed of the exploration and accumulation of both the"language of painting" and "expressive content", which was inseparable with the education of CAFA, when asked what his clue was.
Ji spent both his undergraduate and graduate years in the Department of Printmaking, CAFA, when he attended the course of "long-term drawing" directed by teacher Wu Hong in the sophomore year, he demonstrated aninnovative sense of painting language, he finished a coursework entitled "A Corner", depicting two chairs of the studio's corner, and the chairs weren't enlarged into the center of the screen, but huddled up in the corner, he focused on the performance of the spatial sense of the studio, pursuing an effect so that"people can enter the space", which has been approved by the teacher. The main part of the painting is to depict the texture of terrazzo, the use of a brush and charcoal powder to portray the image which focuses on the performance of the occlusions of small stones within the ground, and he was satisfied with the final graphic effect.
When he was an undergraduate, Ji studied in the 5th illustration studio, which is a professional studio closely related to literature, this course demanded a reliance on text to create and paraphrase creation through text. His teacher Prof. Gao Rongsheng believes that, printmaking is an inductive, summary language, stressing the "purification of language", for example, he highlights the "shaping by group lines", "black-and-white language", "professional color" in the expressive form of illustrative printmaking. "Shaping by group lines" which inspired Ji Bei more than the others, and Gao believes that "if the short lines are orderly combined, it will create an imposing manner". In the creation of "The Season of Dandruff's Outbreak", Ji Bei applied short lines to imitate the texture of hair, and he found that he was good at repeated and indirect convergence in the process of creation, taking the occlusion as the basic language of painting. Ji Bei's undergraduate graduation work "The Time of a Grid" was finished under the supervision of teacher Wu Jiang, Ji tries to have a conceptual discussion on the daily method of watching painting, namely seeing a painting is like reading a book. He believes that the painter's thinking of a drawing is the same as a novelist's thinking when writing a novel, each page of the book is the basic unitof a novel, the entire screen is divided into several grids, if takes each grid as a page, the whole painting corresponds to a novel, so that when a spectator sees it, it echoes the time to draw it.
If a person really wants to know who he or she is, he or she should know who his or her father is first.   
Ji Bei's postgraduate tutor is Prof. Li Fan plays an important role in his artistic growth. When he first attended the course taught by Li Fan, who required students to "analyze themselves", Ji Bei was very exclusive at the beginning, and refused to present the private "ego" to people, but Li stressed that the research of yourself was not in order to show to others, but for yourself, only then can you clearly understand yourself, can you understand what you need to express in creation.
He went back home with the task of learning, to chat with his grandmother and mother, and also shot many memorable images as alternate materials, and later he found that most of the topics they talked about were all about his late father. According to Ji Bei's description, he has always found it shameful to talk about his father, who suffered from schizophrenia, belonging to a vulnerable group, he could do nothing except engage in some simple jobs in the factory, and he was not a strong masculine father image in the family. His father passed away at the age of 49 in 2004, when he was just 16 years old. Because of the lack of a male role model, Ji Bei said he was born self-contemptuous. In this "self-analysis", he had a clearer understanding of himself, his father played a very important role in the formation of his character, and he had been personally "looking for a role model". In the process he found the great power of blood, and understood that: If a person really wants to know who he or she is, he or she should know who his or her father is first.
Ji Bei began to recall and describe the stories between himself and his father,after the 25 stories were finished, he found he was more at ease, perhaps the previous invisible and impalpable big stone hidden in the heart was uncovered in front of him, and he called these series of stories "Galloping a Horse". At that time, he had an opportunity to go to a museum to sort out book plates, touching a large number of original prints from Europe, and after returning home, he combined what he saw that day with the previous copies, as well as the ongoing stories "Galloping a Horse", to randomly organize screens which then formed a series of illustrations which were related to "Galloping a Horse".
Ji Bei's graduate creation "Leaf of Life" still continues the theme of "father", the painting style is short of presence as applied to the arrangement of the painting, Ji Bei thinks that some artists strongly maintain the "presence" of themselves in the creation, for example Rodin would leave his fingerprints when making a sculpture but a delicate and gentle manner is more suited to him. He simultaneously drew a portrait of his father and himself, emphatically portraying the association between them, the overlapping of images constituted a visual illusion, and also reflecting the blood connection between identities, he has also found his "presence" in this kind of painting relationship. In addition, he also chose some public figures that were greatly influenced by their fathers during the maturing process, to draw portraits, including Jackson, Ang Lee, Takeshi Kitano, Muammar Gaddafi, the use of the same method to blend a public figure's representative faces in different periods in a painting, to create a portrait within a concept of time, covering the different stages of life. At the same time, he has also found a textual reference for his "father relationship", while shortening the relationship between the audience and the work.
Image Courtesy of Ji Bei
Text by Zhang Wenzhi, translated by Chen Peihua and edited by Sue/CAFA ART INFO
Related posts: