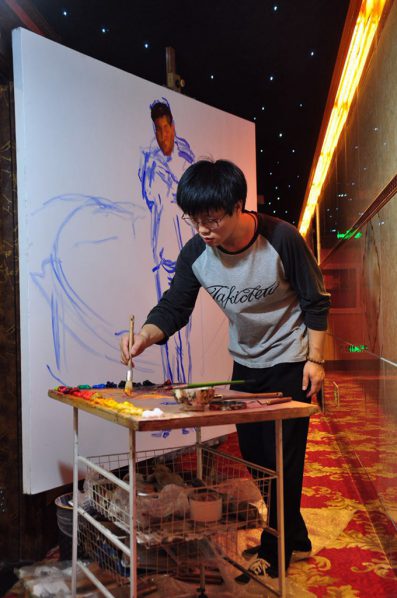 The Central Academy of Fine Arts (CAFA), located in Beijing, the capital of China, is a leading institution for modern art and education in China, which has nurtured a significant number of pre-eminent artists. While continuously providing a rich land for those who wish to learn, experience, and engage in art creations, CAFA is also known for its extremely selective admission standards.
According to one of the media analysis on CAFA's admission data, in 2003, over 24,000 applicants attended the various entrance exams. 96.7% of these applicants was instantly rejected. The ratio between the number of applicants and the number of acceptances, was 30:1, with the exception for few specialties that reached to 100:1. Besides strictly controlling the number of people that is accepted, CAFA is also constantly raising its rigorous admission standards for both the professional art course exam and the general academic course exam. Given the facts listed above, it shall come as no surprise that the majority of freshman in CAFA face an increasing tendency of being admitted as a mature student, due to the high rate of reapplication every year.
"It seems to me that everything is just starting."
As an "immature" young artist who just graduated from CAFA, Liu Pan admitted uneasily that this was the first time he was interviewed by the public media. While Liu Pan was taking his time to sit, I, as the interviewer, sensed his shyness.
Just like most students in CAFA behaved before being accepted, Liu Pan took as many classes as he could for the entrance exam preparation and reapplication. What's more, due to Liu's rebellious puberty during high school, he also suffered a lot from his poor performance in the general academic course exam. Luckily, in 2009, Liu finally got accepted into the Bachelor of Film and Video Art under the College of City Design in CAFA. Liu was admitted at the age of 23.
"Many of my classmates stopped drawing or painting when they started in the College of City Design. Soon, people started changing their artistic ways. Many began to make videos, films and animation as their newly emerging interests. But I simply could not just give up on drawing or painting," said Liu undoubtedly. During Liu's days in the College of City Design, other than completing his courses on the design concept, script-writing, and film-editing, Liu never stopped drawing or reading. His graduation portfolio was full of his works of oil paintings, sketch drawings and calligraphy, with only three pieces of video art.
Liu Pan said that his years of undergraduate studies at CAFA was indeed a memory of all the good things. Although Liu sometimes felt bored, he was lucky to have a group of friends who always hung out with him, took him to parties and they drank together while talking about their understanding of literature and art, and their dreams. Liu and his friends even started a rock band called "Inflammable Film", in an attempt to release their growing sense of depression by expressing themselves through music.
"I think there was a quote from a crazy philosopher that could rightly reflect my attitude towards the process of art-making. 'Let the artwork speak, and let the artist shut up.' One day, I dreamed of a scene happening in our experimental video-making studio, in which me and my friends, all seven of us, either rested on a coach or reclined comfortably on a chair, immersing ourselves into the dreamy foggy air of our smoke, in which we talk about art." Quoted from Liu Pan's foreword to his portfolio.
"Honestly, I see this foreword of my portfolio more in name than in reality," "But everything seems to me to be just starting." Said Liu Pan.
"Maybe it's because my interests are too broad that they cannot be classified into a single category. Even I am still unsure about exactly where I belong."
"After reading my undergraduate portfolio, my friends told me that I might have a good shot at getting into graduate schools. And I was like, let's give it a try." Liu Pan casually mentioned his reason for applying for a master's degree at CAFA. Yet, it's clear that, without any determination and certainty in mind, Liu would not be able to be admitted into the School of Fine Arts right after he graduated.
It is never easy for one to pursue art as a lifetime career. Those who succeed usually have the capability to endure loneliness. While being asked about his daily routine at the graduate school, Liu said that so far he has lived his life to the fullest. The School of Fine Arts offers graduate students with classes in modelling, anatomy, color theories and life drawing. For some days, when Liu gets time in the afternoon, he would pay for a nude model to come to the studio and have a few extra life drawing sessions. In the evening, Liu prefers to read and practice calligraphy to the end of the day.
"I am so glad that I am able to spend more time in focusing on painting again. I always feel that time is never enough for me. I push myself a lot." Said Liu with a shy smile on his face.
When speaking of the uniqueness of the CAFAers, the non-CAFA people usually esteem the CAFAers as a group of people with a distinctive artistic temperament. So what exactly is this kind of temperament? Even the CAFAers cannot really explain it. Interestingly, usually the security people who work at the entrance gate at CAFA are the ones who can accurately distinguish between the "outsiders" and the CAFAers. Such temperament from the students at CAFA is not a result of teaching solely, but more of an edification. In addition to the curriculum offered and the teaching staff involved, the environment is also gradually shaping the students in an unconscious way.
As a CAFAer, Liu Pan acknowledges the fact that he's had some deep emotional attachments to the pure artistic atmosphere at CAFA. Other than taking nude drawing classes, practicing real life drawing, spending time at the library, attending exhibitions and lectures, Liu also enjoys chatting with his teachers and classmates.
Speaking of his research supervisor, Liu said that, "It seems that, I specialize in painting in the eyes of those who majored in Video Art, nevertheless I specialize in Video Art in the eyes of those who majored in Painting. Maybe it's because my interests are too broad that they cannot be classified into a single category. Even I am still unsure about exactly where I belong. I struggle a lot because of this. I am really grateful that I have my research supervisor, Professor Zhang Lujiang, who is always there to encourage me to develop these features of mine. "
"Every step that I have taken in my life counts."
"In 2008, my mother opened up a hostel with 28 rooms, located downtown in our hometown Lanzhou. People from all walks of life checked in and out every day, bringing their stories into the hostel. Five years later, my mother's hostel, Sanhe Hostel was forced to shut down because of the increase in rent. My work Sanhe Hotel was based on the memories that I've captured at the hostel, as well as my reflection on social issues, people's desires, and the question of survival. The narrative of Sanhe Hostel was achieved by painting from real life. There are 32 paintings, one video with an original soundtrack, all created by me independently. "Quoted from Liu Pan's statement for his graduation project.
Liu spent almost a year completing his graduation project, in which there are 11 large-scale paintings of 170cm x 175cm. "Why did you choose to make so many large-scale paintings?" I asked Liu. "Once I get inspired, I will have new concepts continuously flowing from my mind. In order to capture all these new thoughts, I have to keep painting without stop. And the more paintings I finish, the more I get addicted to the process of making paintings," said Liu.
Needless to mention how much effort and passion Liu has devoted to his work, as he described the process of painting as a kind of "addiction" to him. Liu said that, "The process of painting from real life can better sharpen my perceptual experience. At that moment of creation, I feel like the power I've gained from all my previous hard work and exercises gets activated. You have to master enough painting and drawing skills with your hands, before you can master the concepts from your mind."
In Liu's work Sanhe Hostel, he portrays all sorts of "travellers" as silhouettes in the world of vanity. From his perspective as a "spectator", Sanhe Hostel aims to represent the economic gap between the rich and the poor, the struggle for survival from people living at the bottom of the society. Such representation of art is inevitably endowed with "subjectivity", "selectivity" and "picturesque", which is one of the reasons why contemporary Figural Art remains glamourous nowadays throughout the world. Liu said that, "Somehow, I always tend to feel sorrowful when I see people's faces and their expressions. I guess this is why humans are so attractive to me."
American art critic and curator, Barbara Pollack, once proposed the concept of YCA (Young Chinese Artists). YCA was defined as the alienated, privileged, apolitical, and narcissistic generation of young Chinese artists, who were born in the 80s and 90s, under China's birth control policy and rapid economic growth. Unlike the older generations of Chinese artists, these young Chinese artists who grew up in the 80s and 90s, seem to focus more on self-expression and self-emotion. It has been a matter of dispute that, whether or not such "excessive" self-expression leads to the lack of attention to reality and misunderstanding of the world. As for Liu Pan, he argues that, "If we lose our ability and position to make the judgements towards reality, as a result of our over-attention to self-expression and self-emotion, we would not be able to produce any work of subjectivity in an objective condition."
Speaking of Liu's future plan, he made it very simple and realistic: stay at Beijing and keep painting, yet with the premise in mind that, he has be able to support himself first. "People are still telling me that my artistic style looks similar to someone else's. But I see this as a matter of time. I do not attempt to imitate others' styles intentionally, however I do not try to avoid it either. So who knows what will happen to me in the future?"
"Do you have anything else that you want to tell us?" I asked.
"Since finishing this series of artwork, I have found the entire process was like making a movie. What's so ironic about this is that, I was once trying so hard to escape from my studies of all the films and videos and go back to painting. But I guess this is something that, once I was involved, I could never erase the mark it has left in my life. Every step that I have taken in my life counts."
Photo Courtesy of Liu Pan
Text by Yu Ya, translated by Miao Yinan and edited by Sue/CAFA ART INFO
Please click on the link below to watch the video:
http://v.qq.com/boke/page/b/0/q/b03005ws12q.html.
Related posts: