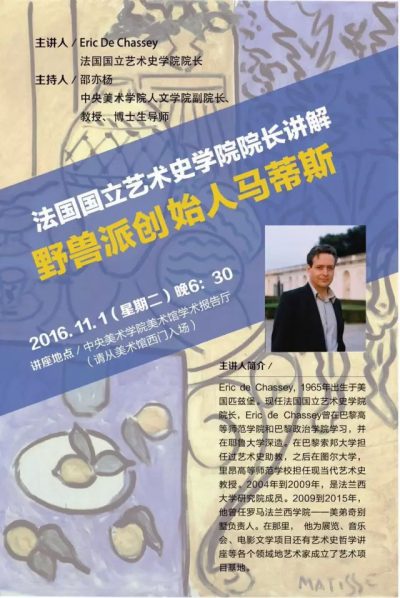 Moderator: Shao Yiyang, Deputy Dean of the School of Humanities, CAFA, Professor, Doctoral Tutor
Speaker: Eric de Chassey, President of the French National Academy of Art History
Time: November 1, 2016, 18:30
Venue: Auditorium at CAFA (Please enter from the West Gate of the Art Museum)
As the founder and key representative of Fauvism, Matisse has influenced many painters from France and other countries. In particular, after the end of World War II, Henry Matisse chose to draw the interior scene of a series of uninhabited houses using his brush, rather than witnessing the horrors of a recent war and conflict with his eyes. It was the result of a lengthy reflection on the subject, and Matisse's best works transcend the figurative and abstraction. At the same time, his paintings have inspired many postwar painters such as Mark Rothko or Jackson Pollock, and even contemporary artists Ellsworth Kelly, Blinky Palermo and Daniel Buren.
On the occasion of the exhibition "Masterpieces from the Centre Pompidou 1906-1977", CAFA invited Eric De Chassey, President of the French National Academy of Art History to explain Henry Matisse in detail for us.
About the Speaker
Eric De Chassey was born in Pittsburgh, the United States, in 1965. President of the French National Academy of Art History Eric de Chassey once studied at the Ecole Normale Supérieure de Paris and the Institut d'Etudes Politiques de Paris-Sciences Po, and further studied at Yale University. He once served as a teaching assistant of art history at the Sorbonne University, and later served as Professor of the History of Modern and Contemporary Art at University of Toursand Ecole Normale Supérieure de Lyon. From 2004 to 2009, he was a member of the Institut universitaire de France. From 2009 to 2015, he was the head of the France Academy in Roma – The Medici Villas where he set up an art project base for artists from various fields to hold exhibitions, concerts, film literature projects and lectures on art history, etc.
Translated by Chen Peihua and edited by Sue/CAFA ART INFO
Related posts: