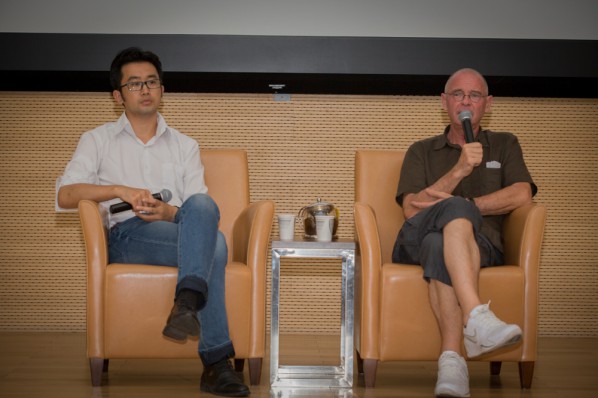 At 7: 00 pm on June 17, 2014, Today Art Talk invited Hannes Schmid, the international well-known photographer and great visual narrator from Switzerland, to give a lecture at the Auditorium of the CAFA Art Museum, and it was presided over by Gao Peng, Executive Director of Today Art Museum.
The lecture was divided into two parts. First of all, Hannes Schmid shared his life's journey with the audience, and summed up the experiences of his creation. Then, Gao Peng had a dialogue with Hannes, to deeply explore his adventure. Hannes was born in a poor mountain area of Switzerland, he began herding in the mountains and the woods during his childhood, always running all over the mountains. The childhood experiences shaped his freedom and passionate personality, and also stopped him from being trapped in the material. Hannes had always been full of curiosity ofhis surroundings and he thought the world changed every moment, while he spent his life in capturing the fragments of change to create the eternal moment.
At first, Hannes went to South Africa as an engineer, in which his life was inspired by his love of art, so he started to study artistic photography at the University of Cape Town. He left school after two semesters, and alone began a four-year African tour. From 1972, he started visiting the mainland of China, India, Indonesia, Singapore, and Tibet, China, to reexamine the cultural and historical heritage of the global village. This journey was not smooth sailing, as he was captured by atribe renowned for cannibalism where he was tortured every day, living in a pigsty for three months. And in another tribe he was infected with scarlet fever, influenza and other diseases, struggling on the edge of life and death. Finally, his dying body was thrown away on the coast, but luckily he was rescued by an Australian fleet and returned to Switzerland. From 1977 to 1984, he had a good time, following more than 250 bands when they went on tour, including Kraftwerk, Queen, Blonde, AC/DC, and etc., he took more than 100,000 photos, no photographer got as close to a rock star as he did. In 1984, the famous fashion magazine VOGUE invited him to take fashion photos, he delightfully accepted it. Hannes said he wasn't interested in fashion at that stage, but, getting thefunding meant he could really start his conceptual photography creations, so it was a remarkable meaning for him. At that time, he was heterogeneous within fashion photography circles,as he used unique themes and perspective, and even asked his models to go to the jungle, in order to takephotos with an elephant. Hannes believed that he wasan artist, he needed to look for the true intention from inside to outside, to present the world on the premise of grasping oneself.
In the mid-1990s, Hannes was world-famous for re-creating the "Marlboro Man" series, while his images shaped the classic image of the American cowboy, and were adopted by artists such as Richard Prince. He said patience was a very important quality for art. Art is a long suffering process, which he had endured for 35 years. During this long process, he always knew what he wanted, and adhered to the principle of the creation and life.
Gao Peng in Dialogue with Hannes Schmid
Gao Peng: As far as I know, your life hasn't actually been rich, as you donated all the wealth to artistic creation. Why do you insist on being spiritually rich?
Hannes Schmid: Now, I constantly work for 20 hours every day, sleeping for only 4 hours. I won't feel tired, but the whole body is continuously full of passion and motivation.
I choose to become an artist not for the money, and an artist may be poor in material goods, as I never been rich, my money is always used to invest in projects. But I think that it ismeaningful to use money to do what you really want to do.
Gao Peng: Could you talk about the experience in Cambodia where you have rescued many impoverished children?
Hannes Schmid: When I went to Thailand for the first time, I met a girl that was begging and she had severely burnt face which heavily shocked me, she left after I gave her money. She was still at the place when I returned the next day, then I talked with her, she told me that she was from Cambodia, and was sold by her family when she was 6 years old. At first, she was sexually abused, after 1 year she began to beg, and the begging group burned her face by using sulphuric acid in order to make her gain more money. I was deeply touched, I paid her expenses and took her back to Cambodia. But I was more shocked by the experiences in Cambodia, where there was a huge rubbish dump, a large number of children living in the trash, fighting for food with mice, suffering from various diseases, and they died like flies. When I went to the place, I paid $1 a day for rent and lived together with them. I didn't reactto the initial surprise for a long time until I took the first photo after being there for 2 years. Three years ago, I started the "Care" project in cooperation with two other artists, to capture and record the lives of these children. After repeatedly communicating with them and getting along with them for a long time, we have become a family, and I can't express what is in my mind through the lens of a camera yet. After publication of the work, I finally have the ability to improve their lives, to provide them with food and jobs.
Actually, art is a bridge to connect many things, and good art doesn't need a drastic way to communicate, nor need to be connected with politics. It can purify the heart, and also really helps others. Art will never stop, and artists shall do good things as far as possible to help more people.
Text by Zhang Gaoshan, translated by Chen Peihua and edited by Sue/CAFA ART INFO
Photo by Quan Jing/CAFA ART INFO
Related posts: