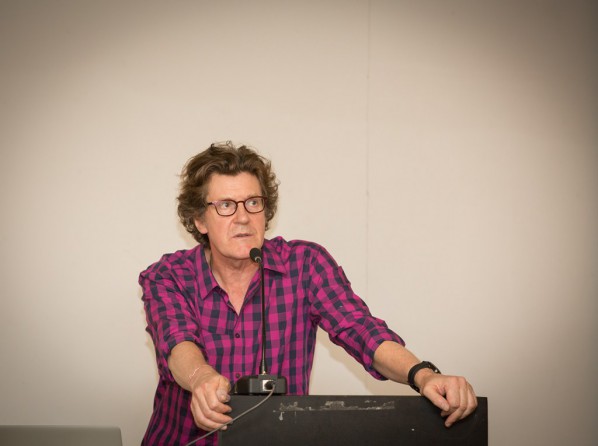 On the evening of June 21, 2014, the well-known English landscape photographer Michael Kenna gave a lecture entitled "China through the Lens" at Room B118 on the underground floor of building 7, CAFA.
Michael Kenna was born in the north of England, he once dreamed of becoming a priest. He first studied in a seminary, and later entered the school of fine arts, and then learned with the well-known female photographer Ruth Bernhard and served as her assistant. Initially, Michael Kenna showed four photos of the sculptures in Versailles Park at different times, these photos have a unique feature as they were taken from the back of the sculpture. He likes to shoot the sculptures closely integrated to the environment, and often goes to the same place to shoot the same scene, to feel the changes of the object in different lights. He especially likes to shoot the back of the sculpture, and is fascinated by the traces carved on the sculpture.
In the lecture he talked about his idol French photographer Eugène Atget, who spent his whole life shooting in Paris which deeply touched him. In his childhood, Michael Kenna often went to a beach for a vacation with his family, and this experience also affected his photography. Once upon a time he thought only beautiful things were worthy of photography, such as the country lanes and the churches in England, but later he was influenced by Bill Brandt. He showcased a photograph of a power plant, and said it was a turn on the road of his photography, before that, he was only interested in beautiful landscapes, while afterwards he took photos of some industrial buildings. In the same way, he had shot the subject of power plants many times, and he even visited the same power plant many times, he was keen on different aesthetic feelings as presented in different times and different light.
Today, Michael Kenna freely transitions between urban landscape and natural landscape, he said that, photography wasn't simply copying, but in need of adding the individual feeling of the photographer, equipment and technology weren't the most important, but one should focus on his/ her own ideas. He usually uses Black and White Photography, which reveals more of his preferred style and characteristic rather than color.
Michael Kenna said that, after being in Asia, his photography was more and more abstract. First of all, he showcased Japan through his lens, such as an abstract geometric graphic that was made of fences in the snow, it was taken in Hokkaido. He said that, influenced by Bill Brandt, he took photos of a large number of industrial buildings in black and white in England, but in Japan, he used "white", forming a minimalist image.
Soon afterwards, Michael Kenna showcased Hong Kong and Shanghai through his lens, his wandering between the skyscrapers, searching for different angles and scenes. He preferred the unpredictability to presupposing the scene through the lens, but that was the reason why he didn't use a digital camera to shoot. He believed that the photographers were often imprisoned by their own imagination, so they should break the restrictions, applying their own means to perform different effects.
Michael Kenna also went to Beijing, Yunnan, Guilin and Mount Huang to take a lot of photos. Many people asked him, what was the difference of the landscapes of Japan and South Korea, compared with China, he said, he hadn't studied the distinction, but many people would say "This is China" after seeing his photos of Mount Huang. He was fascinated by the ever-changing clouds of Mount Huang, and he said he couldn't imagine living in such a spectacular place as Mount Huang, where Chinese people wouldn't live. He didn't like the details in the sun, but was passionate about the effect of the objects in the mist, and if one wanted to have such changing effects, then patience was more important than the equipment.
Michael told the audience many interesting stories when he took photos in China, we were amused, while enjoying the magic Oriental landscapes filled with the artistic conception of Zen, through his lens.
Text by Zhang Chi, translated by Chen Peihua and edited by Sue/CAFA ART INFO
Photo by Quan Jing/CAFA ART INFO
Related posts: