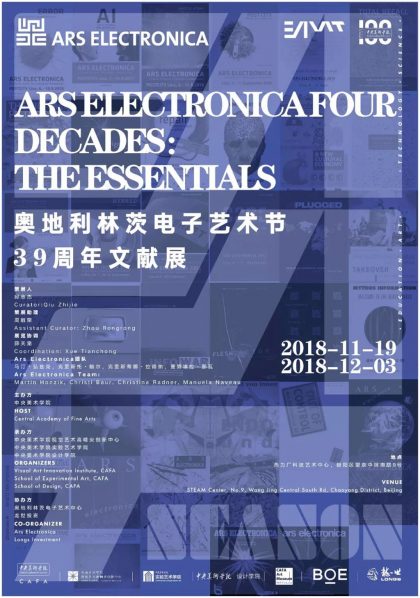 As a pioneer institution in the world exploring the expressing potential of technology, and the scientific charm that could be embedded into art, Ars Electronica has been supporting numerous works and artists that cross and redefine the boundaries. It also has been nourishing the global audience to appreciate, to think about, and to imagine the new possibilities along with technology development. Central Academy of Fine Arts, by undertaking the exhibition of ARS ELECTRONICA four decades: the essentials, and contributing to its archive research, honorably participates in its 39 year history.
ARS ELECTRONICA four decades: the essentials is a project that CAFA collaborated with Ars Electronica and it will continue in the future. CAFA organized its researchers and students to present Ars Electronica in history timeline, visionary pioneers, remarkable videos, internet timeline and publications. We receive extensive help and support in the process from Ars Electronica in its abundant archive and generous suggestions. And in translating the materials, selecting works to elaborate, and organizing the visual layout, we dig into the early attempts from interactive installations to drone performances.
CAFA imported the archive of Ars Electronica for the local audience because we are surely following the same technological advances in a smaller world. Productivity and risks are shared universally as population and data. It is the time that we meet our perspectives on the same issues and bring together the insights from different regions. We hereby celebrate the great collaboration with Ars Electronica, express enormous gratitude, and look forward to the future.
The CAFA team
About the exhibition
Dates: Nov 19, 2018 – Dec 3, 2018
Venue: STEAM Center, No. 9, Wang Jing Central South Rd, Chaoyang District, Beijing
Courtesy of CAFA.
Related posts: