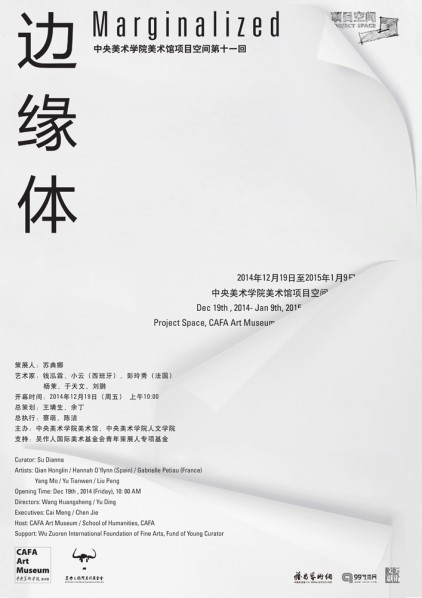 Just as the name implies, "marginalized" superficially refers to the "marginalized community." But in depth, it also means an active or passive detachment from mainstream culture and social norms in terms of concept and behavior, usually showing a physical state of wandering. Those "marginalized" can either be the socially marginalized vulnerable groups, such as farmer migrant employees, vagrants, homosexuals, etc., or avant-garde artists with cultural capital, but actively resisting mainstream culture.
Since the Enlightenment, rational and scientific concepts tended to be extremalized, governing principles consisting of economy and technology dominated the social structure. But art shall always concern human being's living state, psychology, human nature and imagination, so it is always dispelled by mainstream society, and breaking the inclusion of mainstream culture. As various artistic reforms occurred internally, it maintained its natures as free, drifting and marginalized. Artists, as a "marginalized" group, live in the society, acting as the rebel, betrayer and even breaker of the modern material-consuming society in pursuit after high efficiency and interests.
As time goes, the "marginalized" artists are provided with new cultural background, since they were born under the diversified cultural state in a globalized context. It is true to both Chinese and foreigners in China. As the "marginalized" individuals, they all share something in common–In the face of the big gap between different cultures, they are rootless in both body and soul, drifting and wandering in different physical spaces; But they are relentlessly exploring the issues of mutual communication and self-existence in the context of cultural difference. For them, there is no absolute eastern or western, only "marginalized" destiny forever.
The 6 young artists presented by this exhibition are from the "marginalized" community, from different countries or regions. With their existing memories of their original cities and new memories shaped by themselves later on, they echoed contemporary urban cultural phenomena. Through installations, images and videos, they put forward their own considerations over city culture, collective mentality and individual existence. Their works formed a collective "marginalized" achievement, expressing their collective spiritual feeling and physical state in contemporary life. They never belong to a group, or a system, or a country, or even an era. They are a group of drifters being possessed by the wandering soul of art.
The issue of "marginalization" was first shown among overseas artists. For them who did not take root in original culture, homeland is always the memory of dream, while they are excluded, estranged and attracted by foreign cultures. As the "marginalized" overseas students, those artists are often inspired by the collision and integration of two cultures, so new experience is generated. More concisely, they are more "marginalized" in terms of physical space and cultural identity. Notably, not only Chinese artists studying overseas, but also foreign art majors learning in China are facing the same confusion and issue. As the "marginalized" westerners in China, the two foreign art majors found Beijing–the Capital of China, was not that old, quiet and changeless as they had imagined, but it is rapidly fostering, extending, harmonizing and transforming Chinese and western cultures. Thus they strive to find and identify familiar cultural symbols in the new environment, as well as change their memories about Chinese cities as the "marginalized."
Qian Honglin, as an exchange student learning in Germany, is seemingly confused by the "unlanded" mentality in a totally strange environment with different timing, and by the absence of self-identity. With the digitally simulated voice and image, the artist compared beliefs, races and looks between Chinese and western in his work Measurement. In an absurd manner, he explained the collision of civilization, and conveyed his disagreement with conventional ideas adopted in the comparison.
Although studying together as international students of the exchange program of the School of Experimental Art, CAFA, Gabrielle Petiau and Hannah O'flynn have totally different backgrounds and expressions in art. Gabrielle Petiau is from France, but is a "fan of China." She studied Chinese at school when she was 15 years old, and has been to China for 3 times, and also she speaks and writes Chinese very well. The transplanting and exchange of Chinese and western cultures, restructuring and experiment with physical shards are all within her focus. In her work Transplants, the artist "transplanted" different items symbolizing Chinese and western cultures respectively into a new "species," which was put in the exhibition hall like animal or plant specimen and exhibited in the muselogical classification and observation methods, so as to simulate and recreate a "marginalized" westerner's observation and cognition over the harmonization and rebirth of culture from a scientific perspective, as well as reconsider the diversity of culture through collecting the museological shards and dividing them into rational order.
Hannah O'flynn is a Spanish with Germany and Irish descents. Now she commutes between UK and Beijing. For her, the concept of home is usually absent. With her "Lost in Translation"–an installation consisting of a lantern and LED lights, a poem describing her experience in Beijing, is cited in Morse code, with which she discussed about the possibility of communication between different cultures, and more she focused on the language barrier in translation. In the artist's eyes, the loss of original meaning in translation exists forever, and the "marginalized" state of cultural identity and language can never be reversed. Such a rebellious voice against the cultural view advocating communication inspires some reflections in a time featuring discussions over diversified culture.
Additionally, "marginalization" is concentratively reflected on Chinese young artists who were born and grew up in a transitional society. The rapidly-changing society resulted in crisis of self-identification, and diversified values led to confusion in self-positioning. In the network information age filled with cross-boundary information explosion, the commercialized and popularized entertaining culture in a mass consumption society put everybody into anger, anxiety, confusion and loneliness unexceptionally. Everybody lives in the physically and psychologically rootless and marginalized state, which is explored by the young artists–Yang Mo, Yu Tianwen and Liu Peng.
Yang Mo, who is originally from Heilongjiang and now teaches in a college in Beijing, created a dummy, "marginalized" suitcase. With the selected items being put in the suitcase, she keeps different memories of different cities. Traveling through different places with the suitcase, she obtained new possibilities. The love towards traveling, the unique identity and the romance of roaming all over the world showed a kind of cultural mentality originated from active self-marginalization.
Yu Tianwen, who is originally from Jilin and now teaches in a college in Xi'an, depicted the impact of cultural differences on individual in his Enclosure, as he had experienced both cultures of a heavy industrial city in northeast China and an ancient capital city of six dynasties in northwest China. With the old and shabby Chinese herbal medicine cabinet, as well as the traditional Chinese medical prescription, he related them closely to the employers' destiny. He naturally used the common social symbols relating to the "marginalized," e.g. The cabinet stands for city, the drawer stands for the narrow living space of people, the recruitment ad stands for prescription, the railway ticket instead of medical material, stands for migrant residents in cities. Each of them is of a certain medical property and destined to fulfill their mission and value in different cities. Most of the "marginalized," those in the lowest social rank, will be buried in history like the dregs of decoction. But their efforts and struggles, sweat and blood have shaped the prosperous cities. The work contains the artist's reconsideration on the life value of those "marginalized."
In his "Marginalized," Liu Peng, who is originally from Shanxi, recorded the daily life and thinking of the artists participating in the "Marginalized" Exhibition, as well as stories behind it (including those who did not participate in the exhibition at last). Liu Peng himself also lives in the "marginalized" state, but he tries to observe and interpret such kind of life and mentality from an outsider's perspective.
About Project Space
CAFAM Project Space ("Project Space" in short form) is an exhibition hall consisting of three continuous exhibition rooms on the mezzanine between 2/F and 3/F, which was founded upon active advocacy from CAFA leaders and CAFAM. In the approximate 85m2 area, about 8 theme exhibitions were held each year, on which different art medium were shown, including installation, sculpture, painting, video, audio, photography, network, public art and interdisciplinary art.
With the aim of cultivating talented young curators as a long-term project, the Project Space establishes an academic and demonstrating platform, to promote, support and encourage young curators` internationally focused curating practice.
Different from CAFAM, the Project Space tends to provide opportunity for young curators who finally succeeded in selection, allowing them to choose artists and artworks, organize ,plan and implement exhibition projects. Finally, the future curators, in company with artists, made their debuts on the professional stage of CAFAM. For this purpose, we will solicit effective plans and solutions nationwide, in order to demonstrate diversified characteristics of CAFAM.
Since 2013, the Project Space, in collaboration with the School of Humanity, CAFA and Fund of Young Curator, Wu Zuoren international Foundation of Fine Arts, will continue to solicit, evaluate and selected schemes will be implemented in the Project Space(6 exhibitions each year),and CAFAM will provide professional support to assist young curators in realizing their projects.
With the courageous experiment in teaching practice of national higher fine art institutions and public art museums, we are confident that the "Project Space" will eventually become a challenging public platform specializing in cultivating Chinese future curators and artists. Also, we are confident that your participation will add to the success of the project!
About the exhibition
Curator: Su Dianna
Artists: Qian Honglin / Hannah O'flynn (Spain) / Gabrielle Petiau (France) / Yang Mo / Yu Tianwen / Liu Peng
Opening Time: Dec 19th , 2014 (Friday), 10:00 AM
Duration: Dec 19th , 2014 (Friday)–Jan 9th (Friday), 2015
Venue: Project Space, CAFA Art Museum
Directors: Wang Huangsheng / Yu Ding
Executives: Cai Meng / Chen Jie
Host: CAFA Art Museum / School of Humanities, CAFA
Support: Wu Zuoren International Foundation of Fine Arts, Fund of Young Curator
Courtesy of the artists and the CAFA Art Museum, for further information please visit http://museum.cafa.com.cn/en/.
Related posts: