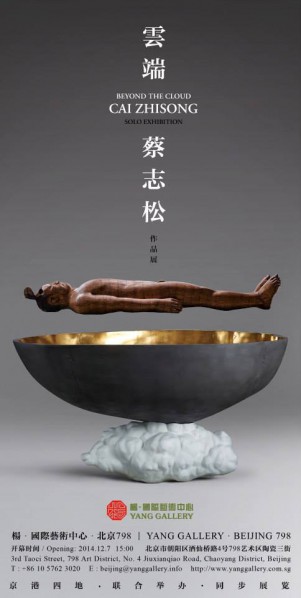 YANG Gallery is pleased to present the latest solo exhibition by Cai Zhisong. Entitled "Beyond the Cloud", it will be on view from from the 7th of December 2014 to 7th of January 2015 at YANG GALLERY • Beijing 798.
Although derived from ancient sources, the expressive poses do not possess much in common with the static, solemn sculpture-works of former periods of Chinese art. Carefully balanced between movement and stillness they create a tension, which engages the viewer's imagination. Furthermore, Cai Zhisong's use of material gives his sculptures a modern feel. Choosing from a wide range of different materials available today from traditional to high tech, he develops a distinctive style, in which thin sheets of metal are applied to a skeleton of reinforced glass-fiber resin, sometimes overlaying the metal sheets further with other materials. Rather than building a smooth surface, the many small sheets overlay each other creating a patchwork pattern, which, although barely visible, is one of the distinct characteristics of Cai Zhisong's style. The often deferring, subservient poses of Cai Zhisong's figures seem to mourn the loss of history and cultural identity of the present age. However they also convey more general ideas about the hardships of life, evoking feelings that every viewer can relate to.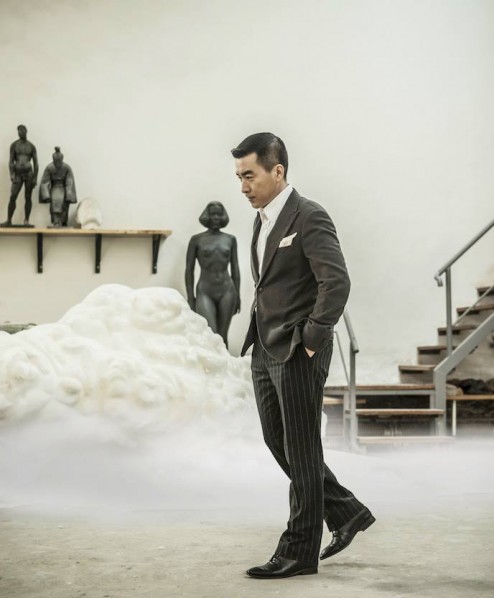 Cai Zhisong's powerful works has gained him international recognition. A graduate of Beijing's Central Academy of Fine Art, was the first Chinese artist to win the prestigious Taylor prize at the Paris Autumn Salon in Eiffel-Branly. Established in 1903, many of the world's most famous artists have participated in the Autumn Salon, including Gauguin, Cezanne, Matisse, Renoir, Bonnard and Rodin. The Autumn Salon opens every year, comprising of painting, sculpture, architecture and photography. Named after Baron Taylor, only one distinguished artist receives the Taylor Prize every year.
Cai Zhisong also won numerous important awards for his works such as: 1997 won Gangsong Family Foundation Award ; 2001 , won the highest award Autumn Salon in Paris, France – "Taylor Award ", a 103 -year history of the event for the first time this winning Chinese artist , when he was twenty-nine ; 2004 , won the bronze medal of the Tenth National Art Exhibition . In the same year , was president of the Central Academy of Fine Arts Award ; 2011 were invited to participate in the 54th Venice Biennale ; 2012 selected 2012 French "Art Actuel" Top " 100 global leaders in the arts ," and topped the cover . In the same year , appeared in the " Fashion LOFFICIEL" Men "power list", was rated "art authority figures". 2013 was rated "Men's Uno style " of the " 2013 Chinese -style characters ." In the same year was named Phoenix and Phoenix, " 2013 Annual Chinese fashion leaders ."
About the exhibition
Duration: 7th December, 2014 – 7th January 2015
Opening Reception: 7th December 2014, 3-6pm
Venue: YANG GALLERY
Address: 3rd Taoci Street, 798 District, No. 4 Jiuxianqiao Road, Chaoyang District, Beijing 100015
Related posts: