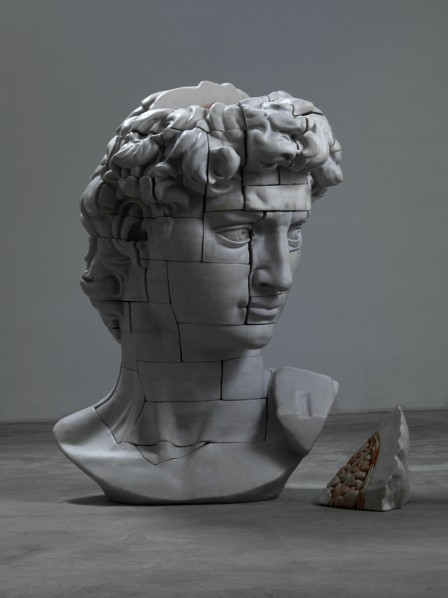 Cao Hui is adept at mixing the objects and organs to achieve a creepy feeling in visual effects. The organs in his works bring a sense of life and thus make the works itself become live and an illusion of tempreture of the works is shared amid in spectators. For his new solo show presents at PIFO Gallery from November 24 through to December 28, 2012, Cao further interprets his thinking on the living experience and desire in the current era with his latest works.
Artists tries to find the connection between material and imagination. Unlike the traditional theory, Cao believes that the more materialized an object is, the more space an imagination can gain. The richness in reality is usually ignored and then the emotion that could trigger imagination is lost. Another feature in Cao's works is that spectators could find their own experiences as they watch them. Cao adds his own experience gained under a certain social environment other than those meaningless conceptual forms.
Cao's masterpieces always seem to hide something huge behind. "We live with our bodies and minds and react to the ourside world. All these are unique. They can not be still the same 200 years ago or after." The artist says. Such kind of creation can be found similarity in Pop art, which manipulates objects to let them change into different forms. But Pop art is much closer to fashion and game, which makes art more lively and energetic. By contrast, Cao's creation makes the objects strict and heavy. Cao explains:"I want the vision to become as rich as possible. Once the richness of vision is huge enough, the feeling can go deeply into people's mind."
About the artist
Born in Kunming in 1968, Cao Hui received his Bachelors Degree from Department of Arts, Yunnan Arts Academy in 1991 and Masters Degree from Department of Sculpture, China Central Academy of Fine Arts in 2000. Currently he lives and works in Beijing. His solo exhibitions include "Visual Temperature: Cao Hui's Solo Exhibition"(2009), PIFO New Art Gallery, Beijing, China, "A Civilized Banquet: The Sculpture Solo Exhibition of Cao Hui"(2008), My Humble House Art Gallery, Taipei, China.
About the exhibition
Duration: November 24th—December 28 th 2012 10:00~18:00(Except Monday)
Opening: November 24th 2012 16:00~18:00 (Saturday)
Address: B-11, 798 Art Area,No.2 Jiuxianqiao Rd, Chaoyang District, Beijing, China
Tel: 86 10 59789562
E-mail: info@pifo.cn
Courtesy of the artist and PIFO Gallery, for further information please visit www.pifo.cn.
Related posts: