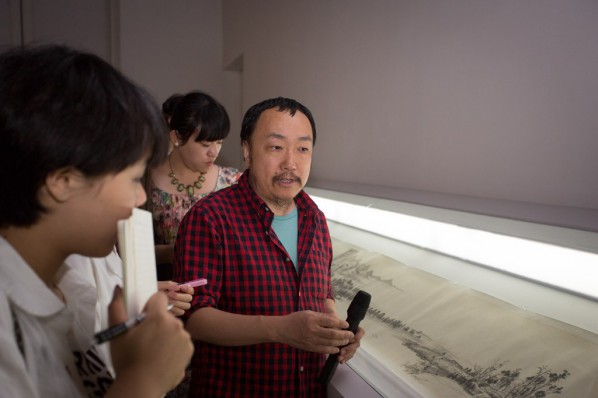 Interview time: 3:00 pm on June 1, 2014
Interview venue: Hive Center for Contemporary Art (at the opening ceremony of "Carefree Excursion" solo exhibition by Wu Yi)
Interviewees: artist Wu Yi, curator Zhu Zhu
Journalist: Zhang Gaoshan
Journalist: Will you think of some concerns, such as landscape, building, or the humanities where you create work?
Wu Yi: No, I would like to slowly discover and feel everything after arriving at a place. When I go to a place, I will search for a creative way that is suitable to express its temperament, such as applying watercolor to paint Kyoto or applying oil painting for the performance of Prague. I wouldn't be confined to the medium in the creation.
Journalist: Do you like to travel very much?
Wu Yi: No, it was an accidental opportunity for me to travel. Slowly, I would start to create some works in the process.
Journalist: What difference is there between the works created at home and abroad?
Wu Yi: Because the contents are different, they are certainly different. My creative idea is that the creative method depends on content. My creation is particular and independent in each period, using different ways to perform different subjects. I am fortunate that I studied in the academy, where I had a solid foundation in skills due to years of training, so I can easily draw when I want to perform a subject. With practice at an early age it is very important, and increasingly reflected during the later stages of creation.
Journalist: The size of this batch of work is very small.
Wu Yi: Yes, it looks like a diary. A big painting takes a lot of time, but I needed to quickly capture the scene, so I painted small paintings so that I could focus on it.
Journalist: It is rare that you hold a solo exhibition in China.
Wu Yi: Yes, but I am concerned with the section of text, such as the traveled notes, whenever I reached a place I would record my feelingsduring that time or I would forget it after a long time. People who know me may say that I have not held a solo exhibition yet, but generally attended group exhibitions.
Journalist: Teacher Zhu Zhu, could you tell me what factor promotes the cooperation of you with Wu Yi?
Zhu Zhu: It is because I realize the significance in recent years. Before that, Iwas not so understanding and did not affirm his creation, I think in the ink, and even all of Chinese contemporary art, his individual creation is in a key position.
Journalist: What is the concept of "travel" in the exhibition?
Zhu Zhu: It doesn't only refer to traveling to some places, but also extends to the text, and returns to old times. We use the concept of travel to connect nearly all his works, to present the entire creative process of the artist, and also to break through the definition that he is only an "ink painting artist". For Wu Yi, every trip helped him to rediscover himself. The reason it is called "Carefree Excursion", is that he is a free person who is able to get rid of the political context and constraint of the present day and discover the really valuable things about life and art in another time and space.
Journalist: A traveler can go out, but finally he has to go back to the context of real life.
Zhu Zhu: Certainly, it is actually in order to reflect reality, stopping oneself being fettered by the hustle and bustle, and grandiose of things.
Journalist: How do you personally define "carefree"?
Zhu Zhu: The "Carefree Wandering" by Zhuangzi gave the best definition of it. For Wu Yi, I think there is not any grand conflict between art forms, when he arrived in a foreign country, he did not stop at the symbolic communication, but managed to penetrate into the local environment, to present daily life, so that he actually through the observing the little incidents of life to realize the reflection of the third person, this is very important.
Journalist: How do you see the lyrical description of the work, is it something similar to the feeling of sketching?
Zhu Zhu: In fact, the subtraction is actually more difficult, which does not only require a higher skill, but also a more carefree state of mind, and abandons the individual. It is seemingly casual, but his brush strokes, temperament, and viewing angle have arrived at a loftier realm, which is similar to Chinese traditional artistic conception.
Journalist: What do you think has touched you most in his work?
Zhu Zhu: I think that it refers to forgetting himself, which doesn't only mean to forget the individual, but also forgets the heaviness and anxiety brought by the negative environment. He managed to make his art show a more essential thing, and persistently realized it, which is very attracting.
Journalist: In the exhibition, it showcases both the painting and text material of Wu Yi, why do you choose such a comprehensive presentation, how do you think about the relationship between the text and record, and work?
Zhu Zhu: First of all, he is used to recording what he feels and sees the use of text during traveling, in addition to painting, he also wrote many articles. In fact, this was a way of cultivating the deposition of the ancient literati, so that ancient poetry, articles and paintings were integrated. Although Wu Yi didn't put the images and articles together on a piece of paper, I think, the general idea, his pictures and articles are not separated. Moreover, many of his words are worth reading, for example, the prose that he wrote about Ofuna in Kamakura, Japan, if analyzing it from the perspective of prose, it is very good.
Journalist: It seems that there is a similar temperament in both his words and work.
Zhu Zhu: I think it is a kind of calmness, a kind of quiet observation and experience. Such a temperament was also presented in the painting. In addition, his works embody a sense of humor, which is derived from the obsession with secular life on earth, and at the same time, it also constitutes a special irony.
Journalist: Do you mean that he can go into the secular world and go out of the secular world?
Zhu Zhu: It is actually a kind of love, that he knows how to enjoy life, searching for the real meaning and happiness of life, through which he explores the value and meaning of life.
Translated by Chen Peihua and edited by Sue/CAFA ART INFO.
Related posts: