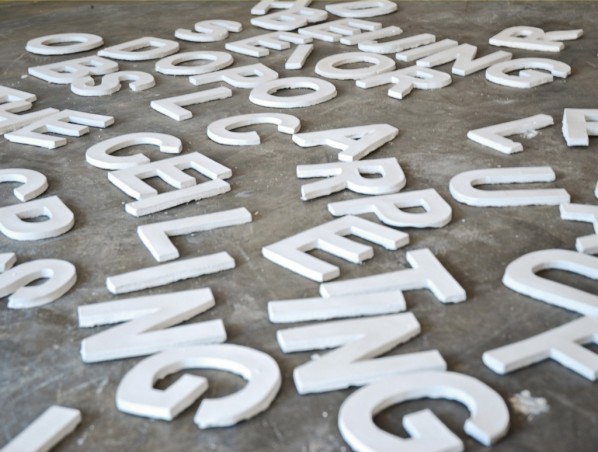 "In species of spaces, Perec talks about the ceilings and how the tangles of rosettes and decorations remind him of other labyrinths of ideas and words. So I have been imaging the ceiling as the place where the thoughts go and stick to, when you are lying on your bed. The installation is the result of the collection of the first thought of the day during an undetermined but continuous period. The restricted choice of the first thought of the day is dictated by the difficulty on defying a thought that reveals itself in a specific time, when you are between sleeping and waking, moment that defines the switch from the unconscious state to the conscious one. Trait d'union is hardly definable, difficult to catch and control," Stefania Migliorati said so.
Stefania Migliorati pins on the ceiling the real sentences that occur to her during the residency period in Beijing. These sentences are contextualized with the ongoing experience, whatever they are: worthy, senseless or ordinary. In an effort of truthful communication, it is self-opening and self exposure. Its' a particular exercise of Stream of consciousness applied to an unusual context because it's not only the literary one but the artistic one, linked by the visual and esthetic poetry of the language and by the perception of the space. An animation video with a drawn self-portrait will read the final text in order to give voice to the stream of consciousness proposed in the words carpet of the installation.
Stefania Migliorati, born in Bergamo (Italy) in 1977. Lives and works between Bergamo and Berlino. Lab-Yit Art Residency Program in Beijing from April 5th to May 8th 2012.
This project has been realized thanks to the warm support of: liuba, Bellero Renata, Bianchi Elena, Bidoli Luca, Bissoli Marco, Cavallaro Claudio, Chen Xueyin, Colombo Roberta, Cossu Antonio, Doraimon Uwe, Frederik Foert, Freschni Lucia, Giambrone Silvia, Giorgetti Silvia, Iacono andrea, Lanza Andrea, Marinone Valentina, Mazzoleni Neve, Menegaldo Francesca, Migliorati Maurizio, Muzi Sabrina, Novarese Irina, Paderni Paola, Palmieri Sabrina, Pamici Odinea, Pinzari Francesca Romana, Rivella Chiara, Sansevrino Serena, Sbrana Caterina, Totolo Giuseppe, Turner Georgina.
About the Exhibition:
Curator: Cecilia Freschini
Duration: May 7th through 20th 2012
Venue: 杂家 zajia lab // beijing project space
Opening: May 6th 2012 from 4pm
Organizer: lab-Yit | the Italian Contemporary Art Platform in China
Supporter: The Italian Cultural Institute in Beijing
Courtesy of Stefania Migliorati and lab-Yit, for further information please visit www.lab-yit.com.
Related posts: