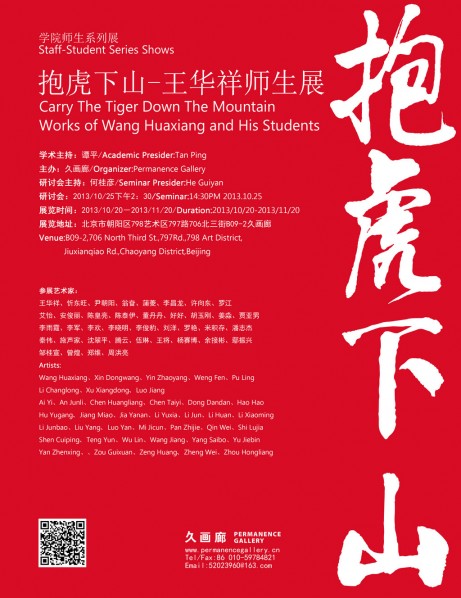 Faculty-Student Series Shows: "Carry The Tiger Down The Mountain: Works of Wang Huaxiang and His Students" is about to open at Permanence Gallery in 798 Art Zone, on October 20, going through to November 20, 2013, which features works spanning twenty-five years, covering oil paintings, prints and drawings, etc., showcasing the educational and artistic achievements by Prof. Wang Huaxiang from CAFA, and the academic seminar of the exhibition will be held at 14:30 at Permanence Gallery on October 25, 2013.
Holding Faculty-Student Series Shows is attempting to present the exploration cases of art education through an exhibition for the audience. These cases are not seeking a conclusion, but to ask a question. Twenty years ago, holding a "cat", Wang Huaxiang went across mountains, "Following the Wrong" he formed his own artistic approach and style, and later implemented this theory into his art education. Years later, from the works presented at the exhibition, we can see that, by "following the wrong", his students had created a large number of works which are neither like Wang Huaxiang's artistic style nor consistent with the standard of the academy, but from which we lucidly feel the existent artists are of a unique face.
In teaching, if a student's idea is contrary to the wish of the teacher, I think it is fortunate. It's often that students' ideas sound "wrong", seeing and thinking of it from another perspective, perhaps it contains more opportunities and unlimited possibilities in the "wrong".
— Tan Ping
About the exhibition
Academic Director: Tan Ping
Organizer: Permanence Gallery
Seminar Director: He Guiyan
Seminar: 14:30 pm, October 25, 2013
Duration: October 20 – November 20, 2013
Courtesy of the artitsts, translated by Chen Peihua and edited by Sue/CAFA ART INFO
Related posts: