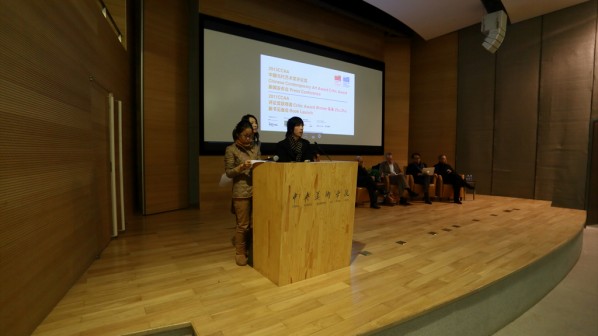 The press conferences for CCAA Chinese Contemporary Art Award for Critics and Zhu Zhu's new book "Grey Carnival – Chinese Contemporary Art Since 2000" were held at the Auditorium of CAFA Art Museum on November 25, 2013. The 4th CCAA Critics Award was awarded to Dong Bingfeng's writing proposal "Exhibition Film: Film in Chinese Contemporary Art", while the judges decided to award the honor of Youth Nomination to Cui Cancan's writing proposal "Reconstruct an Order with All-round Confrontations – a New Way of Chinese Contemporary Art After 2008", in recognition of his pioneering spirit among the new generation of Chinese writers.
Liu Lili, Director of CCAA presided over the press conference, in addition to Uli Sigg, founder of CCAA, the five judges including Chen Danqing (artist, literature and art critic), Gao Shiming, (Dean of SIMA of China Academy of Art), Kevin Mcgarry (writer and curator), Hans Ulrich Obrist (curator, art historian, Director of the Serpentine Gallery, London) were all present at the conference.
The winner Dong Bingfeng's proposal "Exhibition Film: Film in Chinese Contemporary Art", focuses on the development of moving images in contemporary Chinese art. It looks back upon the history: Starting from the discussion around some items such as "video art" and "independent film" in the 1980s, to the means of installation and subsequent interdisciplinary video productions in the 1990s. Video art is popular at the biennales and public discourse is frequent after the legalization of Chinese contemporary art in 2000. By inquiring about the artworks by Feng Mengbo and Yang Fudong, etc., as well as the film creations by Jia Zhangke and Wang Xiaoshuai, the author showcases an increasingly blended relationship between the once self-interest production and the present system, which similarly occurs in the Western world. The judges believe that the mediums discussed in Dong Bingfeng's proposal represented all sorts of political realities in 21st century Chinese lives, and it was an upstream in the Chinese market context which ignores the art of time, effectively and timely, paying attention to it and this will attract both domestic and foreign readers. Therefore, the Chinese Contemporary Art Award (CCAA) rewarded Dong Bingfeng a total of 80,000 RMB to fund his writing, and decided to publish the book in two years following advice from Dong Bingfeng.
Cui Cancan's winning proposal "Reconstruct an Order in All-round Confrontations – the New Way of Chinese Contemporary Art After 2008" discusses the inseparable relationship between the artistic critic and the movement. He believes that dual social and political pressures make many artists shift to self-organization and self-construction after 2008, converging into a new way of Chinese contemporary art. Artists focus on participation, cooperation; they decide quickly, without any taboo, through a variety of open structures to subvert the hierarchy and partition. It might cause a confrontation but the author believes that confrontation itself is a new order. Therefore, CCAA rewarded Cui Cancan a total of 10,000 RMB in recognition of the quality of the proposal.
Announcing the winners, Gao Shiming offered a summary of the work on behalf of the judges, he said the 26 submitted proposals generally reflected three directions: Firstly, starting from the tense relationship between contemporary art and social reality to discuss new ways of cultural resistance, social participation and political action; secondly, focusing on the most forefront practice in the field of contemporary art to discover new issues, finding new cultural interpretations and method of criticism; thirdly, in the history of this specific context, exploring the narrative modes of the histories of Chinese contemporary art exhibitions and artists' lives. In the process of selection, it aggravated Chinese judges' anxiety about the Chinese contemporary art critics, because it revealed an intellectual corruption in the current art circles. It was necessary for a knowledgeable article to be established on a reliable tool box, to distinguish a tool to dismantle and analyse reality, helping writers establish a consciousness of issue, an historical context and a speaking position.
After the end of the press conference of CCAA Chinese Contemporary Art Award for Critics 2013, Zhu Zhu, winner of CCAA Chinese Contemporary Art Award for Critics 2011 launched a press conference for his new book "Grey Carnival – Chinese Contemporary Art Since 2000", which took two years to finish, and was published by the Guangxi Normal University Press. "Grey carnival" is an implicit expression to Chinese contemporary art by Zhu Zhu since 2000, Zhu Zhu said, regardless of whether it is artists' creations or critics' writings, they should really make a constructive expression. Uli Sigg said, CCAA had always hoped to have a classic book on Chinese contemporary art, while Zhu Zhu's new book happened to realize it.
Journalist: Ye Yuanfeng, Photo: Hu Zhiheng/CAFA ART INFO
Translated by Chen Peihua and edited by Sue/CAFA ART INFO
Related posts: