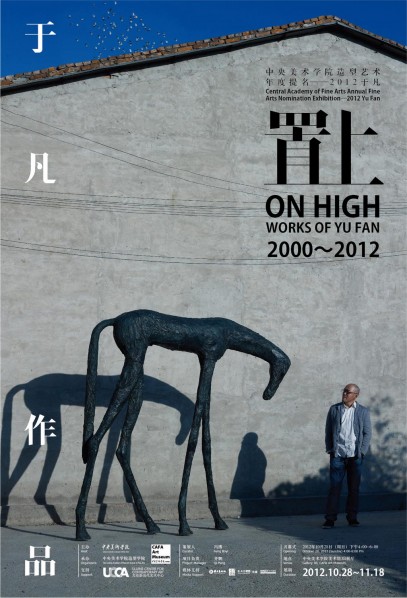 From the Central Academy of Fine Arts, School of Formative Arts, the Central Academy of Fine Arts Gallery presents in collaboration with the Ullens Center for Contemporary Art (UCCA), On High: Works of Yu Fan (2000-2012) was curated by Feng Boyi. The exhibition opening will be held on October 28, 2012, 16:00-18:00 at the 3B exhibition hall, CAFA Art Museum.
Foreword
A New Era for the Plastic Arts
Plastic arts are the sublimation of traditional art and the creation of an elite visual language. They bear witness to humankind's most superb craftsmanship and they represent sensitive and accurate visual perceptions and extremely imaginative forms; the plastic arts are also a symbol of man's tireless pursuit of spiritual transcendence.
The artistic attitudes and essential methods adopted by the Central Academy of Fine Arts stress rigorous training for the continued advancement of the plastic arts. We do not agree with certain Western opinions that there are no roads left for the plastic arts. However, our plastic arts are moving forward; though there is still room for improvement, we are already on that road, exerting a definite influence on the international arena, which is also a Chinese characteristic. Moreover, we are integrating experimental art into academic teaching in a systematic and rational way, and treating it with the same rigor as we do two-dimensional art, which fully demonstrates that our understanding of art is quite different from that of the West. With the passing of time, I believe that this mode of teaching will have a lasting effect on the international world of education.
We believe that a new era of the plastic arts will be promising and bright.
Pan Gongkai
Preface
Today, the School of Fine Arts has initiated this faculty artist nomination exhibition, the purpose of which is to provide a platform for the young and middle-aged artists active in the academy to demonstrate their talents, achievements, and independent artistic opinions. Their personal artistic languages and methods are already formed or being formed. Through academy resources, we hope to push these artists to the front, so that people in our society will come to know their artistic achievements, and the academic critical world will pay attention to and comment on their works. In today's culturally diverse world in particular, such an exhibition is indeed, for the nominated artists, an approval, an encouragement, an honor, and a challenge. Thus, initiating and hosting such a yearly nomination exhibition will undoubtedly have a positive impact on teaching and creation today and in the future.
Su Xinping
Words from the Curator
Yu Fan's solo exhibition is the 2012 Plastic Arts Nomination Exhibition for the Central Academy of Fine Arts, but it is also a retrospective and summary of his work from 2000 to 2012. His series are like studies of different topics, which present dialogues and exchanges within the history of Chinese and foreign sculpture. Yu seeks out his own place to stand in between East and West. After he moved away from the avant-garde experience, he became more focused on the understanding and experience of interior meditation and the continuous purification of sculptural language. However Yu's work and life have always been "estranged" and "marginal" when compared to mainstream art. This estrangement and marginalisation is not forced marginalitsation and otherness of the 1990s "outsider" artists represented by the Yuanmingyuan Painters' Village and East Village. Instead, Yu Fan has made a voluntary and active choice.
Semantically, "placed above" can be understood as the sense of towering height and high pedestals like that of many sculptures, but actually, it refers to Yu Fan's sculptural return to spiritual aspirations. Although his work does not represent any actual forms, it embodies primitive emotions, like reverence, questioning, praying, adoration, and yearning. Amidst these complex emotions, people understand their own limited explorations of the meaning of life. Yu Fan firmly believes that this is the pillar supporting human advancement.
Yu Fan's art is not restricted by outside social reality; it is artistic transformation and abstraction. His art drifts between artistic mastery and independence. Therefore, his art is rooted in independent thinking and does not drift with the trends or pander to the ivory tower. Yu Fan's work does not attract too much attention amidst the clamor of reality or pander too intensely to the market, but there is something in his work, silently reaching or resisting for that something and consciously finishing it. As someone of his generation, I approve of the lifestyles and artistic methods of the generations before and after him; I see their restlessness and hesitation, their perseverance, and their immediate struggles, anger, loathing, and helplessness. We understand that the repeated collisions of their morals and beliefs are frustrating and cannot match the reality of people a decade younger. We understand their boundaries; the talented people of the 1960s know that there are ideas that can be acted upon, or ideas can be acted upon but are not.
Feng Boyi
About the exhibition
Dates: October 20, 2012 – November 18, 2012
Location: Central Academy of Fine Arts Museum
Opening: October 28, 2012, 16:00-18:00
Courtesy of the artist and CAFA Art Museum, for further information please visit www.cafamuseum.org.
Related posts: