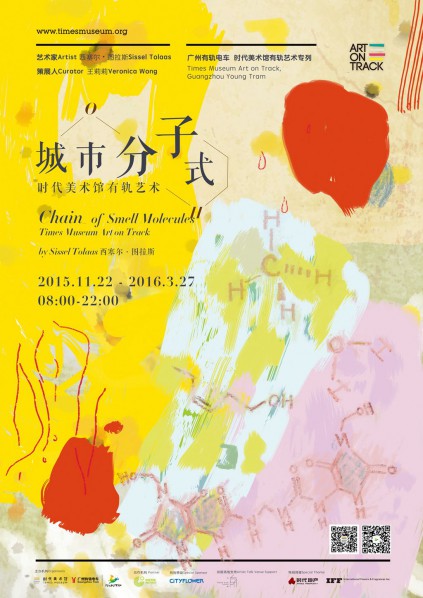 "We have to get to the point where smell is interesting, and then I think there is hope in the world."
-Sissel Tolaas
We breathe 23,040 times a day and move 12.5 cubic meters of air. With every breath smell molecules flood through our body, even when we sleep we smell. Smells coat us, enter our bodies and emanate from us. Our society and culture have traditionally been dominated by the visual. We frame "views" in pictures and camera lenses, a seemingly more considerable response that distances us from the truth of life. By contrast, smells heighten our reality, inform our desires, trigger memory, and construct our environment. This is a new method that approaches our realities and there is a playful aspect about discovering the world and the potential to interact differently with it.
From November 22, 2015 to March 27, 2016, Guangdong Times Museum, together with Guangzhou Trams Co., Ltd brings artwork on the tram by Sissel Tolaas: Chain_ of Smell Molecules — Times Museum Art on Track. This project intends to connect the four elements/situations that the artist can see Guangzhou is about – HUMAN; NATURE; CITY; WATER – through a different sense: the sense of smell. Each wagon represents one of these elements and is very strongly connected through the tram journey. The project invites passengers to place more emphasis on what they smell relative to what they are seeing, hearing and touching during the journey. The ride offers a total experience of the passengers' surroundings, specifically produced for this city and this tram. Audiences are all invited to experience the special smell that represents this city and captures her spirit.
Tolaas's concept will be displayed in three different contexts: Times Museum Art on Track, Times Museum exhibition Redefine-Multiple Perspectives and possibilities in the Network Era and LEAP magazine December Issue.
About the Artist
Sissel Tolaas was born in Stavanger, Norway, and is now based in Berlin. Tolaas has a background in chemistry, mathematics, linguistics, languages and art, from the universities of Oslo, Warsaw, Moscow, St Petersburg and Oxford. She has been working actively and has concentrated on the topic of SMELL/SMELL & LANGUAGE- COMMUNICATON since 1990, within different fields of sciences, art/design and other disciplines. She established the SMELL Re_Search Lab Berlin in January 2004, supported by IFF (International Flavors & Fragrances Inc.). From 1990, she has collected over 7000 different smells from around the world, including human odours and city smells in her smell library.
Her research has won recognition through numerous national and international scholarships, honours, and prizes including the 2014 CEW, New York Award for Chemistry & Innovation; 2009 Rouse Foundation Award from Harvard University GSD and the 2010 ArsElectronica Award in Linz, Austria and the 2010-2011-2012-2014 Synthetic Biology/Synthetic Aesthetics Award from Stanford and Edinburgh Universities. Her projects and research have been presented in several institutions such as: TED Global, US; World Science Festival, New York; World Congress of Synthetic Biology, Stanford University; Documenta 13, Kassel Germany; MOMA New York; Fondation Cartier, Paris; Serpentine Gallery, London; Hamburger Bahnhof, Berlin; Tate Gallery, Liverpool; Venice Biennale; Liverpool Biennale; Sao Paulo Biennale; Architecture Biennale 2015, Shanghai; Guangdong Time Museum, Guangzhou.
About Times Museum Art on Track
Times Museum partners with Guangzhou Young Tram to build an Art on Track – the first of its kind in China – and let contemporary art get on the move. Artists and curators will be invited by the Times Museum to create site-specific artworks with everyday life as the source of their text and inspiration. Travelers will be able to experience contemporary art that is joyfully, interactively, dramatically and emotionally laden. From March 30 to June 30 2015, circumstance brought to the audience a poetic work on the tram: Sitting-Still-Moving — Times Museum Art on Track, a unique audio art piece, raising the curtain on this project.
About Guangdong Times Museum
Guangdong Times Museum is funded by Times Property in 2003. During the D-Lab project of 2nd Guangzhou Triennial in 2005, Rem Koolhaas and Alain Fouraux were invited to design a conceptualized permanent building for the Museum, which was completed in September 2010. Registered as a non-profit organization (non-enterprise), Guangdong Times Museum opened its doors to the public in October 2010. Throughout the process of conceptualization, design and completion, the Museum has reflected the unique social, economic and cultural conditions of the Pearl River Delta.
Public programmes of Guangdong Times Museum are aimed at constructing a platform for knowledge sharing. The museum takes an open attitude towards engaging audiences in dialogue on an equal footing, organising diverse, interactive events to shift from the traditional teaching-learning, professional, jargon-filled interpretation of the traditional museum to a guided, inspirational artistic experience, transforming audiences from passive receivers of knowledge to active participants.
Wraparound Activities
Smell is Information – Chain_ of Smell Molecules by Sissel Tolaas
Time: 2015.11.19 Thu 19:30-21:30
Venue: Fangsuo Commune Guangzhou, MU35 Taikoo Hui, No.383 Tianhe Road, Tianhe District
Notice: The lecture is conducted in English with Chinese interpretation. Free entry with limited seats.
NASALO
When we describe an odour, we grope to express our smell experience by means of metaphors most of the time. Is there a way we learn smells as we learned the ABCs and 123s?
Taking into account that our societies have developed a language for colour, it is remarkable that we have not yet developed one for smell. This is why Sissel Tolaas started to invent the first words for a language of smells, the NASALO dictionary. Although she made these words up herself, they are certainly not arbitrary. So how you describe what you smell has influence on how you perceive the smell. That is why the words in NASALO have to be completely context-free, fantasy words.
On the Times Museum Art on Track, you may find many secret cards that reveal the words of smells in the NASALO dictionary by artist Sissel Tolaas. Please enter their corresponding numbers to learn their specific explanations in the WeChat account of the Times Museum.
City SmellScape
Sissel Tolaas is considered as an anthropologist of smells. Since 1998, she has been devoting herself to the study of "City SmellScape" including cities like Paris, Stockholm, Detroit, Berlin, Oslo, London, Cape Town and Istanbul by her good rediscovery of the hidden quality of cities through smells.
Have you ever tried to explore Guangzhou through another sense – the sense of smell, as this city has been visualized as a metropolis full of skyscrapers with cold glass walls nowadays? The rich odors of beef offal at the street corner, the plant fragrance from Guangzhou Orchid Garden and the historical odors of the rusty gate of the Xinhepu area – all these create the smellscape of Guangzhou, invisible and intangible.
Luckily, we are able to capture and record those smells by images.
We would like to invite you to take photos for your individual smellscape of this city, and send them to the WeChat account of the Times Museum together with a description and location introduction. They will be collected by districts: Yuexiu District (Nov-Dec, 2015), Tianhe District (Jan, 2016), Liwan District ( Feb, 2016) and Haizhu District (Mar, 2016). All these particular smell languages will compose the Guangzhou smellscape and then will be displayed by video or publication.
The Molecules Say
The nose knows long before you ever see the vision.. The memory of smell lasts much longer than we expect. Smells easily remind us of an object, a scene, a person or a city. Each of the four elements – HUMAN; NATURE; CITY; WATER – becomes a theme of each wagon from Chain_ of Smell Molecules – Times Museum Art on Track. Does the experience of these smells arouse any sensory memory in your mind?
We hope to record your personal experience about this smell journey through vocal recordings. Please upload a voice message to the WeChat account of the Times Museum, describing your unforgettable memories of daily life aroused by the works on the tram. Times Museum will collect the voice messages and edit them to a soundtrack. You can scan the QR code to follow up other visitors' imagination and feelings about the work.
Up-coming Exhibition:
Redefine-Multiple Perspectives and possibilities in Network Era
Exhibition Period: 2015.12.13-2016.1.31 10:00-18:00(Closed on Monday except for holidays)
Curated by: Ruijun Shen
Venue: Guangdong Times Museum, Huang Bian Bei Road, Bai Yun Avenue North, Guangzhou
(Exit D, Huangbian Station, Line 2 of Guangzhou Metro)
About the exhibition
Date: 2015.11.22 – 2016.3.27
Time: 08:00-22:00
Venue: Times Museum Art on Track, Guangzhou Young Tram
Artist: Sissel Tolaas
Curator: Veronica Wong
Organisers: Guangdong Times Museum Guangzhou Trams Co., Ltd
Partner: Goethe-Institut
Special Sponsor: City Flower
Artist Talk Venue Support: Fangsuo Commune
Special Thanks: Times Property IFF (International Flavors & Fragrances Inc.)
Courtesy of the artist and Time Museum Artm for further information please visit www.timesmuseum.org.
Related posts: