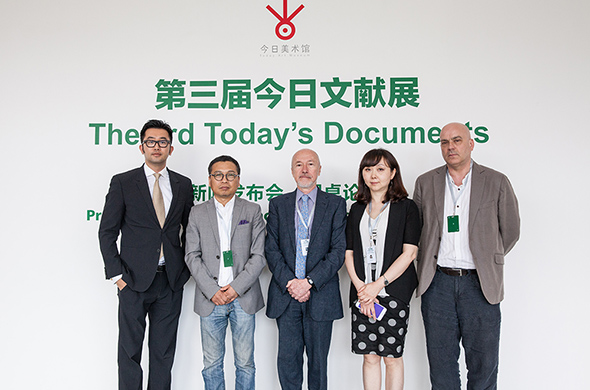 On May 12, 2016, Today Art Museum launched a press conference of "The Third Today's Documents: BRIC-á-brac" and a panel discussion. Director of Today Art Museum Gao Peng, curators of the Third Today's Documents Huang Du and Prof. Gerardo Mosquera, and the specially invited honored guests Head of Birmingham School of Art at Birmingham City University in England Prof. Jonathan Harris and Deputy Dean of the School of Humanities, CAFA Prof. Shao Yiyang attended the press conference.
From 2007 to 2016: This is the Ninth Year of Today's Documents
Organized by Today Art Museum, Today's Documents is a large-scale exhibition that first applied the system of independent curator, it held the first Today's Documents "Energy – Spirit, Body, Material" in 2007, which attracted a large audience and it was widely recognized by academics. 2010 Today's Documents "Regulator" enabled an international curatorial team to participate in the organization on the basis of the former, with an international vision to pay attention to the important phenomenon, views and propositions in the contemporary art world, searching for an effective way to build the international image of Chinese contemporary art.
Since 2007, Beijing Today Art Museum has presented the first "Documents" to define its cultural identity, gradually creating a platform for international art dialogue that is based on the Chinese context. This exhibition parallels biennials and triennials to encourage communication among different cultures and reflect on the relationship between Chinese contemporary art and international artistic trends with a global vision. At the press conference, Director of Today Art Museum Gao Peng announced that, following the success of the previous Documents, the 3rd Today's Documents will be held in Hall No.1 and No.3, at Today Art Museum, on December 10, 2016.
The Third Today's Documents: Started from the "BRIC" Through Three Languages to Interpret the Theme
This exhibition was designed by co-curators Huang Du and Gerardo Mosquera. The Chinese title is "另一种选择", French/English title is "BRIC-á-brac: The Jumble of Growth". "BRIC-á-brac" is a French expression which means jumble, odds and ends, or an uneven group of things, with a certain undertone of confusion. The first word of this idiom coincides with the acronym BRIC – Brazil, Russia, India and China. The "à-brac" refers to the qualitative complexities that economic growth and accelerated modernization have unchained in the "living" societies of emerging countries.
The Chinese title "另一种选择" is actually a further explanation of "BRIC-á-brac", emphasizing the cultural subjectivity of emerging countries and their independent cultural development. Although BRIC is an economic concept, the exhibition here tries to explore how art is reacting to quickly growing economies and markets in developing countries from around the world, which find their own patterns in contemporary art. Such a diversified cultural map adds new vigor into global diversification and defines the cultural power of emerging countries. The shift introduced by this new economic map is forming a new feature of modernization. This is the meaning behind the Chinese title "另一种选择".
This exhibition discusses the substantial role of developing countries in the world's economy and their strong influence, showing how art reflects on current economic, social and cultural processes.
The Exhibition is Divided into Four Parts: Focus on the Diversified Arts in the Wave of Globalization
The exhibition is divided into four parts: The Jumble of Growth, Chaotic Space, Discourse Practice and Individual Narrative, and Microscopic Bodies.
"The Jumble of Growth" shows the revolution of regional artistic foundations and the symbiosis of different foundations. Art is influenced by regional culture, religion, and customs, but the new cultural foundation after these transformations brings about a new content for art. Meanwhile, globalization enhances communication among countries as well as the interaction of cultures. Thus, new cross cultural artistic elements and ideologies appear, which demand a global vision.
"Chaotic Space" reproduces the multi-dimensional spaces (urban space, public space, residence space, virtual space, etc.) in our complicated and diversified society, and presents their problems and positions. When these spaces encounter artists' subjectivity, different opinions and images are stimulated, as well as different analysis and artistic expressions. Chaos in globalization and modernization actually provide a space for us to reflect on our living circumstances.
"Discourse Practice" shows how artists deal with real problems in life, creating artworks that experiment with, interpret and criticize these problems. Thus the "silent" artworks speak out on their positions, opinions and attitudes. Such artistic practice is not only an active and personalized response to real life, but also a demonstration of cultural consciousness and subjectivity.
"Individual Narrative and Microscopic Bodies" aims to display the consciousness of life and status of individuals within the macroscopic social landscape. That is, using instinct, existential affections and circumstances as the focus of individual narratives. Furthermore, the body, as the motif and carrier of artistic narration, is often regarded as a signifier. It usually engages with topics such as the complicated human conditions and their cultural boundaries. Bodies do not exist in isolation in the postmodern discourse. They are, instead, a bond for social relations, and they carry meanings at several levels: the body of nature, the body of society and the body of science. Artists look at the body as a medium for art, one which is beyond the limitations of the physical body. Based on such distinctive perspectives, the artists use the body as a medium for art narration to explore and express the potential and the infinity in our bodies.
At the press conference, curators Huang Du and Prof. Mosquera respectively introduced some of the participating artists, including the artists from China Ni Haifeng, Lu Lei, Weng Fen, and international artists such as Marcela Armas from México, Cristina Lucas from Spain. Prof. Mosquera explained the reason why he chose the artists and said that, "I curate an exhibition in order to continue developing the conflicts and the overall process in terms of economy, society and culture. I also recommend the artists who perfectly use the artistic method to explain, thus creating a deeper perspective of insight to solve modern problems."
Panel Discussion: Honor Guests Discussed Globalization and Contemporary
As part of the press conference, a panel discussion was unfolded around the theme of the Third Today's Documents. Today Art Museum invited the famous British art historian, art critic Prof. Jonathan Harris and Deputy Dean of the School of Humanities, CAFA Prof. Shao Yiyang to join the discussion, from the different knowledge, experience and perspective to analyze the complex art topic of Globalization which has never been uncovered.
"There is a new force continuing to grow in the world, it is the art power of Asia" – Jonathan Harris
Jonathan Harris said that, "There is a new force continuing to grow in the world, it is the art power of Asia, which plays a leading role in the world, I think it is a very important moment in history. He talked about his new book "Global Contemporary", "I emphasize that in the book, whether the world establishes a new order, or remains in disorder, the current two relationships might be paratactic." The development of the global art world and the development of globalization have been uneven. The Western art institutions have dominated the development trend of the art world in the past, and now the Chinese art market is constantly evolving, which is of important significance.
"It is the best of times, it is the worst of times" – Shao Yiyang
Started from the theme of this Documents "BRIC-á-brac: The Jumble of Growth", Prof. Shao Yiyang believed that the topic had a meaning of "breaking, mixing, blending, re-building", so did the art, it should be more than only one voice in the times of globalization." Prof. Shao Yiyang said the documents aimed at showcasing the art of China and other emerging developing countries, as well as the arts in non-Western cultural systems, Prof. Shao also talked about her expectations, "What voices do they have? Are there more rights of discourse? They are very important issues."
Thereafter, the curator Huang Du and Mosquera also joined the discussion. The honored guests had a warm analysis and discussion around the topics such as "Differences and Similarities between Contemporary Art of Asian Emerging Countries and Europe and America", "How to Deal with the Commercial Power Involving, Intervening and dominating Art", "Global Vision of the Biennale of Sydney in Australia"
Text by Lin Jiabin/CAFA ART INFO, Photo by Hu Sichen & Today Art Museum
Translated by Chen Peihua and edited by Sue/CAFA ART INFO
About the Curators of the Third Today's Documents
Huang Du, independent curator and critic. Huang Du graduated in History of Art at Central Academy of Fine Arts (CAFA) in 1988. He has published numerous critical articles and essays on contemporary art for magazines and catalogues internationally, especially in China, Japan, Korea, Netherlands and Australia. As a speaker and jury member, he has been invited to participate in many important international art symposiums and art awards including the Chinese Contemporary Art Award, Credit Suisse Today Art Award 2010-2012 and Nissan Art Award 2013, etc. His major curatorial projects include Shanghai Biennale, the 26th Sao Paulo Biennale (2004), Nanjing Triennial (2013), solo exhibition of Jannis Kounellis: Translating China and curator for Chinese Pavilion of the 50th Venice Biennale, 2003.
Gerardo Mosquera, independent curator, critic, art historian, and writer based in Havana, Cuba. He was one of the organisers of the first Havana Biennial in 1984 and remained there until 1989. Since then, he has been traveling, lecturing and curating exhibitions in more than 80 countries. Mosquera was adjunct curator at the New Museum of Contemporary Art, New York, from 1995 to 2009. His publications include several books on art and art theory, and more than 600 articles, reviews and essays have appeared in such magazines as Aperture, Art in America, Art & Text, Art Criticism, Art Journal, Art Nexus,etc. Among other volumes, Mosquera has edited Beyond the Fantastic: Contemporary Art Criticism from Latin America: International Perspectives on Art and Culture. His theoretical essays – which have been influential in discussing art's cultural dynamics in an internationalised world, and contemporary Latin American art – are dispersed in English, but have been collected in books in Caracas and Madrid in Spanish, and in Chinese in Beijing. Mosquera was the Artistic Director of PHoto España, Madrid (2011–2013).
Courtesy of the Today Art Museum, for further information please visit www.todayartmuseum.com.
Related posts: