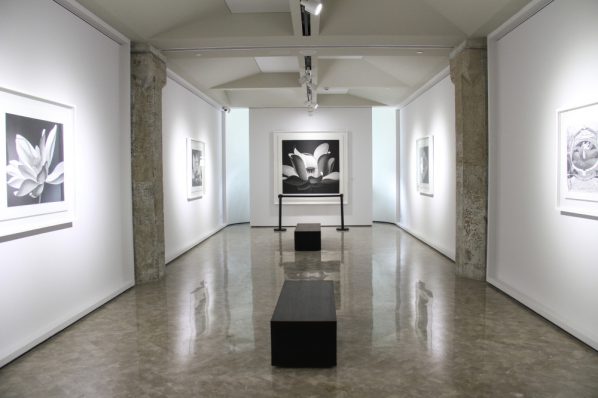 June 18, "Chen Qi's Time" Art Exhibition was inaugurated at the Shanghai Peninsula Museum. For the first time, this exhibition brings together creations that Prof. Chen Qi produced at various stages of his art career from 1983 through 2016. Not only does the exhibition include the woodblock prints he is most adept at, it also covers filigree enamel, printmaking plate installation, paper installation, acrylic installation, Guqin installation, sandalwood teapots, altogether nearly a hundred pieces of works from seven categories.
On the opening day, many honored guests attended the ceremony, including Lu Zhiping, Director of the Printmaking Art Committee, Shanghai Artists' Association who works as the curator of this exhibition, Prof. Zhang Yuanfan from the China Academy of Art, Deputy Director of Printmaking Art Committee, China Artists' Association, Researcher of the Printmaking Institute of China National Academy of Painting, who serves as the Academic Director for this exhibition. Besides these guests, the Secretary-General and Vice Chairman of the Shanghai Artists' Association Chen Qi, Prof. Wang Weixin, Prof. Fang Limin, Prof. Ying Jinfei from the China Academy of Art, Wang Jieyin from the Shanghai Artists'Association, President of the Qidong Printmaking Institute Zhu Jianhui were all present.
"Chen Qi's Time"
As for the theme of this exhibition, the Academic Director Zhang Yuanfan presented that there were two layers of meaning in it: one was that Chen Qi's creations were always related to time, and what was comparatively clear was his Notations of Time series in recent years, actually Chen's copperplate etching such as "Life" and "Freedom" that he created while in college, even thereafter "Snow", "Equinox" and so on Twenty-four Solar Terms series were also time-dependent expressions.
In addition, ever since the beginning of his creation, there has been a symbol of the "S-Shape", this curved symbol has always existed, sometimes it becomes more obscure, sometimes it is dependent on a certain image, later this symbol becomes more independent, even richer or more elegant then the previous symbols, "it's like the motivation in songs, and it continues to appear in the movements of music Chen Qi played, until the climax and it single-handedly presents the part of cadenza." The artist ultimately uses symbols to express his understanding of time; as for the second layer of meaning, Zhang Yuanfan mentioned that: "Since Chen Qi unconsciously used symbols to represent time, until very recently he separated the symbol from it independently, even releasing it into installations in such athree-dimensional way, it took him more than 30 years to complete this. This time is the progress Chen Qi has been looking for and explored, and this is Chen Qi's time."
The time axis has outlined the conversions of thinking, changes in his creative ideas in the progress of epochal changes as well as the subsequent changes of life philosophy as represented by them. Chen Qi's time, is also one of the golden age, most rich and colorful in the developments of the whole Chinese contemporary art, it's rich, provocative, profound, but it is also filled with breakthrough powers that push forward.
Never Follow Others, Consciously Be Yourself
As the curator of this exhibition, Lu Zhiping said that, it has been quite a long time and during planning of this exhibition for Chen Qi it occurred to him, "since he began to get involved in printmaking creations, he has been very sober and known what he wanted to do,he has for so many years, he has practiced and persisted in it." In the early 1980s, artists who started to embark on printmaking creations were just faced with the reform and opening-up period of China, at that time there are many techniques introduced from abroad to the Chinese art circle. Many young artists who were contemporary with Chen Qi used to indulge in copperplate, screenprinting and other new technology and materials introduced from foreign countries, but Chen Qi still maintained his aim in research on traditional Chinese woodblock prints, "he is really a visionary and consistent artist, also he is able to sink hismind into work," said Lu Zhiping.
From then on, the circle of Chinese printmaking started to be highly praised by explorations in language and techniques, Chen Qi's creations during that period were based on the docking of traditional woodblock techniques with traditional Chinese symbols of culture, such as his creation of "Desk I" and other Ming-style furniture, "The Cultural Legacy of Flowers and Birds", "The Blue-and-White Porcelain Bowl of Tang Style" and so on porcelain series, "Guqin" and "Zheng" and other series of Chinese musical instruments, while they maintain the spirit of traditional Chinese culture among the circle of Chinese printmaking, they also look very contemporary, bringing a completely refreshing appearance to viewers who have become the highlight of Chinese printmaking circle at that time.
"He was not a narrow-mined printmaker at all, he has been concerned with the contemporary Chinese art," said Lu Zhiping, "once he feels that the time is right, he began to go beyond printmaking, which is an effect so that everything falls into place with profound accumulation. "Having solid experience in printmaking for years, Chen Qi started to create installations and videos, his "Notations of Time: The Song of Chu" in 2013 was a Guqin installation made of Phoebe; "Notations of Time: Rainbow" and "Notations of Time: Jar" series he created with the technology of Cloisonne; for this solo exhibition in Shanghai, Chen Qi presents his newly created installation entitled "Rotated Galaxy". On this, Lu Zhiping commented that "he is able to create an impressive work with less effort."
The exhibition will remain on view till July 13.
Courtesy of the artist, text by Lin Jianbin, translated and edited by Sue/CAFA ART INFO
Related posts: