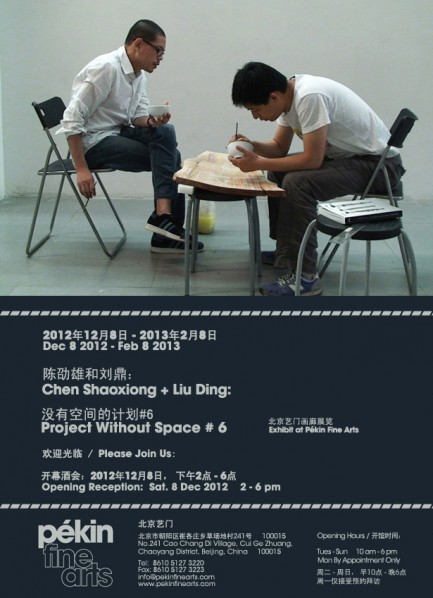 Artists' Statement:
Project Without Space, (2010-2012), is an on-going joint project by Chen Shaoxiong (b. 1962 Guangdong Province) and Liu Ding (b. 1976 Jiangsu Province), and will occur in various physical spaces following various conceptual frameworks, and is based on our shared aesthetic experiences. Our latest two-artist iteration (#6) of "Project Without Space", will engage your eyes in whatever forms or in whatever states you can or cannot imagine. In this, our 6th project cooperation, we each produced a series of paintings, each work comprised of either a combination of designs from various schools of Modernist art or patterns from primitive art objects. These artistic forms, standing for different spiritual and aesthetic pursuits, are juxtaposed within the same frame, in a somewhat conflicting hybrid of lines, brushworks, colours, techniques, individual tastes, and spirits.
The audience, depending on their prior aesthetic orientation, can distinguish one part of the painting from another, but cannot classify or make judgments on these co-produced paintings according to any existing standard of analyzing artwork. As art co-producers, our choice of patterns, the pictorial composition, our exchange of ideas, and the final outcome, are all based on this particular mode of two-artist idea exchange and deliberation.
Eager to share how these works are produced, we hope these works can be appreciated as rational and logical paintings. This required us to keep questioning ourselves closely on every choice we made, reflecting on and sharing the basis of our choices: How indeed are our paintings created? Such reflective and questioning efforts will surely help us to penetrate our aesthetics, including our knowledge base, historical background, experience and value judgments, as well as our ideologies. "What underlies the pictorial experience and orientation?" This question, as both art creators and art viewers, is ultimately, critical to our investigation.
About the artists
Chen Shaoxiong was born in Shantou, Guangdong province, China, in 1962 and graduated from the Guangzhou Academy of Fine Arts in 1984. Chen was a founding member of the " Big Tail Elephant Group" of conceptual artists in Guangzhou in the 1990's. Today, he works both independently and collaboratively as a member of an Asian artist collective called "Xijing Men" as well as another Chinese artist collective called "Project without Space". He lives and works in Beijing. His work was featured in the Venice Biennale 2003; Guangzhou Triennial 2005 and Shanghai Biennale 2002. His works have also been exhibited in PS1 Museum, and the International Center of Photography in New York; the Victoria and Albert Museum in London; Kunsthalle Bern in Switzerland; Mori Art Museum in Tokyo; Hamburger Bahnhof in Berlin and Tate Liverpool. Chen's recent exhibitions include a solo exhibit at the Spencer Museum of Art, University of Kansas, 2012; a solo show at the PARA/SITE art space, Hong Kong, 2008; and participation in the Gwangju Biennale 2012; National Art Museum of China, Beijing, 2009; Aichi Triennale 2010, Nagoya, Japan; and, the 10th Lyon Biennale, 2010. In April 2013, Chen's work will be exhibited in Performing Histories at the Museum of Modern Art (MoMA) in New York. Chen is a 2013 Rockefeller Foundation Bellagio Creative Arts Fellow.
Liu Ding was born in 1976 in Changzhou, Jiangsu Province. He is an artist and a curator based in Beijing. Curatorial work is integral to his artistic practice. His conceptual art project Liu Ding's Store, begun in 2008, is a continuing project that discusses and presents the various visible and invisible mechanisms in the art system for the formation of value. Liu has shown his works in art institutions including the Turner Museum and the Arnolfini Gallery in the UK, the Kunsthalle Wien in Austria, the Astrup Fearnley Modern Art Museum in Norway, the Sao Paolo National Museum of Art in Brazil, the Center for Art and Media Karlsruhe, Germany, the RasquArt Center in Switzerland, Fondazione Sandretto Re Rebaudengo in Italy, the Seoul Municipal Museum of Art in Korea, among others. He was chosen in 2009 as a representative of China at the 53rd Venice Biennale. Little Movements: Self-Practices in Contemporary Art, the project he and Carol Yinghua Lu initiated and curated together, was exhibited at the OCT Contemporary Art Terminal in Shenzhen in September 2011, and will go on an international tour from 2012.
Courtesy the artists and Pékin Fine Arts. For further information and images, please visit www.pekinfinearts.com or contact info@pekinfinearts.com.
Duration: 8 Dec, 2012 – 31 Mar, 2013
Gallery Opening Hours: Tue – Sun, 10 am to 6 pm daily. Mondays by appointment only.
Add: No.241 Cao Chang Di Village, Cui Ge Zhuang, Chaoyang District, Beijing, China 100015
Pékin Fine Arts
Tel: + 86 10 5127 3220
Fax: + 86 10 5127 3223
Email: info@pekinfinearts.com
Related posts: