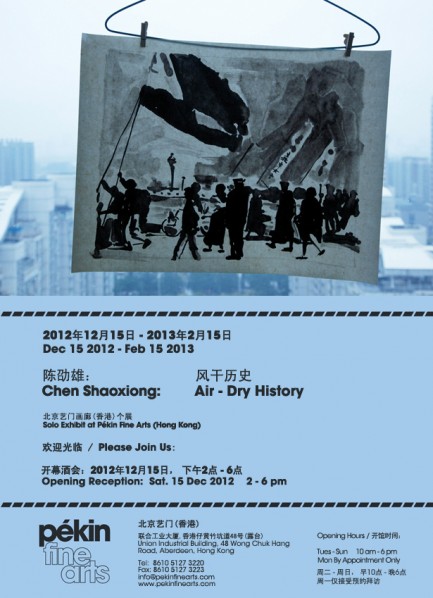 Artists' Statement:
At a time when we are increasingly reluctant to trust information we receive via mass media, social media has emerged to offer us more than one means of knowing the outside world, particularly when news of more sensitive subjects are censored or transmission is blocked. We rely on such first-hand information, despite the fact that social media also transmits real news mixed with gossip and junk. Based on our orientation, we filter the information, we get what we need, and we try to understand information by referring to what we find around ourselves-this is how our view of the world is formed. The shock of news events is deeply absorbed in our mind and body, even before we can arrange this information based on rational analysis. Never before have events in faraway places been made so vivid to us, and we share their anger and despair.
"Ink Media" (2011-2012) is based on a collection of photographs I found online in recent years. I downloaded these political anti-war photographs in different places in the world to study their details in the quiet of my studio. Then, I opted to "revive" these scenes by means of ink painting, piecing these fragmented events together in installation and video form. What protesters fight against and what they ask for varies from place to place, but protest nevertheless is a shared means of individual as well as group political expression-it can be more effective with increased communication and participation. To retell these events by means of Ink painting can bring the audience closer to what people suffer for in faraway places, while my artistic participation takes place in my own peaceful and aesthetic way.
These ink paintings are also my preparations for a new animation video, which will not arrange these events in terms of time and place, so that we can better appreciate the similarities: the human form is a medium for anti-war protest, a language for political expression, with all its strength and vulnerability.
About the artist
Chen Shaoxiong was born in Shantou, Guangdong province, China, in 1962 and graduated from the Guangzhou Academy of Fine Arts in 1984. Chen was a founding member of the " Big Tail Elephant Group" of conceptual artists in Guangzhou in the 1990's. Today, he works both independently and collaboratively as a member of an Asian artist collective called "Xijing Men" as well as another Chinese artist collective called "Project without Space". He lives and works in Beijing. His work was featured in the Venice Biennale 2003; Guangzhou Triennial 2005 and Shanghai Biennale 2002. His works have also been exhibited in PS1 Museum, and the International Center of Photography in New York; the Victoria and Albert Museum in London; Kunsthalle Bern in Switzerland; Mori Art Museum in Tokyo; Hamburger Bahnhof in Berlin and Tate Liverpool. Chen's recent exhibitions include a solo exhibit at the Spencer Museum of Art, University of Kansas, 2012; a solo show at the PARA/SITE art space, Hong Kong, 2008; and participation in the Gwangju Biennale 2012; National Art Museum of China, Beijing, 2009; Aichi Triennale 2010, Nagoya, Japan; and, the 10th Lyon Biennale, 2010. In April 2013, Chen's work will be exhibited in Performing Histories at the Museum of Modern Art (MoMA) in New York. Chen is a 2013 Rockefeller Foundation Bellagio Creative Arts Fellow.
About the exhibition
Duration: 15 Dec, 2012 – 31 Mar, 2013
Venue: Pékin Fine Arts, Hong Kong
Address: Union Industrial Building, 48 Wong Chuk Hang Road, Aberdeen, Hong Kong
Gallery Opening Hours: Tue – Sun, 10 am to 6 pm daily. Mondays by appointment only.
Tel: + 86 10 5127 3220
Fax: + 86 10 5127 3223
Email: info@pekinfinearts.com
Courtesy Chen Shaoxiong and Pékin Fine Arts, for further information please visit www.pekinfinearts.com or contact info@pekinfinearts.com.
Related posts: