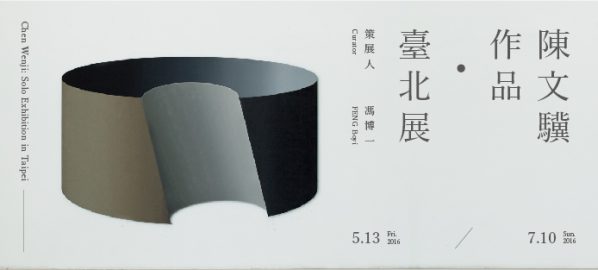 Organized by
Kuandu Museum of Fine Arts (KdMoFA)
, Taipei National University of the Arts and curated by Feng Boyi, Chen Wenji: Solo Exhibition in Taipei will be presented at KdMoFA from May 13th till July 10th, 2016. This will mark Chen's first solo exhibition in Taiwan, which will be on view at the three exhibition galleries in KdMoFA, presenting the comprehensive oeuvre created by Chen between the years of 2009~2016, with 27 oil on canvas or oil on aluminum-plastic panel paintings.
Chen's painting style encompasses minimalistic, abstract elements, with his calm and meticulous mannerism incorporated and condensed in his art, but a sense of purity that is detached of inner emotions is also observed, cancelling out any so-called indicative significance related to the value or meaning of art, with the subject matters depicted in his artworks showcasing an obvious ambiguity. At the same time, Chen creates a sense of three-dimensional realism on the paintings' two-dimensional planes, with the composition and color gradations interacting with each other and the subtlety and the presence of materiality drawn to each other in an abstruse manner.
Through visual displacements, this has resulted in parallax and alienated effects for the relationships between objects, structures, and order; perhaps, the artist has also discovered through this a suitable way to work with the instinctive state relating to his personal survival and his work. From the surface, this shift appears to be objective and abstract; however, it is essentially downright subjective and realistic. "Art is not omnipotent like we have imagined it to be, but art can expand into limitless outcomes. To work as an independent artist is to work with restrictions while being immersed in the infinite. In which case, it is integral for someone that is in a personal, independent state to emphasize on this independent facet. This independent aspect must be forced through some kind restriction, in order for it to manifest. This is why I believe that personal attitude, position, and action for art and restrictive elements are the most important aspects for the art that I am making right now. Because of this position and action, an understanding for the subject matters and deeper expressions can then be attained," says Chen. This exhibition presents this process that Chen has gone through in this phase of his career with continuous probing, detachment, and purification for nonfigurative forms and language for painting, showcasing his dedication for the way that uncertainties with objects can be used for achieving visual penetrative force. This approach to art is also used to explore and experiment with the limits for his self-expressive energy.
About the artist
Born in 1954 in Shanghai, China, Chen Wenji graduated from Central Academy of Fine Art in Department of Printing-making and is now a professor of the academy's Department of Mural Painting. Chen lives and works in Beijing. His artworks have been showcased in several nation-wide exhibitions, including the First National Exhibition of Fine Arts Excellence Award in 1987; the China Modern Art Exhibition and the 7th National Exhibition of Fine Arts in 1989; 1993 Annual Exhibition of Chinese Oil Painting, winning the Silver Award that year; and Excellence Award in the 10th National Exhibition of Fine Arts in 2004 and the 12th National Exhibition of Fine Arts in 2014. He has also exhibited in Korea, Japan, France, the U.K., Germany, Spain, Australia, Russia, and Hungary. He has also presented a total of seven solo exhibitions at galleries and art museums in the past two decades, with the exhibitions presented in Beijing, Shenzhen of China and also Seoul, Korea.
About the exhibition
Date: 2016-05-13 ~ 2016-07-10
Venue: Kuandu Museum of Fine Arts
Image courtesy of the artist, Aye Gallery and Kuandu Museum of Fine Arts for further information please visit
www.kdmofa.tnua.edu.tw
.
Related posts: