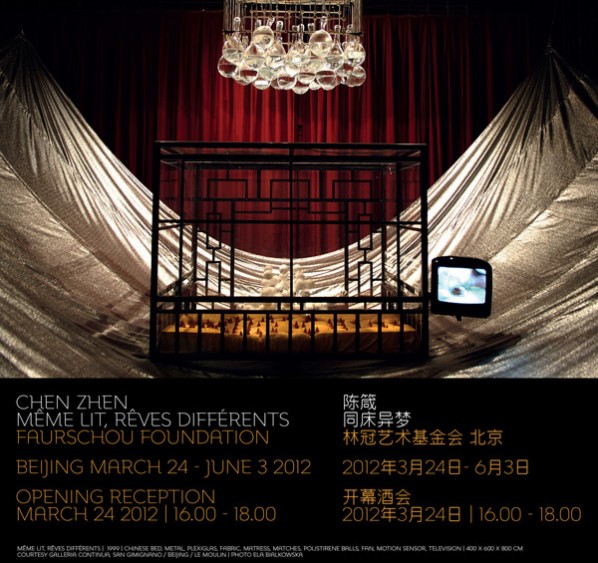 This spring Faurschou Foundation presents a solo exhibition by Chen Zhen, one of the best known exponents of Chinese avant-garde art. He was born in Shanghai in 1955 and died in Paris in 2000. Like other artists of his generation (Huang Yong Ping, Ai Weiwei, Xu Bing, and Cai Guo Qiang) Chen Zhen left China in the late 1980s, and rapidly attracted international attention for his remarkable mixed-media installations. Though Chen Zhen exhibited extensively all over the world, he never had a solo show in China while he was still alive. The exhibition at Faurschou Foundation presents a variety of Chen Zhen's sculptures and installations produced between 1992 and 2000 – most of them made out of all kinds of everyday objects like cloth, candles, chairs, fabric, bicycle tubes and other objets trouvés.
Transexperiences
The title of the show, Même lit, rêves diffèrents, stems from a large installation in the exhibition which poetically encapsulates Chen Zhen's art. Même lit, rêves diffèrents (1999) is a complex installation with a large piece of fabric suspended from the ceiling, a cage with a landscape, a grid with medical glass retorts and a TV screen. The piece gathers many of the themes central in Chen Zhen's art: the harmony between body and spirit, the fraternity between different peoples and cultures, the resolution of conflicts, and fruitful engagement between East and West.
Chen Zhen lived in Shanghai and Paris and travelled a lot in USA, South America, Middle East, and Australia. At a time when neither multiculturalism nor globalization had yet become dominant discourses, Chen Zhen was interested in cross-cultural social dynamics. His own experience of being between cultures and his great interest and engagement in the various cultures he constantly met, made him coin the concept "transexperiences". This is a central concept in Chen Zhen's work and expresses his striving to create harmony by acknowledging difference. His work is an existential and intellectual experience somewhere between Eastern and Western thought.
The Material and the Spiritual
When he was 25, Chen Zhen began to suffer from haemolytic anaemia. This illness greatly influenced his art, which is often inhabited by an iconography of the body – cocoons, organs, skin, medicine, and clothes. Using the concept of the organic whole, derived from Chinese medical theory, Chen Zhen explores the intricate and often paradoxical relationship between the material and the spiritual, between community and individual, and between interior and exterior.
Landscape of Inner Body (2000), made of pieces of clear blown glass shaped as internal organs, addresses opposing approaches in Eastern and Western medicine. It also reveals the value and fragility of life. Several works deal with various forms of synergy, disinfection, and cleansing– also of our landscape and environment. Exciting Delivery (1999) is a puppet-shaped sculpture made of bicycle inner tubes which seems to be giving birth to hundreds of small black toy cars. Chen Zhen did several works and installations with bicycle tubes and toy cars, commenting on the ecological and environmental problems involved as the Chinese go from using bicycles to driving cars.
Buddhist spirituality and the bipolar dialectic of yin and yang form the background for Six Roots / Memory– a patchwork of different fabrics from around the world hanging from the ceiling in the shape of a yin/yang symbol. The title alludes to a Buddhist term for the six main senses of the body (sight, hearing, smell, taste, touch, consciousness).
In this kind of thinking, body and mind are never separated – and at first sight La Désinfection (1997) seems to be a steam cooking system, but instead of food books are being steamed–material and spiritual nourishment being equally important.
Exchanges
Often Chen Zhen uses highly interactive elements in his works, thus fostering an exchange between the artistic space and the viewer. Un-interrupted Voice (1998) consists of two large drums made of chairs covered with animal skin – realized in the same period as Jue Chang, Fifty Strokes to Each–one of his most famous installations. Using sound and everyday materials, Chen Zhen links the physical world to the spiritual, ritualistic one. Beating drums is a way of caring for yourself, cleaning yourself, driving out stress and rediscovering a physical and emotional balance. It is also a way of experimenting with your own energy and your own violence through an act that is at once physical and symbolic, material and spiritual.
Network of Relationships
Chen Zhen's work reflects his fascination with different cultures, social contexts and aesthetic approaches in an increasingly globalized world. With an avant-garde belief in the function of art, Chen Zhen saw art as a vital tool in a network of relationships among people – among ethnic groups, peoples and nature, between human beings and science/technology, between Western and non-Western cultures.
All of this is equally strong and even more relevant today.
About the Exhibition
Dates: 24/3/2012 – 3/6/2012
Venue: Faurschou Foundation Beijing, Beijing
Address: Faurschou Foundation Beijing, 798 Art District, No.2 Jiuxianqiao Road, Chaoyang District, Beijing 100015 China
Tel: +86 10 59 78 93 16
Email: beijing@faurchou.com
Courtesy of Faurschou Foundation Beijing, for further information please visit www.faurschou.com.
Related posts: