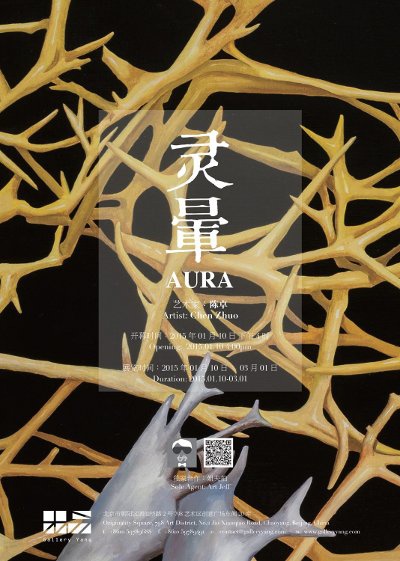 AURA/ ARTIST STATEMENT
"Aura" is a word of Hellenic origin. Walter Benjamin uses this word in his The Work of Art in the Age of Mechanical Reproduction, defining it as "the associations which, at home in the involuntary memory, seek to cluster around the object of perception". It is of the spiritual category, and of the explanations for the origin of the world. "To follow with the eye – while resting on a summer afternoon – a mountain range on the horizon or a branch that casts its shadow on the beholder is to breathe the aura of those mountains, of that branch." And he makes a further assertion that "what withers in the age of the technological reproducibility of the work of art is the latter's aura".
After taking the word as the title of this exhibition, I felt at first a sense of misgiving – it is too big a word the weight and meaning of which this exhibition could not bear. But later I considered it as a shaft of light fallen upon my attitudes towards art and life, which had bestowed on me strength and guidance when I was down and remained in the dark. In the Japanese culture the wrestlers would say of themselves "the soul of fight", and those making hand-pulled noodles would say there is "broth" flowing inside their blood vessels. No matter in the West or the East, aside from the materiel world, I believe an invisible world do exists; the seemingly imaginary being may be the soul which gives life to the physical body.
Everyone goes with a course of life, in which all things happen – happiness and sadness, luck and misfortune – only at various interval and pace. In the two years since my last exhibition, my work changes with my heart. Of the works in "Aura", the color and the composition are simpler than before. I wish it is possible for audience to perceive the works' own lives. We all had the times of wavering and pain in the dark, yet those experiences would at last turn into golden lights.
The five sets of oil paintings displayed in the main hall, constitute a montage-like real record of youth, as well as present the imaginary world of the spiritual. The set of sketches displayed in the small room is an encouragement for myself in the form of "slogans of an age", while one struggles in a society of win or lost. Time goes by, and we should run around without changing our original intentions. "Aura" shall not wither.
About the exhibition
Duration: Jan 10 – Mar 1, 2015
Venue: Gallery Yang
Opening: January 10 2015, Saturday 16:00
Tel: 010-59789491
Add: No.20, East of 798 Originality Square, B District in 798 Art Zone, No.2 Jiu Xianqiao Road, Chaoyang District, Beijing
Courtesy of the artist and Gallery Yang, for further information please visit www.galleryyang.com.
Related posts: