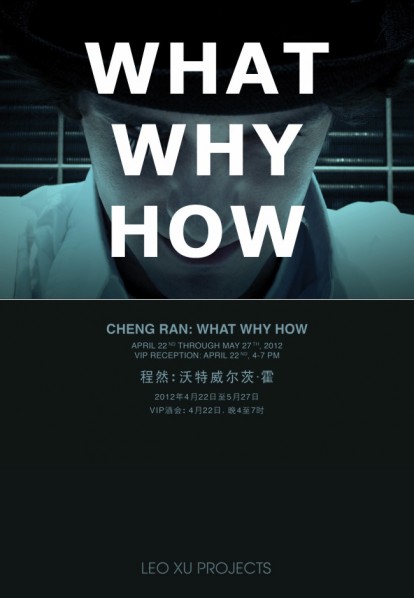 LEO XU PROJECTS is pleased to announce the first solo exhibition in Shanghai of Hangzhou-based Cheng Ran, a young artist critically acclaimed for his distinctive visual language and style that connects the cinema with relevant cultures of the time. The show runs from April 22nd through to May 27th 2012 and will be accompanied by a catalogue and off-site projects initiated and produced by the artist.
Named after a video Cheng Ran made in 2010, the exhibition "What Why How" premieres four of the latest videos produced over the past year. "What Why How", as the artist observes, refers to both a pattern for study and the analytical thinking adopted in the stock market. Parodying the way Western films' titles are translated into Chinese in Hong Kong, Cheng Ran transliterated this three-word term and lends it identity of a fictional male character. As the video "What Why How" examines the significance of life and belief through the protagonist repeatedly questioning and conversing with himself, the show—with a deliberate absence of this eponymous video—continues the artist's recent probe and narrows the focus onto his philosophy of motion pictures.
For this exhibition, the ground floor gallery is transformed into a cinema with a presentation of two single-channel videos that mark the centerpieces of the show. "1971-2000" (2012) opens up a box of memories of the cinematic classics that have left an enormous impact on Cheng and his peers who access contemporary cinema through second-hand resources, bootleg products and more recently the internet. Appropriating iconic elements from "A Clockwork Orange" (Stanely Kubrick, 1971) and "The Million Dollar Hotel" (Wim Wenders, 2000), the artist created a new film of a young man throwing himself off a rooftop, which however reconciles the contradicting beliefs and viewpoints in these two classics.
The other video "Angels for the Millennium (#6)" (2012) filmed an unlikely rescue in deep water. When projected upside down, the whole process—the drowning man ascends peacefully and slowly, later attended by lifeguards—only makes for a tranquil and sacred rite. Mimicking Bill Viola's historic video installation "Five Angels for the Millennium" (2001), the work voices the response of Cheng Ran as a young Chinese artist to the parameter of video art set by Western pioneers, whose works are becoming more popular among the Chinese. The video also references the British thriller "The Prisoner" (Patrick McGoohan, 1967), in which the protagonist a secret agent named "Number Six" makes every effort of escaping from the mysteriously isolated dystopian "village" he is held captive in. Confessional and redemptive, Cheng's Angel Number Six marks the line between belief and indoctrination.
Also on view are two other videos projected in the white and well-lit second-floor gallery, both containing eruptive moments of drama. "Lostalgia" (2012), as the title suggests, plays a word game on Andrei Tarkovsky's "Nostalghia" (1983). The story develops from the opening act of the latter, with a fabricated scene of fire and Cheng's reinterpretation of lines. "The Eclipse" (2011) filmed the hypnotizing light effects caused by the vibrating cymbals in a three-minute drum session at his friend's studio.
Concurrently, Cheng Ran is included in various exhibitions. On view at Rockbund Art Museum Shanghai is his ten-channel video installation "Dark Red (The Deepest Red)" commissioned for the museum's ongoing exhibition "Model Home: A Proposition by Michael Lin". A presentation of his installation "Midnight Art Museum" in the foyer of Bund 18 runs for three months. This installation was featured in "Immersion and Distance", a two-person show curated by Yang Fudong at Ullens Center for Contemporary Art Beijing in 2009. Also a selection of Cheng Ran's videos is included in the exhibition "Day and Night: Between Reality and Illusion" at The City University of New York, presented by BMCC (CUNY)/ Center for Ethnic Studies in collaboration with Art21: Season 6.
Cheng Ran (b. 1981, in Inner Mongolia) graduated from China Academy of Art in Hangzhou. Cheng Ran lives and works in Hangzhou. Cheng's videos project the innermost world of young Chinese and capture the living experience shaped by the globalized cultures and cultural policies. They integrate elements of the performative, the visual from electronica and rock'n'roll music, and in a few cases, the aesthetics of Chinese ink painting into his cinematic language that is informed by the late 20th century cinema.
Cheng has exhibited at many galleries and institutions in China and abroad, such as "Moving Image in China: 1988-2011" (Minsheng Art Museum, Shanghai, 2011), "Farewell to Post-colonialism: The Third Guangzhou Triennial" (Guangdong Art Museum, 2008), "Immersion and Distance" (Ullens Center for Contemporary Art, Beijing, 2009), "Yi Pai–Century Thinking" (Today Art Museum, Beijing, 2009), "The Tell-tale Heart" (James Cohan Gallery Shanghai and New York, 2010 and 2011), "In A Perfect World…" (Meulensteen Gallery, New York, 2011), and "Boy: A Contemporary Portrait" (Leo Xu Projects, Shanghai, 2012), etc. Cheng Ran has recently been awarded Best Video Artist of 2011 by the online art journal Randian.
About the Exhibition
Date: Apr 22, 2012 – May 27, 2012
Opening: Apr 22, 2012, 16:00, Sunday
Venue: Leo Xu Projects (Shanghai, China)
Courtesy of Cheng Ran and LEO XU PROJECTS, for further information please visit leoxuprojects.com.
Related posts: