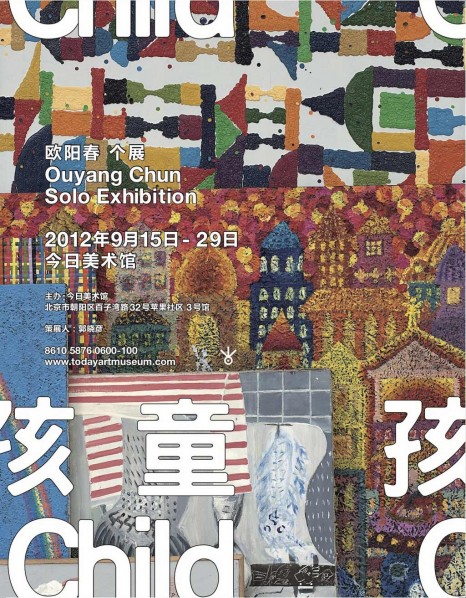 Ouyang Chun's new solo show entitled "Child" will be held at Today Art Museum from September 15th through September 29th, 2012. The show will be a summary of the artist's career. It will showcase more than fourty works the artist has created over the past fourteen years, which includes Ouyang Chun's latest works, and his early major works, such as painting installation Luminescence. The title of show Child is taken from Nietzsche's metaphor for the value of life in three different realms, he believes human's spirit should first become a camel, then a lion, and finally turn into a child. It is the purity of enjoyment experienced by a child that the artist is searching for in his art practice.
About the Artist
Born in Xian, Shanxi in 1974, graduated from the Xian Institute of Fine Arts in 1993. From Ouyang Chun, we see more traces of a autodidact, and it is exactly this feeling which "originated from life" made his behaviors far apart from the artistic creations born from schools, and not so easy and obvious to see the source of the picture. From Ouyang Chun's works, you may be able to find the craziness of Basquiat, the roughness of Baselitz and the scorns of Keith Haring, but the one thing you will not be able to find is the sense of decadency which belongs to schooled art. Ouyang Chun is determined to give painting a brand new interpretation, and therefore uses a multi-variant style to structure his painting empire.
About the Exhibition
Organizer: Today Art Museum
Curator: Guo Xiaoyan
Duration: September 15—29, 2012
Venue: Building No.3, Today Art Museum
Address: Pingod community, No.32 Baiziwan Road, Chaoyang District, Beijing
Tel: 8610-58760600-100
Courtesy of the artist and Today Art Museum, for further information please visit www.todayartmuseum.com.
Related posts: