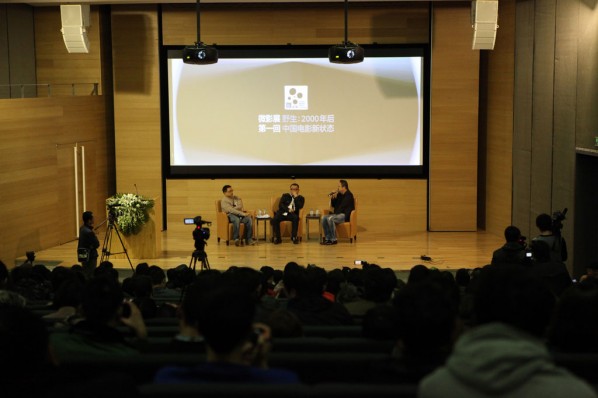 From December 18th to December 23rd, the "Micro Film Festival" jointly created by the Museum of the Central Academy of Fine Arts and the newsroom of Movie Scene is being held at CAFAM and the Peking University. On December 18th, the first round of this micro film festival including its press conference, Forum of A Dream of Twenty Years and the projection of film—Good Cat ceremoniously arrived at the Museum of the Central Academy of Fine Arts.
Wang Huangsheng, curator of CAFAM conveyed his hope at the press conference that this "micro film festival" can be "subtle" but "meaningful" which will promote the studies on folk micro film as well as the thoughts on the relationship between local galleries and film. As early as 1930s and 1940s, western art museums began to pay more attention to films. Nowadays, from the exhibitions, research, archives, as well as the collections, the film has become a major element in contemporary art museums in the west. However, Chinese local museums' interest in this area has only just begun.
Photograph: Dong Huiping/ CAFAM
"Micro Film Festival" is a "small" film festival focusing on academic studies. Different from the film panorama in China today which pays more attention to the scale and influence in film with more restrictions in time and location, while the Micro film festival avoids the fixed period of time and restriction of size. It integrates and packages outstanding works during a time span or of a particular type of film so that it can be released in various venues including various small live shows, art galleries, universities in Beijing or on regional campuses. With a specific theme every time, it encourages targeted discussions. During the screening process, there will be concentrated records and effective academic leading-in promoting talent and emerging works, new aesthetics, which also meets the needs of a number of academic institutions.
Themed as "Wild:New Drive in China's Films After 2000", this film festival showcases works from 7 young directors. A new generation of independent film directors after the year of 2000 have different backgrounds, unlike the fifth or sixth generation of film directors in China who are easily integrated, they are so hard to define that there is no "seventh generation". Although their style and works are difficult to generalize, this generation of film directors co-exist in similar survival space and undergo similar community education. In this sense, they can be taken as being inculcated by the network education. They are the generation making films without the need to address propaganda and to appeal to the masses as well as offering a full introduction of digital technology. Their expressive directions in film show some kind of consistency in some part such as a large number of documentary-style featured film which are dedicated to the portrayal of the social environment. By using of the word "Wild" to generalize and nominate the relatively independent creations by the directors of this generation, this film festival has a solid base of their differences from previous directors.
Related posts: