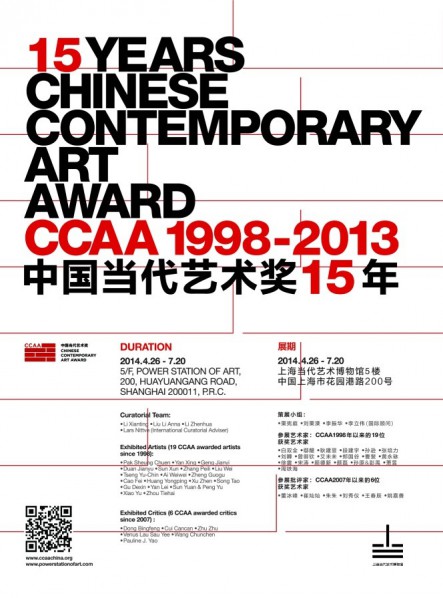 Chinese Contemporary Art Award(CCAA) will soon launch its 15th anniversary exhibition, "15 Years Chinese Contemporary Art Award(CCAA)", at the Power Station of Art in Shanghai. This exhibition will be the largest exhibition undertaken by CCAA since its inception.The exhibition will be on show from April through July, after which it will embark on a tour to other areas of China. Artist Award and Critic Award winners selected jointly by both international and domestic jury members will be exhibited. Curated around two central themes "time and figures " the exhibition is based on archival materials of CCAA's jury system. The primary objective is to establish a well-rounded presentation of CCAA's first fifteen years of engagement and how they have intersected with Chinese contemporary art within both domestic and international perspectives.
The curatorial team of this exhibition is composed of four contributors: Li Xianting, Liu Li Anna, Li Zhenhua and Lars Nittve, with Lars Nittve serving as the international curatorial adviser. 25 artists and critics have been recognized and awarded by the CCAA in the past fifteen years. More than 50 artworks from 19 awarded artists are to be presented in this exhibition. A departure from common group exhibitions, "15 Years Chinese Contemporary Art Award(CCAA)" focuses on multiple elements of the artists' career, ranging from the individuality of artists, the evolutionary process of time, theme and content, the presentation style of final artistic outputs, etc. "15 Years Chinese Contemporary Art Award(CCAA)" provides viewers with insight into how this significant award for Chinese contemporary art has developed into a bridge between China and the international art world. Furthermore, it highlights how CCAA has maintained its principles of impartiality, independence and academy, as well as its chaste, sincere attitudes.
Though quite active on a production level, Chinese contemporary art lacks a mature development infrastructure. CCAA's self-stated objectives include continuously encouraging Chinese contemporary art in various stages of completion and genre, awarding artists and critics who have independent, creative artistic standings. The CCAA's fifteen years of service function in parallel with a unique, fifteen-year time period of Chinese contemporary art during which practicing artists emerged from the semi-underground into today's current levels prosperity. It is a time period full of significant happenings, when Chinese contemporary art endured a transformation from the "Art wants freedom" mentality to more individualised artistic languages and styles.
CCAA's unique historical approach inspires reflection and discussions concerning Chinese contemporary art: What is Chinese contemporary art? where does its standard come from? Through these methods individuals can better understand and observe the juxtaposition of and differences between the internationalisation of Chinese contemporary art and its traditional cultural understandings. These issues will find themselves manifested and explored within the exhibition.
Another significant contribution of the "15 Years CCAA" exhibit is the extensive quantity of research concerning Chinese contemporary art that will be shared with audiences, helping to close the knowledge gap between the academy and the public. This action allows for an increased understanding of CCAA's award system and operation methods as well as public awareness of the current state of Chinese contemporary art.
The exhibition is located on the fifth floor of the Power Station of Art in Shanghai, occupying a spacious 1500 square-meter area. The exhibition space is divided into various sections, each of which differs in functionality. Simultaneously, CCAA is also launching a visualisation project related to its fifteen-year archive, providing four informational frameworks based on information categorisation, analysis and keyword extractions.The goal of this unique platform is to encourage audience engagement through its interactive, immersive multi-media presentation style. Furthermore, an independent documentary about CCAA will also be produced, weaving elements and themes of the exhibition together within a third-person perspective that gazes at the history of CCAA and the individuals who have participated. The documentary begins with the "now", composed of pre-set time stamps and recorded achievements, and promptly begins to deconstruct and recompose the "past".
"15 Years CCAA" hopes to provide a brand new research opportunity for the writing of Chinese contemporary art history. From its unique perspective, CCAA subtly introduces and deliberately manifests the relationship of art to the public. This perspective is composed of a collective representation of China's outstanding artistic achievements over the past fifteen years, and it is also an independent gateway towards future developments. In this exhibition, audiences are provided with the opportunity to wander about, to reminisce, and to reflect on the bond created between art and society.
About Chinese Contemporary Art Award(CCAA)
CCAA was established in 1998 by Dr. Uli Sigg, the leading collector of Chinese contemporary art. Designed as an independent, non-profit entity, the CCAA's purpose is to give awards to Chinese artists and art critics who show outstanding achievement in artistic creation, analysis and critique. First awarded in 1998, and then announced in two-year intervals, the CCAA has since become an institution of particular significance for the Chinese art scene, with CCAA winners becoming well recognized on both a domestic and international level. CCAA has widely promoted Chinese contemporary art internationally and built a bridge between the Chinese artists and the international art world at a time when contemporary art was largely an underground phenomenon in China. Essential for the success of CCAA are the high profiled jury members and the CCAA directors – international and Chinese in equal number – who have then worked into their own projects much of what they saw in the jury meetings.
To further balance market forces and educate a rapidly growing audience that casts an eye on or is willing to invest in Chinese contemporary art, stronger institutional support is essential. One such ingredient in any developing art operating system is independent analysis and critique. To bring that issue more into public focus, the biennial CCAA Art Critic Award has been established in 2007.
In the past fifteen years, CCAA has invited more than 60 influential domestic and international jury members who selected 19 artists and five critics among thousands of candidates. The winners of these awards are provided with a mix of prizes and production budget. CCAA also has published 13 books and curated three exhibitions for these selected winners.
About the exhibition
Title: 15 Years Chinese Contemporary Art Award(CCAA)
Duration: April 26th, 2014 – July 20th, 2014
Place: Fifth Floor, Power Station of Art, Shanghai
Curatorial Team: Li Xianting, Liu Li Anna, Li Zhenhua, Lars Nittve(International Curatorial Adviser)
Exhibited Artists (19 CCAA awarded artists since 1998):
2012
Pak Sheung Chuen(Best Artist)
Yan Xing(Best Young Artist)
Geng Jianyi(Lifetime Achivement Artist)
2010
Duan Jianyu(Best Artist)
Sun Xun(Best Young Artist)
Zhang Peili(Lifetime Achivement Award)
2008
Liu Wei(Best Artist)
Tseng Yu-Chin(Best Young Artist)
Ai Weiwei(Lifetime Achivement Award)
2006
Zheng Guogu(Best Artist)
Cao Fei(Best Young Artist)
Huang Yongping(Lifetime Achivement Award)
2004
Xu Zhen(Best Artist)
Song Tao(Best Young Artist)
Gu Dexin(Lifetime Achivement Award)
2002
Yan Lei(Best Artist)
Sun Yuan & Peng Yu(Best Young Artist)
2000
Xiao Yu(Best Artist)
1998
Zhou Tiehai(Best Artist)
Exhibited Critics(6 CCAA awarded critics since 2007) :
2013
Dong Bingfeng(Art Critic Award)
Cui Cancan(Special Mention)
2011
Zhu Zhu(Art Critic Award)
Venus Lau Sau Yee(Art Critic Runner Up Award)
2009
Wang Chunchen(Art Critic Award)
2007
Pauline J. Yao(Art Critic Award)
Courtesy of the artists, critics and the Power Station of Art in Shanghai, for more information please visit test.powerstationofart.org/en or contact:press@ccaachina.org T. +86 8041 4817.
Related posts: