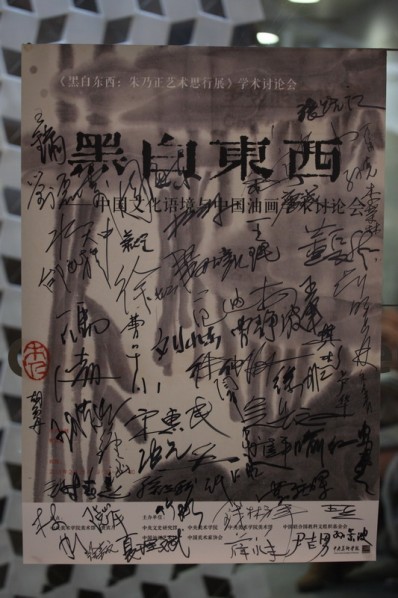 At the beginning of the lunar new year, all lives are coming to life again in Beijing, the silent CAFA waiting for the arrival of the new semester; on February 21, 2013, at the end of "The Black-and-White East and West: Research Exhibition of the Art Thoughts and Experience by Zhu Naizheng", scholars across the nation rushed to the discussion entitled "Chinese Cultural Context and Oil Painting in China", held at CAFA Art Museum. The discussion began at 9:30 am, presided over by Wang Huangsheng, in addition, President Pan Gongkai and Vice President Xu Bing were invited to speak respectively. President Pan Gongkai held that Chinese and Western artistic conceptions in Zhu Naizheng's oil painting, and had made great achievements in the treatment of exploring the relations between black, white, and gray.
Xu Bing, lamented at his innate ability to comprehend, particularly reference to the sketch finished when he was a student, entitled "Venus de Milo", the outstanding work which was praised by all the art students at the time. After the speeches, Zhu Naizheng stood up and gave his thanks to the people present, and introduced Wu Changjiang, executive Vice Chairman of the Chinese Artists Association, who presided over the thematic speech of the discussion.
Feng Yuan, deputy director of the Central Research Institute of Culture and History initially spoke, on the title of "Combination of the East and West and the Advantage Terrain of the Humanities", he interpreted the artistic achievements of different stages of the artist. Particular attention was made when he introduced Zhu's comprehension of Chinese painting, emerging in his later years after many years of study of Western art. Following on was Shui Zhongtian, from the Chinese National Academy of Arts, he talked about "Zhu Naizheng between the Black-and-White East and West", and said, the calligraphy and ink and wash painting which he insisted on, did not simplify his works. Sun Ke, from Beijing Fine Art Academy and Xue Yongnian discussed "Zhu Naizheng's Chinese Calligraphy and Painting and the Black-and-white East and West", they believed that Zhu should be proud of his achievement in Chinese calligraphy; he was an expert of calligraphy although denied that he was a calligrapher.
Then, Yin Jinan, President of the School of Humanities, CAFA, Xu Hong, from the National Art Museum of China, Zhong Han, from CAFA, respectively made their wonderful speeches, with the titles of "the Civilian Times and Realistic Language", "Artistic Thoughts and Texture of Life", "Enlightenment at the end of the 60 years: Mastery, Peace and Honesty of Zhu Naizheng". Finally, Fan Di-an, Director of the National Art Museum of China, said the generation of Zhu Naizheng's times were in pursuit of something that related to the great times, along with cultural ideals, and strived to be artistic, cultured and of affluent expression.
At noon, after lunch with the guests, there was a part for the freedom of speech, presided over by curator Cao Xinguan, Tang Bin, Liu Xiaodong, Yu Ding, etc. speaking respectively. The second thematic discussion was held at 14:00 pm, presided over by Yin Jinan, first of all, Xie Chunyan, an independent art critic, made a special trip to this discussion from Shanghai and presented a Shunkouliu, an oral folk verse, speaking plainly, with a very pronounced rhyming tone, written for Zhu Naizheng, and then talked about the "Cultural Significance of Zhu Naizheng"; then, Liu Xilin, from National Art Museum of China, Niu Kecheng, from the Institute of Fine Arts Research, Chinese National Academy of Arts, respectively discussed the issues about black and white and the five colors, as well as the East of the "White-and-Black East and West", in Zhu's works. Cao Qinghui, Professor of School of Humanities, CAFA, played a PPT to explain "The Chinese and Western Issues Emerging in the Evolution of Zhu Naizheng's Creating Perspective".
After a break for tea, Li Ronglin, a PhD of Zhu Naizheng, took one of Zhu's works as an example for a systematic analysis, in the title of "Preliminary Discussion of Zhu Naizhang' Sketches and Landscaping". In addition, Cao Xingyuan, and Lao Zhu, Professor at Peking University respectively issued their related commentaries, entitled "Calligraphic Technique of Writing: Perception and Spirit of Zhu Naizheng's Painting", and "Double Characters of Ink: Zhu Naizheng's Historic Contribution to Pen and Ink. At the end of the meeting, some senior scholars such as Sun Jingbo, were eager to speak, making the atmosphere active and enthusiastic. Their spirit made this gathering rather precious.
About Zhu Naizheng
Zhu Naizheng is a famous artist and a professor of CAFA. Born in Haiyan County, Zhejiang Province in December 1935. Zhu graduated from CAFA in 1958, directed by Wu Zuoren, Ai Zhongxin, Wang Shiguo, etc. He had been allocated to work in Qinghai Province, and worked for 21 years on the Qinghai-Tibet Plateau. He was the vice chairman of the Qinghai Provincial Artists Association, and a Standing Committee member of the Qinghai Provincial National People's Congress. In 1980, he was appointed to teach at CAFA, once the vice president of CAFA. Currently he is Dean of the Academic Committee of CAFA, professor, and graduate tutor, a member of the Council of Chinese Artists Association, and Dean of the Committee of Oil Painting, as well as the vice president of China Oil Painting School, and a member of the National People's Congress of P.R. China.
Zhu Naizheng's Quotations about "Studying Between the Orient and the West":
"The Quintessence School" believes that only Chinese traditions should be studied, while "the Western School" believes that only the western things should be studied, in fact, neither of the concepts of the two schools are comprehensive. They should not be so clearly and artificially divided into two different parts. Surely China has its own wonderful things, but the temples and the carvings in Egypt, and the ancient ruins and relics in France, are also impressive. Great artists don't have a program, but have rules, and in the middle there are "testimonials", which serve as the adjusting standard.
If you've been to the west of China, seen the spectacular landscape of great mountains and rivers, you would loose your interest to the southern landscape, because they have a smaller pattern, and narrower realm. It is not only the experience, dialogue and absorption of an ambitious nature, but also the exercise of a man's own willpower.
Innovation is like a coat, you would wear a coat according to your growth, your logo, your label, you would know which is more suitable for you, rather than going outside and casually buying a coat to wear, regardless of whether it is good or not.
Text by He Yisha, Photography by Dong Huiping and Quan Jing/CAFA Art Museum
Translated by Chen Peihua/CAFA ART INFO
Related posts: