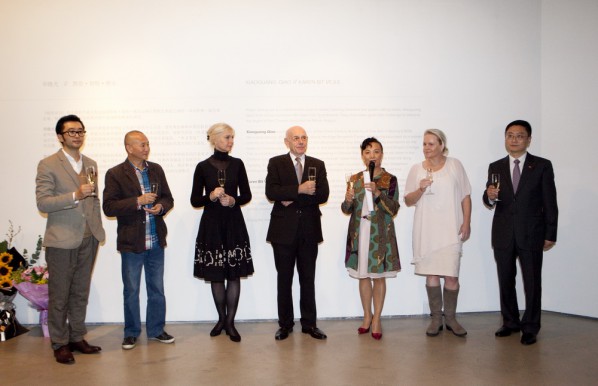 At 3:00 pm on October 5, 2014, the opening ceremony of "Paper Dialogue – The Dragon and Our Stories" paper-cut art exhibition was held at Today Art Museum. In this unique exhibition, two paper-cut artists have come together from two different parts of the world and cultures to create a cross-cultural dialogue in art. Qiao Xiaoguang from China and Karen Bit Vejle from Norway and Denmark are both recognized paper-cut artists. In addition to sharing this unique form of expression, they both come from cultures where the dragon has been a prominent mythical creature over thousands of years. They have thus agreed to interpret their own culture and history in a large-scale dragon paper-cut, and present it to each other and to the audience in a joint exhibition.
A dragon is a mythical figure that connects China and Scandinavia and has played a significant role in both Chinese and Nordic arts and craft. In Norway, dragons appeared in Norse mythology, heroic legends, wooden churches and Viking ships. In China, the dragon also has a long history within the diversity of culture. The dragon has always been and is still a living part of the culture. Its images are adopted in architecture, decoration, everyday items,cultural festivals – and not least in paper cuts.
At the press conference Karen Bit said that, the biggest harvest she gained from the cooperation was that after constant research in the process of the production, she had a deeper understanding of her own culture and Chinese civilization. At the beginning of the creation, she researched and increased her knowledge of the two "dragons", and then most of the creations relied on individual interpretation. The narrative of Bit's paper-cut has a strong logical base, while Qiao Xiaoguang's creation emphatically expresses the spiritual concept, inheritance and evolution of "dragon" in the Chinese context.
Bit presents her work "Seven Dragon Eggs", which is composed of a large-scale and six small paper-cuts, and the exhibition hall are arranged as a "paper-cut forest", so that the audience can wander among them, experiencing the charm of paper-cut art. Bit tells the stories of the past, present and future, and the contents cover Nordic history, myths,as well as the implicitvisual expression about the soul of the Scandinavian nation. Bit's artistic features are the transparency of fragile white papers and shadows that are produced by the installation, in addition to the communication mode of her work – methodically telling stories. Professor Qiao Xiaoguang presents his work "Fish and Dragon Change"in the exhibition, using traditional auspicious patterns of Chinese folk art such as "fish", "dragon" to create."Fish and Dragon Change" which is derived from the ancient books of the Song Dynasty, used to describe things that change in nature.China is a live "civilization of the dragon", today we are living in times of change, in these works, Qiao Xiaoguang uses the old Chinese idiom "Fish and Dragon Change" to express the disappearance of agricultural civilization and the appearance and transformation of new civilization, implying and creating a metaphor of the reallife in China today.
"Paper Dialogues" is a cross-cultural art project, an encounter between two cultures, two artists, two dragons, that is both traditional and innovative. Paper-cut is an old tradition of arts and craft, and it is a form of folk art that is spreading, especially in China. With their mind, hands and scissors, the artists created large-scale amazing works. The old art form that was traditionally carried out by Chinese women is now performed by a Chinese man and a Scandinavian woman. The paper-cuts are untraditional in their expression – not least because of their spectacular size – and they place the dragon motif from Chinese and Norse cultures in a new and exciting context.
Following the exhibition at Today Art Museum, it will be on display at Liu Haisu Art Museum in Shanghai from October 18 – October 26. From March 12 to May 24, 2015, and from June 13 to August 23, 2015, the exhibition will be moved to display at the Vigeland Museum in Oslo (Norway) and the National Museum of Installation Art, Trondheim (Norway).
About the Artists
Qiao Xiaoguang was born in Xingtai, Hebei Province in July 1957.He is the Head of the Cultural Heritage Research Centerat the Central Academy of Fine Arts (CAFA) in Beijing, a member of the Academic Committee of the academy, Deputy Director of the Department of Cultural Heritage at the School of Humanities, professor, doctoral supervisor.He is also a member of the Art Educational Committee of the Ministry of Education, a member of the national committee of the China Federation of Literary and Art Circles, Vice Chairman of the Chinese Folk Literature and ArtAssociation, a foreign member of Kalevala Society in Finland. He was the former Chairman of ChinaFolk Paper-Cut Research Society. Qiao is a well-known Chinese paper-cut artist and Chinese folk art researcher. Through paper-cut art, he has been cooperating with several European countries in cultural heritage related projects.
Karen Bit Vejle is a paper-cut artist from Norway and Denmark. She was born in the Fyn/Funen Island of Denmark in June 1958, and then lived in Norway for 30 years. She is one of a few recognized paper-cut artists in Europe who creates large, detailed paper cuts at a very high technical and artistic level. She is a self-taught artist,she began to explore the secret of paper when she was a child, and she is inspired by the world famous writer of fairy talesHans Christian Andersen (1805-1875),a master whowas also skilled in paper-cut. Since she was 16 years old, she has cut paper almost every day, so that in the field of paper-cut art, her skill is perfect after 40 years of practice.
Text by Zhu Li, translated by Chen Peihua and edited by Sue/CAFA ART INFO
Photo by Today Art Museum
Related posts: