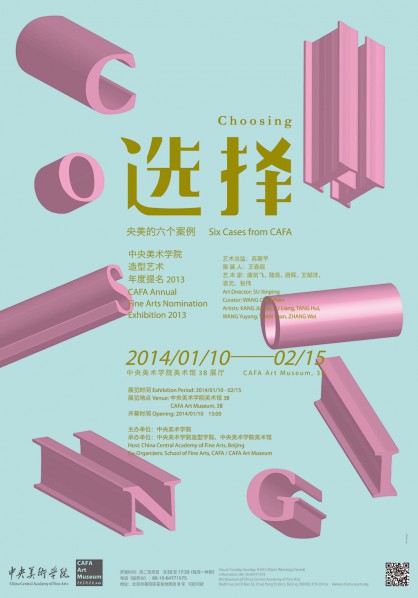 "Choosing: Six Cases from CAFA" – CAFA Annual Fine Arts Nomination Exhibition 2013 which is about to open at Gallery 3B of CAFA Art Museum on January 10 going through to February 15, 2014. The exhibition will showcase about 30 works by artists Kang Jianfei, Lu Liang, Tang Hui, Wang Yuyang, Yuan Yuan, Zhang Wei, most of their works were created in 2013. Prof. Su Xinping serves as the art director, and Associate Professor Wang Chunchen from CAFA Art Museum serves as the curator.
CAFA Fine Arts Nomination Exhibition has held three sessions so far, and its real purpose is to provide a platform for young and middle-age teachers who actively fight to the forefront of teaching, holding a unique insight into art, and have formed their own individual language and approaches in their artistic practices, to showcase their level and status quo, so that more people know and understand their artistic achievements, also hoping that academia can be more concerned with their work and study their art achievements, in order to stimulate more teachers to improve their creations, aiming to make the academic atmosphere of the academy more active. Therefore, the nomination exhibition of the year chooses six young and middle-aged teachers, which undoubtedly have a very important significance to the teaching and creation of the present and future of the School of Fine Arts.
The six artists come from the Department of Printmaking, Department of Oil Painting, Department of Mural Painting, Department of Experimental Art, Department of Fundamental Education for Plastic Arts, Department of Sculpture respectively, introducing their works that cover easel painting, sculpture, installation and so on. The new works by these artists, demonstrate a constant exploration in their own creative fields, but also offer a glimpse of the diversified development roads of the current young and middle-aged teachers of CAFA.
Kang Jianfei's work "I Want to Invite You to Join Me to Create Together" will be interactive with the visiting audience during the exhibition, allowing viewers to participate in the product; Lu Liang's work "Angkor Swamp" fully reflects his dedication and exploration of painting skill, which is particularly valuable today; Tang Hui specially created the paper installation "Noble Machine" for the exhibition, shifting from the two-dimensional to three-dimensional, which is a challenge for him; Wang Yuyang mainly creates large-scale installations, in addition to installations, three oil paintings are presented; Yuan Yuan offers an exploration and innovation of the materials and media of his oil painting; Zhang Wei, teacher from the Department of Sculpture showcases his "Draperies" series, which contain his understanding of Eastern and Western religions.
The exhibition is in the name of "choosing", which shows an attitude of the new era: engaging in art is a life-long choice; engaging in their favorite arts is a self-minded choice. In the life-long creation, artists think in facing the arts, repeating and thinking means constantly selecting and adjusting to the arts.
About the exhibition
Duration: January 10 – February 15, 2014
Venue: CAFA Art Museum 3B
Opening: January 10, 2014 15:00
Host: CAFA
Co-Organizers: School of Fine Arts, CAFA/ CAFA Art Museum
Courtesy of the artists, translated by Chen Peihua and edited by Sue/CAFA ART INFO.
Related posts: