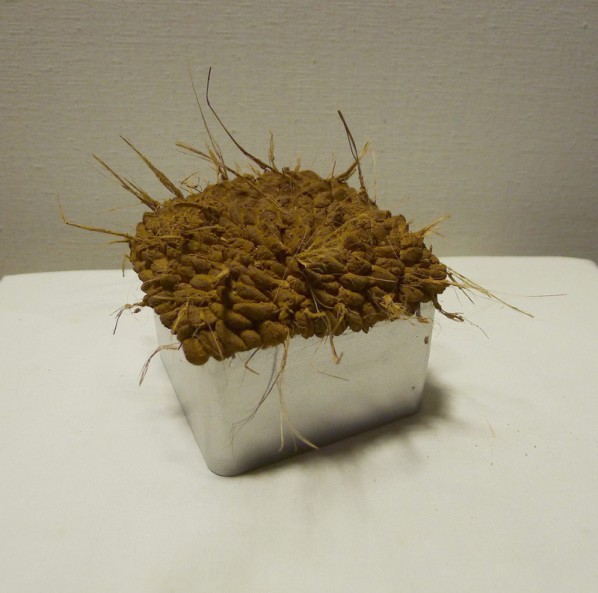 Under the direction of the White Box Museum and with Dai Zhouqun's curatorial experience, 60 of the most outstanding contemporary Chinese artists will participate in "Christmas 义乌(Eve): a carnival of tiny things in 2012 ". The opening was held on Christmas Eve of this Year (December 24th) at 7 p.m. at White Box Museum in 798 Art District. This exhibition is not only an original way to celebrate this Western Festivity but also a mini-experiment to test the business aspect of art.
The 24th December is commonly known as Christmas Eve. In this exhibition we played with the word "EVE" that phonologically sounds like yiwu [义乌], and we tried to mix the sound and the particular commercial meaning of yiwu [义乌] using its model in an art exhibition. There are two reasons to do this: The First is yiwu's model. At present, the city of Yiwu has the biggest center of goods distribution in all China and actually includes all the legends about Chinese production style: small items, low cost, fake products, labor surplus, extensive and large-scale production, plagiarism, low technological level, inferior quality. The second one is the idea of "spread". Yiwu represents the "Made in China" that nowadays is receiving a lot of criticism from all over the world. The aim of this exhibition is to reflect the idea that most people have about the notion of Made in China, and thus enlarging its border not only in a productive meaning, but also to show how Yiwu's model might indicate other aspects of China that should become widespread knowledge.
After the loss of Steve Jobs, Apple's model that perfectly combines art and technology in a market product will determine an incomparable goal and, will soon become a worldwide standard for the future. This observation is not just related in a commercial sense but as long as we live in a commercial society, can become connected with everything. On the contrary, all that concerns the "Made In China" idea has for a long time represented the synonym of "hard working production", exhausting the idea of excessive consumption of natural resources and low quality goods, thus influencing any attempt to give a real value of our industrial production.
During this exhibition, work will be displayed on shelves, and numerous artists are invited to present their works on them. To underline more the correspondence with the market product in the mall, we will also add some market signs inside the space and create an original manner to arrange the White Box Museum Space. But with an open mind, we permit the artists to personally intervene on the idea and the structure of Yiwu with performances or other ideas.
At the same time, in this exhibition, the artists work and the market products will be shown together. As a matter of fact each artist will present a piece of work (a painting, a sculpture, an installation, a performance on site) and one of their personal things with an artist's signature and a for sale sign offering the product to the viewer. In this way we also try to talk about a consumer's attitude to "Be what you buy" and "be a person itself". If we consider the work of the artist as a normal object, probably its price will exceed the normal price of second hand products but that is actually what can be indicated in the value of the person itself. This will be perfectly clear because we actually invited a lot of artists from different backgrounds. An item grows in value just because before belonged to a specific person, in this case an artist, and through the difference of prices we would like to show the difference of artistic and academic value between those artists. An object that belonged to an artist, marked with his signature and that has participated in an exhibition of course increases its personal value due to its unique Authenticity. For this we stressed more the relation between a label value and a personal value, hoping to create an inspirational effect.
Artists: Shi Jinsong, Ji Zhou, Jiao Xingtao, Hu Qinyan, Hu Xiaoyuan, He Xiangyu, Qiu Xiaofei, Li Wei, Li Songhua, Liang Bing, Liang Bing, Lu Zhengyuan, OUT(Zhou Yi, Chen Xinpeng, Dong Qing, Liang Shuo, Shao Kang, Wang Guangle, Zhang Zhaohong), Shu Hao, Man Yu, Pei Li, Peng Hanqin, Qiu Qijing, Shi Xinning, Gui Yangfan, Song Jianshu, Wang Sishun, Wang Zhenhu, Wei Jia, Xia Guo, Xu Xiaoguo, Yan Bing, Yuan Xin, Zhang Xiaotao, Zhao Guanghui, Zhao Nengzhi, Zhao Yiqian, Zhao Zhao, Zheng Wuxie, Zhu Dianqiong, Dai Hua, Ai Guo, Pu Hua, Shi Jin, Huang Yuxing, Sun Jianwei, Z(Yang Xiaogang + Lai Sheng), Chen Wenhua, Deng Dafei, Duo Lan, Shi Wenfei, Fang Shang, Feng Lianghong, Fu Hong, Gao Haiqing, Gao Lei, Gao Xiang, Ge Fei+Lin Zhen, Guo Ling, He Chi, Hou Wen, Hou Yong, Hu Qintai, Kang Jing, Huang Yishan and Lv Xiao.
Curator: Dai Zhuoqun
Presented by: Sun Yongzeng
Assistant Curator: Li Yunxia and Xie Jinyuan
Public Relations: Wu Wei and Sara Bortoletto (Italy)
Organizer: White Box Museum Of Art
Co-organizer: Melly International
Opening: Saturday, December 24, 2011, 7p.m.
Date: December 24, 2011 – January 12, 2012
Venue: WHITE BOX MUSEUM OF ART, 798 Art Dist.
Courtesy of the artists, for more information please visit www.798whitebox.com
Related posts: