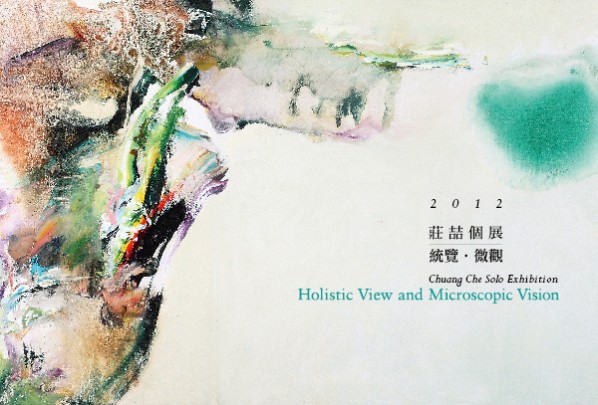 Having operated for three decades, Asia Art Center expanded from its headquarters near Da'an Park in Taipei when it opened a branch in Beijing's 798 Art Zone in 2007. This was followed by the official opening of Asia Art Center Taipei II in the Dazhi District of Taipei in November 2011, which was intended as a new meeting place for artists, cultural figures and art collectors in northern Taipei. "Chuang Che Solo Exhibition: Holistic View and Microscopic Vision" will be held at Asia Art Center Taipei II from December 15, 2012 and will showcase the most recent works of Chinese abstract expressionist master Chuang Che.
Chuang was born in Beiping in 1934. His father was renowned calligrapher and former National Palace Museum vice director Chuang Yen (1899-1980) and Chuang Che's talent for calligraphy and painting comes from a family steeped in Chinese academia and culture. After graduating from the Department of Art at National Taiwan Normal University, he joined the "Fifth Moon Group" and promoted the combination of "Chinese literati painting tradition" and "Western abstract expressionism." The diverse contemporary style of modern Taiwanese painting is directly attributable to the modernization movement led by Chuang Che, a movement on which he made an indelible mark. At the same time, Chuang is also one of the most important Chinese members of the abstract art world, following in the footsteps of such French-based Chinese artists as Zhao Wuji and Zhu Dequn.
Chuang Che has always emphasized the painting expressionism of his work, utilizing "abstraction" to guide the holistic structure of paintings, while precisely coordinating the combination of tones and the details of pattern and texture. Indeed, it is this unique duality that makes "holistic view and microscopic vision" the perfect analytical lens through which to view Chuang's creative work. The pieces displayed in this exhibition range from oil paintings to acrylic works and viewers will find the line between eastern and western expressive methodology obscured throughout. Chuang has resided in New York for many years and mapped a path through the world of abstract art that has been uniquely Chinese in its embrace of "Eastern abstraction" and "Western landscapes."
More recently Chuang Che has identified seven key elements in painting: "I have realized as I age, painting, firstly, must be precise; second, must be merciless; third, must be enduring; fourth, must be steady; fifth, must be smooth; sixth, must possess depth; and seventh, must be weighty." Whether in terms of the artist's creative "ideas and technique," the "medium, form and meaning" of the work itself or the sense of "intrigue and beauty" conveyed to viewers, 78-year-old Chuang Che presents works that contain a well rounded sense of the artist's world view and something for everyone.
Because of the difference between abstractionist structure and natural appearance, Chuang asks viewers to come to their own conclusions as they ponder his art, in the belief that such interpretive richness adds to the creative mystique of the work. The opening party for "Chuang Che Solo Exhibition: Holistic View and Microscopic Vision" will be held at Asia Art Center Taipei II in Dazhi, Taipei (No. 93, Lequn 2nd Road), on December 15, 2012. Feel free to drop by and experience first hand the results of the artist's intriguing exploration of free abstraction.
About the exhibition
Duration: 2012-12-15 ~ 2013-01-06
Opening: 2012-12-15(Sat) 3:00pm
Venue: Asia Art Center ( Taipei II )
Address: No.93, Lequn 2nd Rd., Taipei City 104, Taiwan
Courtesy of the artist and Asia Art Center, for further information please visit www.asiaartcenter.org.
Related posts: