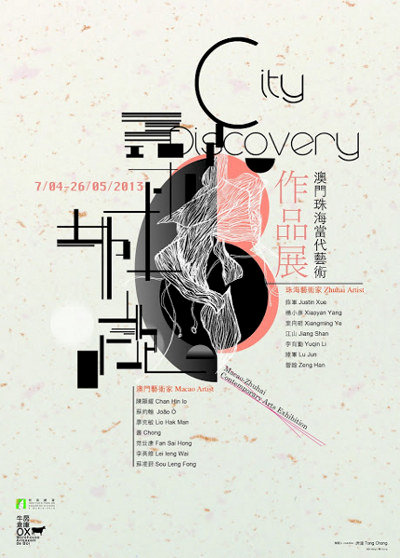 Fourteen artists, seven from Macao and seven from Zhuhai, were invited to create contemporary artworks in different forms. Those works fitting the exhibition theme are showcased to enable artistic exchange. Neighbouring cities Macao and Zhuhai enjoy frequent exchange in all areas. Despite the different cultures, residents of the two cities are familiar with each other. Actually, Macao and Zhuhai were, originally, small fishing villages part of the same Chinese county, with brotherly relations. Nevertheless, in the modern-day social and cultural evolution, the twin cities followed two very different paths.
Nowadays, residents of Macao and Zhuhai seem to know and understand each other, but this is some what faint. The cities' urban landscapes are always changing, with skyscrapers replacing one-storey buildings. Simultaneously, their skylines are under dramatic transformation. Walking around the ever-changing city, we get used to seeing familiar spots disappearing one after the other. We could only revisit them in our memories. And yet innovations and information come and go at a fast pace, in disregard of the population's feelings and needs, the residents have adopted as a normal behaviour the use or discarding of goods.
With this in mind, this exhibition was organised to allow for the Macao and Zhuhai artists to explore their cities, and express their ideas, from different angles, hoping to promote exchanges in art and culture between the two cities, while allowing people from different urban backgrounds to better understand their different social landscapes.
About OX warehouse
Founded in March 2002 in Macao, Ox Warehouse (former name: the Old Ladies'House Art Space) is a private, non-profit, art association. It manages a leased artistic venue, Ox Warehouse, with a small staff in charge of daily administration and program planning and organization chores. The Ox Warehouse presents exhibitions and performances of contemporary art, trying to provide an alternative platform to the local arts scene, which is a bit wanting in this regard. Being dedicated to the promotion of art, the Ox Warehouse also organizes inspirational artistic workshops, in order to foster individual creativity and the experimental spirit, as well as cross-border exchange programs. Last but not the least, the Ox Warehouse art space is open to local artists and art associations for collaborative projects, making the venue an experimental platform for Macao's artistic creation.
About the exhibition
Duration: April 8 – May 26, 2013
Venue: OX Warehouse
Curator: Tong Chong
Participating artists: Seven Macao artists and seven Zhuhai artists
Opening Hours: 12:00-19:00 (Closed on Tuesdays)
Tel: 853-28530026
E-mail: oxwarehouse@gmail.com
Add: No Cruzamento entro a Avenida Do coronel Mesquita e a Avenida Almirante Lacerda Macau
Courtesy of the artists and OX Warehouse, for further information please visit oxwarehouse.blogspot.com.
Related posts: