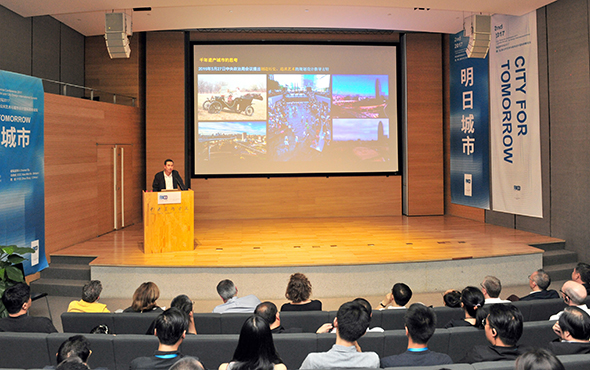 Co-organized by the China Central Academy of Fine Arts (CAFA) and People's Government of Shijingshan District in Beijing, "City for Tomorrow Conference 2017: The Second International Summit on Public Art and Urban Design" was officially initiated at the Art Museum of the Central Academy of Fine Arts on September 24. 12 experts from the UK and China were specially invited to conduct discussions on art that intervenes and leads on urban design, they centered around the plan and construction of "soft city" themed on "City for Tomorrow", and they took the initiative to respond to the general issue in the process of urbanization in China.
Fan Di'an, the President of the Central Academy of Fine Arts and the Associate Chairman of Chinese Artists Association has been invited to serve as the General Counselor. Besides there are two General Directors: Wang Zhong, Dean of the City Design School, CAFA and Xiao Wei Ma, MASAA–Founder and Principal Architect, Design Collective London–Founder, City for Tomorrow Conference–Founder. This event is organized by the School of Urban Design, CAFA, Design Collective London, CAFA Art Museum and Public Art Research Centre, CAFA.
First of all, Fan Di'an, the President of the Central Academy of Fine Arts and the Associate Chairman of Chinese Artists Association, delivered a speech and he pointed out that, "In the rapid process of urbanization, urban development in China has also encountered common issues faced by many countries in the world, especially the big cities represented by capitals, which are how to make the city life more idealized, how to let people enjoy a rich and special cultural life while they enjoy all the convenience brought by the city, moreover the development of the entire city has undergone a transition of its own form." The intervening and leading role of art in dealing with this issue, was promising when facing this challenge. Also he mentioned that, art was very important to a city, "the green space should not be just natural vegetation, but it should be a social space for human spiritual activities and cultural communication…the unique feature of a city is the result of historical accumulation or the important embodiment of historical and cultural heritage, or the unique feature is the soul of a city". In the perspective of maintaining the unique feature, protecting the cultural heritage of urban history, building the spiritual space for citizens while reflecting the urban context and cultural character, there's a lot that art could contribute to.
Mei Song, Director of Beijing Cultural and Creative Industry Promotion Center, affirmed the theme and significance of the forum in his speech. He has taken the successful transformation of 798 and 751 Art Districts as examples to put forward the importance that the adjustment of urban development strategy and cultural and creative industry has on Beijing or any other cities that were confronted with the same issue. While Chen Zhe, Executive Director of the National New Urbanization Evaluation and Inspection Group, talked about the emphasis on cultural exchange and development in recent years and he thought that the soft strength and cultural plan would be one of the most important considerations in future new urban constructions and he hoped that this forum would take CAFA the center and embed the real culture and public art into the development of the future city.
The first half of this forum Zhou Rong was invited to serve as the Academic Host. He was a well-known architect, critic and curator in Chinese contemporary buildings, urbanization and public art; Vice Dean of Institute for City Design and Innovation, CAFA; Master of Design from Harvard University, Ph.D. and Associate Professor of School of Architecture, Tsinghua University, associate editor of "World Architecture"; and member of Editorial Board of many international and domestic professional media. He talked about the "Generalized Concept of a City and Urbanization in the Context of Silicon-based Civilization", human civilization is experiencing revolutionary progress. This leads to a large scale migration of civil content from the traditional carbon-based space to a silicon based space. Correspondingly, traditional concepts of city and urbanization of a carbon based civilization must be reexamined and discussed in the context of a silicon-based civilization. The extension of the silicon-based space has also led to an unprecedented broadening of the concept of urban and urbanization.
The former Deputy Minister of Housing and Urban and Rural Construction, Qiu Baoxing gave a speech themed on "Reconstruction of Microcirculation –Urban Green Development", he thought that the large-scale industrial waste production mode and large-scale disposal mode, sewage treatment model suppressed the "microcirculation" completely. Reconstruction of Microcirculation should be the concern of the public artist, urban planner, scientific researchers.
Tom Bloxham, Co-Founder and Chairman of Urban Splash centered his speech around "Urban Critical Thinking", he discussed the story of "Urban Splash", how it created over £1 billion worth of regeneration developments across UK regions, and how it continues to change the face of post-industrial space across urban England. While Bob Allies, Partner and Founder of Allies and Morrison', Visiting Professor, The School of Architecture, The University of Reading talked about "London's Past and London's Future", Allies and Morrison have been responsible for initiating or master planning many of London's major urban regeneration projects including the Olympic Games and Legacy, King's CrossCentral, Greenwich Peninsula, White City, Bankside and the South Bank. In this talk, Bob Allies described how these projects have evolved, the urban principles that are under them, and the contribution they made to accommodating London's future growth.
Wang Zhong, Professor and doctoral supervisor of China Central Academy of Fine Arts (CAFA), Dean of City Design School, CAFA, Director of Public Art Research Center, CAFA, Counsellor of Think Tank of Beijing Municipal Government. His speech was themed on "Art-oriented Urban Innovation". The current stage of urban planning and construction mode as a guide for the future development of Chinese cities was unable to solve the problems of modern urbanization. They, therefore, propose art-oriented urban development (AUD) as a new comprehensive concept, and advocate a culture guided urban development path, which combines thinking from art and urban design in order to optimize the quality of urban public space, highlight a city's character, stimulate a city's humanistic spirit, foster creative energy, create a sustainable economic, social and cultural heritage, and establish a new benchmark for the construction of Chinese urban civilization in this new period. By doing this, they shall borrow from the heritage of our old civilization and enlighten the future.
Lucy Minyo, Consultant, BOP Consulting, London Office talked about "Culture, Creativity, and Community: Bringing Built Heritage to Life". In UK cities, built heritage can find a new life. In and around these buildings, communities can come together, arts and cultural resources can be shared, and creative industries can grow. Some traditional buildings in the UK are looking to a future where they do all three. This speech discussed two examples of large historic buildings brought back to life in this way, 1) Alexandra Park and Palace in North London and 2) Edinburgh Printmakers in Edinburgh. Her concluding points demonstrated relevance to the Chinese context.
Will Holborow, Senior Heritage Consultant for 'Purcell' / AND / National Engagement Manager for 'English Heritage', examined the cultural, legal and policy context of approaches to heritage in the UK, and changing perceptions about the threats to cultural heritage, ranging from wartime bombing to post-war comprehensive development of towns and cities. The role of government in setting planning policy and the role of third-sector organisations in campaigning for heritage was also bementioned.
David West, Founding Director, Studio Egret West Limited delivered a speech themed on "Urban Stories: Evolving Authentic and Memorable Places". Using examples from Studio Egret West's work, David West demonstrated the potential value to strategic site development and community building by weaving together strong narratives, enriching ground floor activity, the reuse of existing structures and multi-layered public realm into memorable place making with authentic place brands.
Linda Swidenbank is Director of 'Passion Fish', the theme of her speech was "Branding and Creating a City for Living – The London Experience" and she discussed a city-wide view of London urban branding, with reference to people, complex cities, day and night-time economies, different markets, visitors and locals, and future opportunities. Tom Coward, Director, AOC Architecture Ltd, talked about "Small Community Building in the Big City". Using examples from AOC's work, Tom demonstrated the potential to add vitality into regeneration through a partnership between development, local government and communities. The practice work looks to find new capacity in forms for living together and congregating in the city, embodying the content and activity of everyday contemporary culture into new architecture.
Qu Lei is the architect of Zhongxu Ideal Space Studio Host. He was the partner and the chief architect of Beijing Theme Studio, design director of Canada H/Q Design Company, architects of Canada B+H Architects, architects of Shenzhen Watson Architectural Design and Consultants Limited, as well as the architect of Architecture Design Institute, Ministry of Construction of the People's Republic of China. He Qiong is Host architects of Zhongxu Ideal Space Studio. She was the former president of Canada H / Q Design Consulting Company, partner of Beijing Theme Studio, architects of Canada Y + W Architects and the Canada Kirkor Architects. Currently, she is also a lecturer in the Department of Architecture, Xiamen University. Their speech was themed on"Oriental space narrative" Chengde Old West Gate. Based on the oriental spacial narrative, Chengde "Old West Gate", a project that updated a 600 meter long street in a moat city, expanding the "Scroll" space sequence like "Qing Ming River map". This project applied the Gestalt Psychology to the fragmented life with the consciousness of "split and non-dominant". It guides the design of the project to return to the city life as a chaotic and poetic status.
As Wang Zhong mentioned, urban development in China has entered into a completely different stage of development since 2015: the developing method has been with the urban hardware and urban industrialized construction as the core. Chinese cities in the past thirty years have gone through its highest peak. Today, this mode has been on the verge of saturation, and the negative effects are gradually becoming prominent. On the level of national policy, with the core concepts of environmental protection, wisdom, humanities, and being habitable, the new urbanization construction in China has been released as an important urban construction guideline.
Moreover, the urbanized thinking with art intervention and urban design has reached a consensus, "soft city" has become a concept called by the urbanized development in China. Urban development in China, even in the world is urged to find a mode that transcends the way we have inherited. "City for Tomorrow" as the theme of this forum, paid attention to the renewal, transformation and regeneration of the city, while emphasizing on methodology, maneuverability, systematization, specialization, and further it can be extended to a set of methodologies, worthy of further study and discussion.
Text by Zhong Yuwei, translated and edited by Sue/CAFA ART INFO
Photo by the Organizers
Related posts: