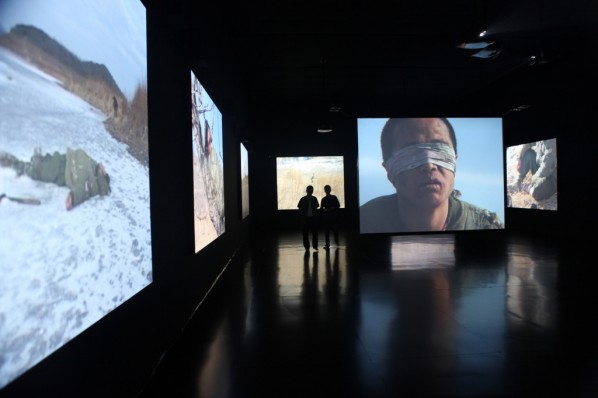 Close to the Sea •The Revival of the Snake – YANG Fudong Solo Exhibition is his first Beijing solo show and the premiere of his works in China. It is on view from from 12th May through to 15th June 2012 in ShanghART Beijing and ARTMIA Gallery.
Close to the Sea (2004)
In this ten-channel video installation, a concert is being staged at the seaside. Accompanied by various musical instruments, the love story of a young couple is unfolded on the same location. The videos set on the centre, display two scenarios taking place simultaneously: one shows a young couple riding a horse along the sea and the other a pair of lovers struggling for survival after a shipping accident. The other eight screens deliver at the same time the performance of diverse musical instruments, a trumpet and a cello played on the rocks, for example. The background music, which is hallucinatory, dreamlike and even uncoordinated, reflects the conflicts between ideals and reality. The young lovers, despite the threat of death, continue with their discussion of ideal, faith and anticipation.
The Revival of the Snake (2005)
This work tells the end of the story of a soldier going into exile. On a sunny winter's day, the icy ground is stared with snow and life seems as peaceful as the weather. A soldier, escaping from a battlefield, comes to this deserted place which is plagued with the smell of death, He is wandering, attempting to leave this uninhabited world. The only option left to him, however, is walking, ceaselessly and endlessly. What is waiting for him? A hibernating snake is startled awake from its nice dream and then sees a human, eyes blindfolded and hands bound at his back, kneeling on the freezing ice-covered lake. Who is sentenced to death by the sound of gunshots reverberating around the mountains?
About the Exhibition:
Duration: 12th May – 15th June 2012, 11:00-18:00 (Closed Mon.)
Address: ShanghART Beijing & ARTMIA, 261 Cao Chang Di, Old Airport Road, Chaoyang District, Beijing, China
Website: www.shanghartgallery.com
Related posts: