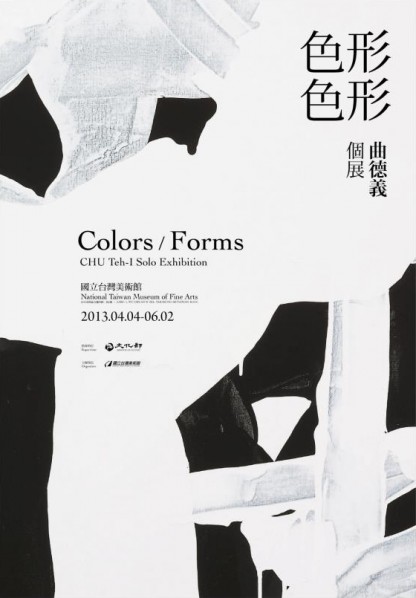 Since the late 1980s, Chu Teh-I has been developing a signature painting style characterized by interweaves of geometric patterns and splashes of colors which call attention to the intense contrast between cold rationality and raw emotions. Chu's art departs from Taiwanese abstract paintings of the earlier years which tended to simply copy Western modernist aesthetics. Chu Teh-I opens up a whole new way of exploring abstract painting by developing a unique dialectic perspective which also helps to establish a strong, individual style in the 1990s. This solo exhibition, entitled Colors/Forms, is a retrospective review of his ideas and works of abstract painting in the last two decades.
Born in 1952 in Jeongeup, Korea to a family originally from Shandong Province of China, Chu Teh-I left Korea for Taiwan to study fine arts in National Taiwan Normal University, where he began formal training in painting. While studying in the University, Chu also travelled regularly to Changhua to take private painting lessons from Li Chun-shan, who was famed for his unorthodox approach to teaching art. This inspired Chu to embark on a journey to self-discovery and artistic vision. After graduating from the National Taiwan Normal University in 1976, Chu travelled to France to further his artistic training. He earned a Master's Degree (Diplome de Decorateur- Specialisation Arts-Plastiques Peinture) from L'Ecole Nationale Superieure Des Arts- Decoratifs De Paris, France in 1983, and a Master's Degree (Diplome Superieure D'art Plastique) from the prestigious L'Ecole Nationale Superieure Des Beaux-Arts De Paris, France in the following year. He soon returned to Taiwan to teach at the then recently founded National Institute of the Arts (now Taipei National University of the Arts), while at the same time continued to practice creative arts. He's paintings have been widely collected by the National Taiwan Museum of Fine Arts as well as by many other art museums nationwide and in many other countries.
Chu Teh-I's earlier work is characterized by meticulous and disciplined composition. Since his return from France, Chu began to turn to paintings of free and deliberately formless style characterized by interweaving patterns of abstract shapes and colors. His masterful combination of carefully-placed blocks of colors and intense, wild scribbled lines reflects a combination of personal, intuitive-creative experience with a deep understanding of Western abstract art informed by aesthetic rationality. In these paintings, the boundaries between the rational and the subject, the warm and the cold dissolve in the clashes and rearrangement of colors, shapes and lines, reaching a new-found harmonious state of being.
About the exhibition
Dates: 2013/04/04 ~ 2013/06/02
Venue: B1 Gallery, National Taiwan Museum of Fine Arts
Address: 2,SEC. 1, WU CHUAN W. RD., TAICHUNG 403 TAIWAN, R.O.C.
Tel: 886(04)2372-3552 / Fax: 886(04)2372-1195
Courtesy of the artist and National Taiwan Museum of Fine Arts, for further information please visit www.ntmofa.gov.tw.
Related posts: